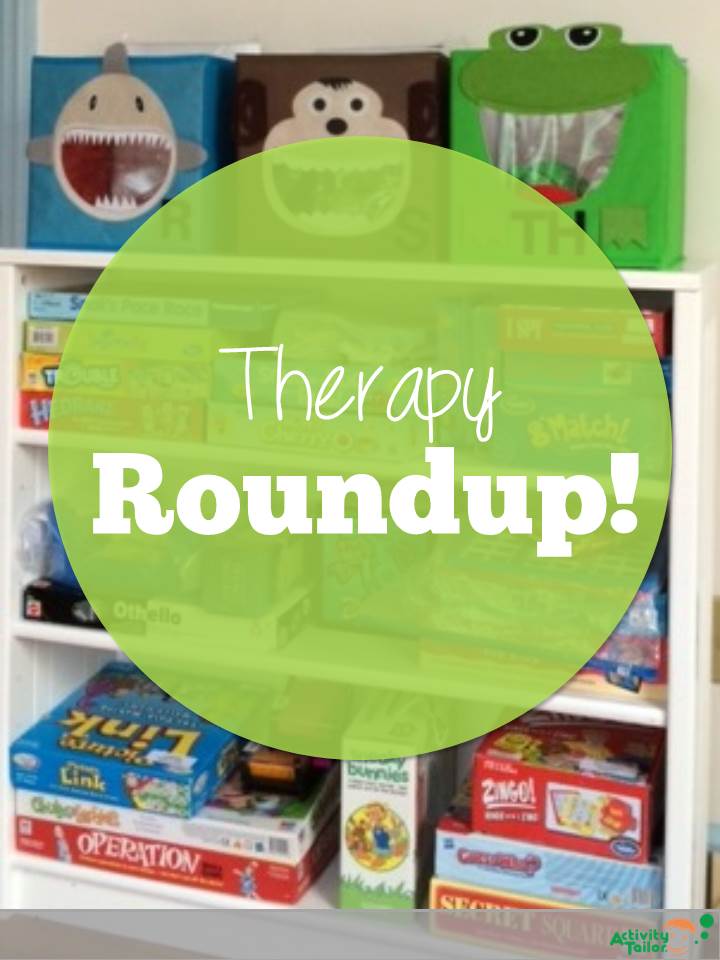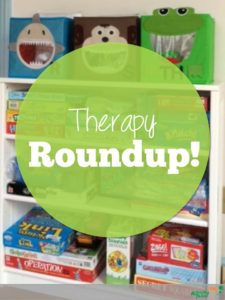 I've had a number of recent Instagram posts receive questions like where I found the toys and lots of comments. My IG photos are a great place for a quick glimpse of what's happening in my room, but I thought I'd start adding a weekly roundup with more specific info (and links to the materials if needed). I'll try it for the next month or so of Saturdays so if you are inspired, you have time to get your plan together for the upcoming week.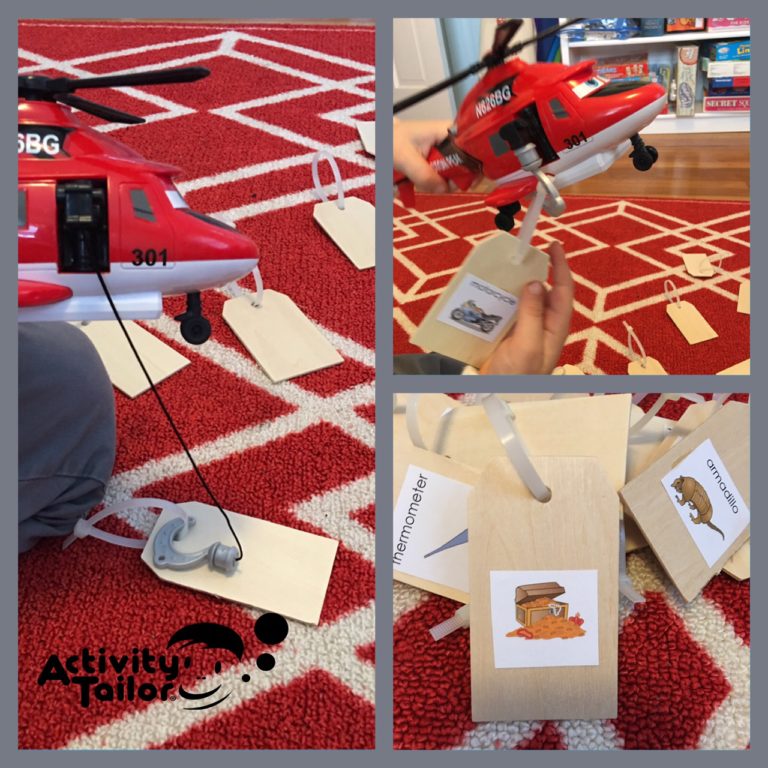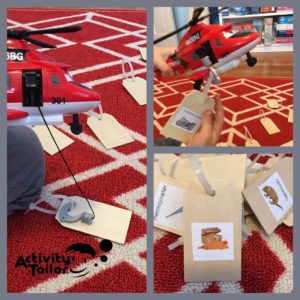 I've got several students "cycling" and during the past two weeks, we've been focusing on multisyllabic words (4 syllables). These kiddos are doing well, so we've been focusing on using the words in sentences. This week I brought in my helicopter with a retractable hook. You pull it out and when you squeeze the lever on the tail it reels back in. I LOVED this idea! "Helicopter" was my first target, but I wanted additional words too. I thought I could have the helicopter reel in some mini buckets, but no deal. It just didn't have the horsepower for that. Lightweight wooden gift tags worked though! (I bought mine at Target, but I'm sure I've seen them or something similar at Michael's) I have twenty. To make a quick loop that was easy to hook, I used zipties. I printed out my pics, glued them on and I was ready to go! My little ones are pretty cooperative, but they do need to get wiggles out, particularly this time of year. As a bonus, I glued pictures of a treasure chest on three of the tags. Each time they reeled in a picture, they had to say, "the helicopter picked up the (picture)" plus we lined up the tags as we took them off and ran through the line each time we added another (actually I keep the max in the line at 5, and just stack as we go). If they picked up a treasure tag, they had permission to take the helicopter on a flight around the room. They thought this was great fun and if you keep pressing the lever the rotor spins which is very exciting.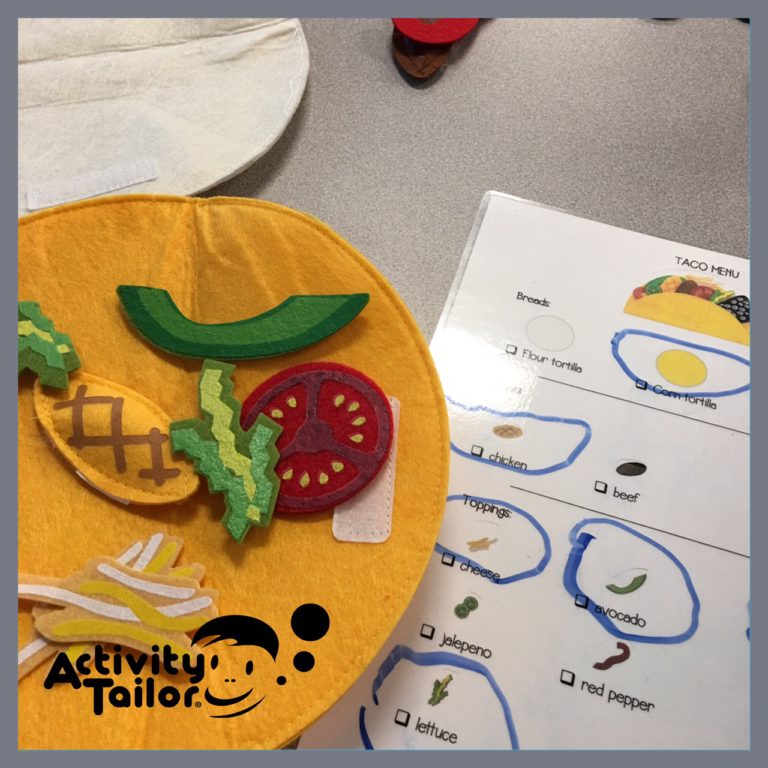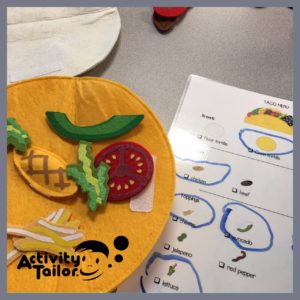 Some of my other little guys are working on dramatic play and we played "taco shop." This is an activity I've also used for following directions and sequencing. The felt set of tacos is from the Target dollar spot (I think right now they have breakfast foods?), but you can still get a Melissa & Doug (more expensive) version. When I buy food sets like this, I generally store them in large Ziploc bags, but before I toss the packaging, I always cut up the little pictures and make a "menu" that I can photocopy and laminate. With a dry erase marker, kiddos can take orders over and over again. At our taco shop we ordered and cooked, cleaned up little spills with a rag and big spills on the floor with a mop. Mr. Bear, who loves to eat out, surprised us when he mentioned it was his birthday. We had to figure out what could stand in for the brownie he requested and a candle before we could sing and present him with a gift.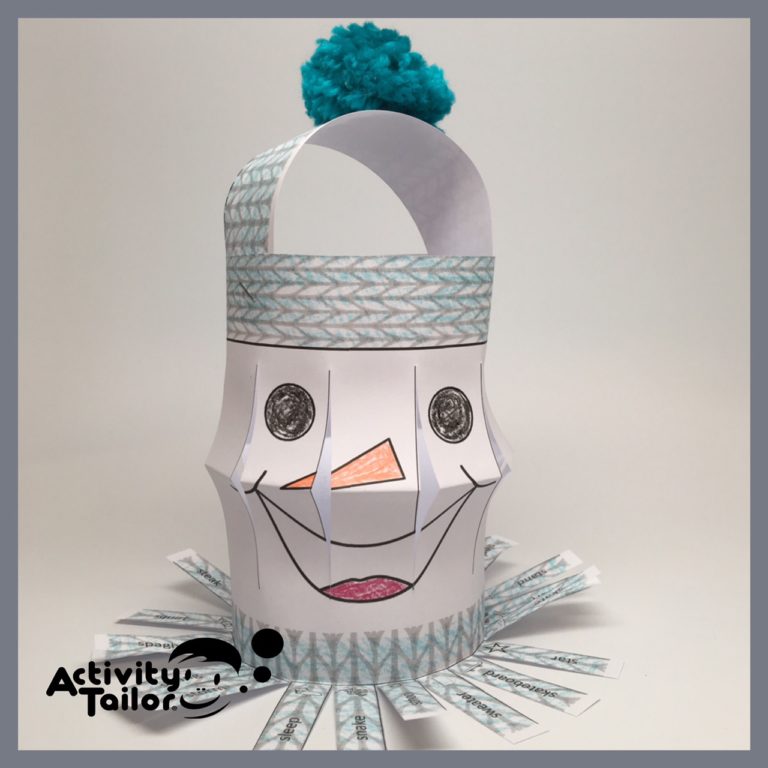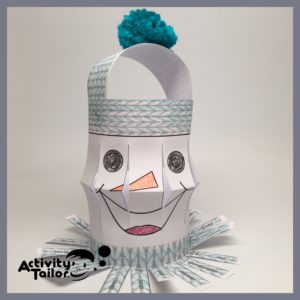 A few of my older students worked on their Snowman Articulation craftivity. I like these because I get a lot of trials in without much effort on my part and they fill an entire session. This is a variation of a Santa craft we did last month, and I have several students who preferred this one because it had a handle. It's funny the things they care about sometimes!
That doesn't cover everything I did, just the bigger wins. My not-so-great moment came with a small group that was all over the place. Seriously, I don't think there was one full minute when all bottoms were being sat on at the same time. When it was time to pack up and head back to the classroom, they asked for stickers, only to hear me say (rather forcefully), "absolutely not." They were (deservedly) crushed. First group of the week (and my first full week since before the holidays). I was hoping it wasn't a sign of things to come. Happily, it wasn't.
Have a good weekend! Let me know if you like the additional post!
P.S. If you haven't signed up for my newsletter, what are you waiting for? There are lots of freebies in my virtual therapy closet and I'd love to give you the key!