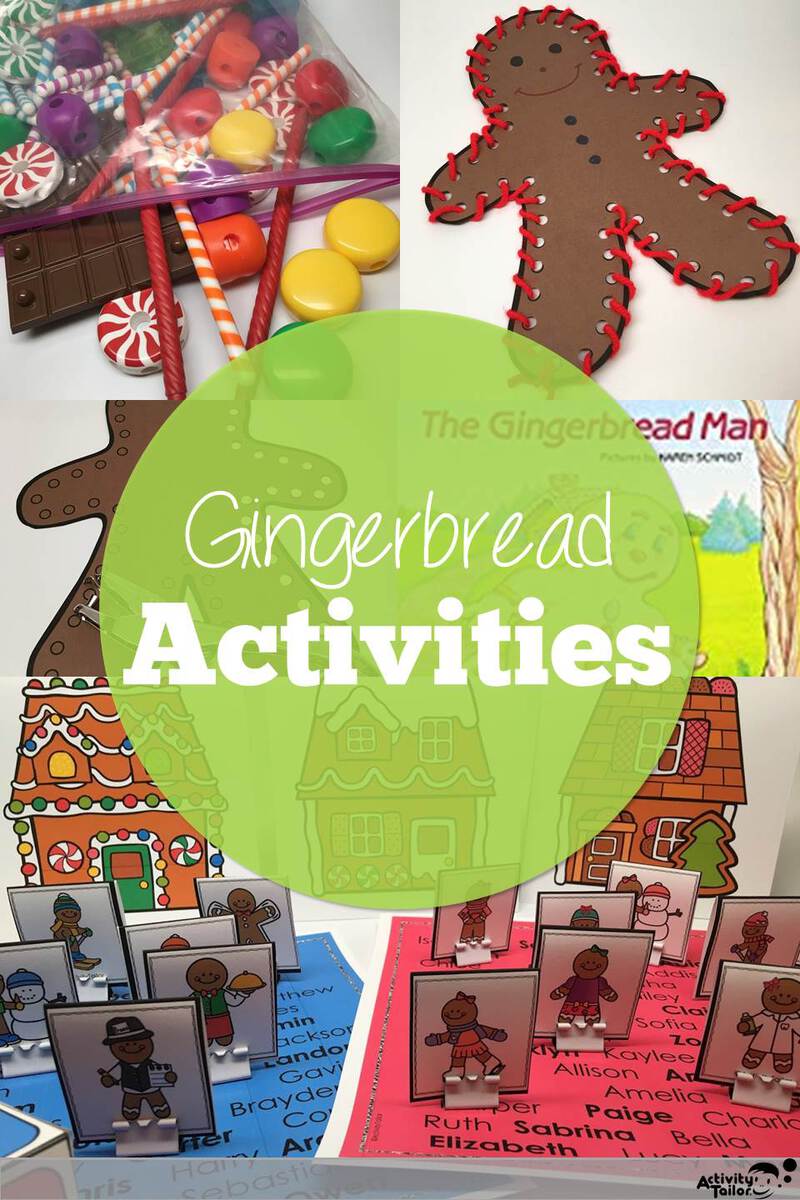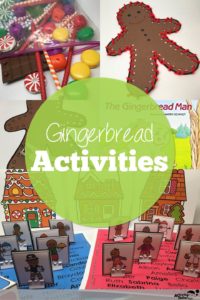 Gingerbread themed activities in the speech room allow you to incorporate a seasonal theme in December that isn't holiday specific. In my room, I've planned these fun treats: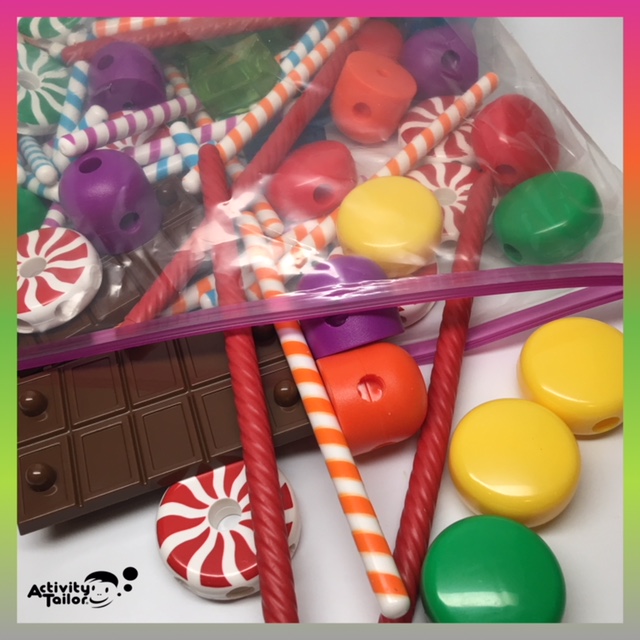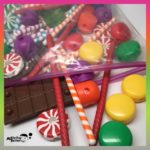 Candy construction: I found this set from Learning Resources which is basically an adorable candy version of Tinker Toys. I've transferred all of the pieces to a large Ziploc bag and hidden the box and directions for later storage because I plan to use this with my friends working on social skills. I already know they can follow a construction plan (can they ever!) and I'd like them to work on planning a construction as a group and incorporating others' ideas. Wish us luck!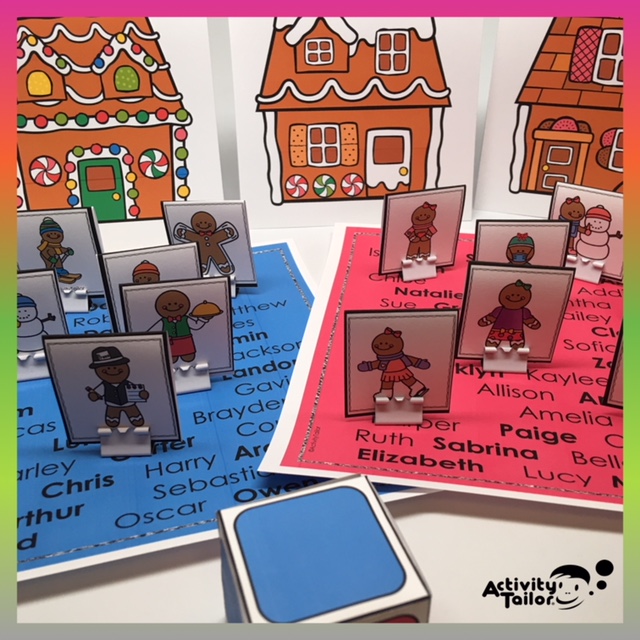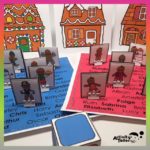 Gingerbread pronouns: I have several preschool students working on pronouns right now. I've created a set of gingerbread boys and girls that provide manipulatives to address this goal.
Storybooks: Moving away from holiday books, I'll be using the classic Gingerbread Boy tale as well as a number of updates including The Gingerbread Girl (Ernst), The Gingerbread Baby (Brett), and The Gingerbread Cowboy (Squires). You could also bring in any of the Gingerbread Man Loose stories (Murray). For my youngest students, we'll use the books to set the scene, vocabulary and early concepts. For my older students, we'll work on comparing and contrasting the differences in the re-tellings and might even write our own version together! (Perhaps the Gingerbread SLP?! I'll keep you posted!)
Following directions with playdough and beads: We have to incorporate dough even if we aren't really baking! We'll press playdough onto laminated mats with gingerbread templates. Once we've done that, I'll put out buttons and large pony beads and start giving them directions like, "Add three black buttons on his chest." Or "Use five red beads to make a smile."***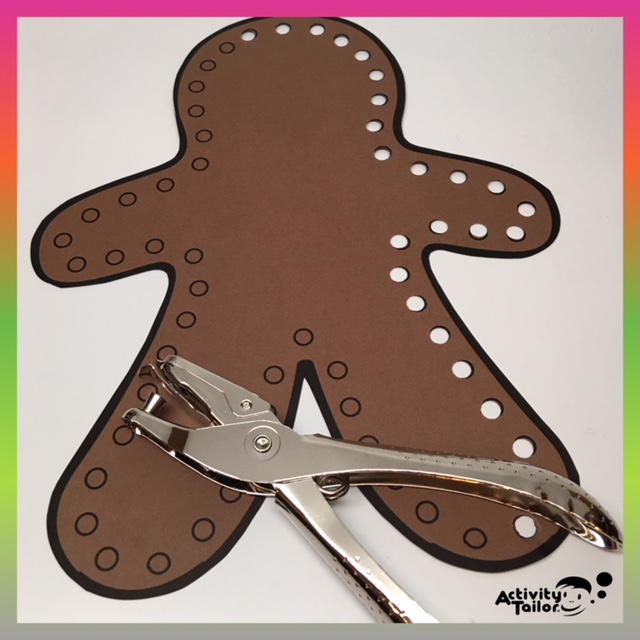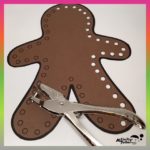 Open ended hole punch: I love to have something open-ended as a backup for anyone, but this craft/activity I have in mind particularly for my articulation students. I'll copy and cut out the templates ahead of time and they'll say a target word every time they punch a hole. (There are 60 holes.) We'll customize the faces/bodies and then we might stitch the edges too (depends on time and ability–if we don't stitch, it's still fun)! And you know we'll do another 60 trials for that! I'll be able to stretch that activity over two sessions easily!***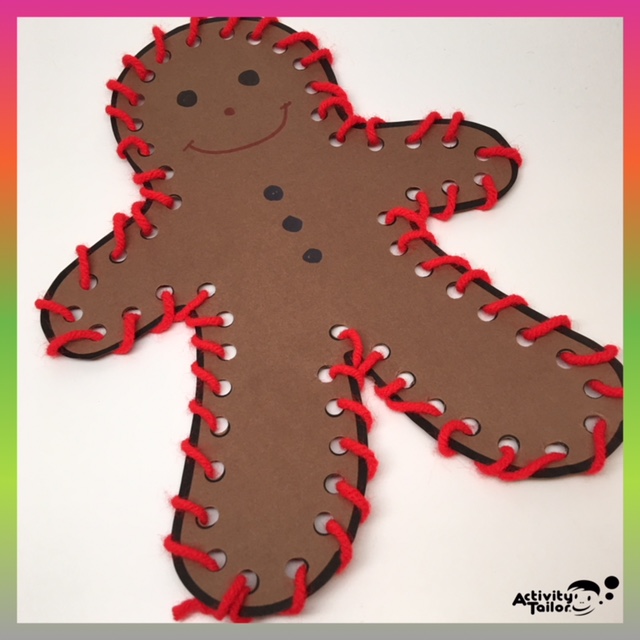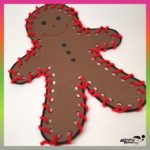 Tasty treats: I'm a softie for a crispy cookie and I plan to bring in a bag of Pepperidge Farm Gingerman cookies or a box of the Pepperidge Farm Gingerbread Family cookies for tasting. My older students will probably write a culinary review as well!
Cinnamon ornaments: When my own children were in preschool, they made cinnamon ornaments that still have a pleasant scent when we pull them out 15 years later! I thought I'd give this a try in my room this year. We'll work on following the recipe directions and draw in some attributes as well. The McCormick site has the non-edible recipe. Amazon is a good source for bulk cinnamon. (Note: There are two types of cinnamon—Ceylon and Cassia. Cassia is much less expensive, but can be toxic if consumed in quantity. Keep this in mind if you intend to use the same cinnamon for edible cooking activities!)
***You can pick up a copy of the FREE gingerbread templates here.
Amazon links are non-affiliate and offered for ease of ordering or reference. Pin the top image for later reference!