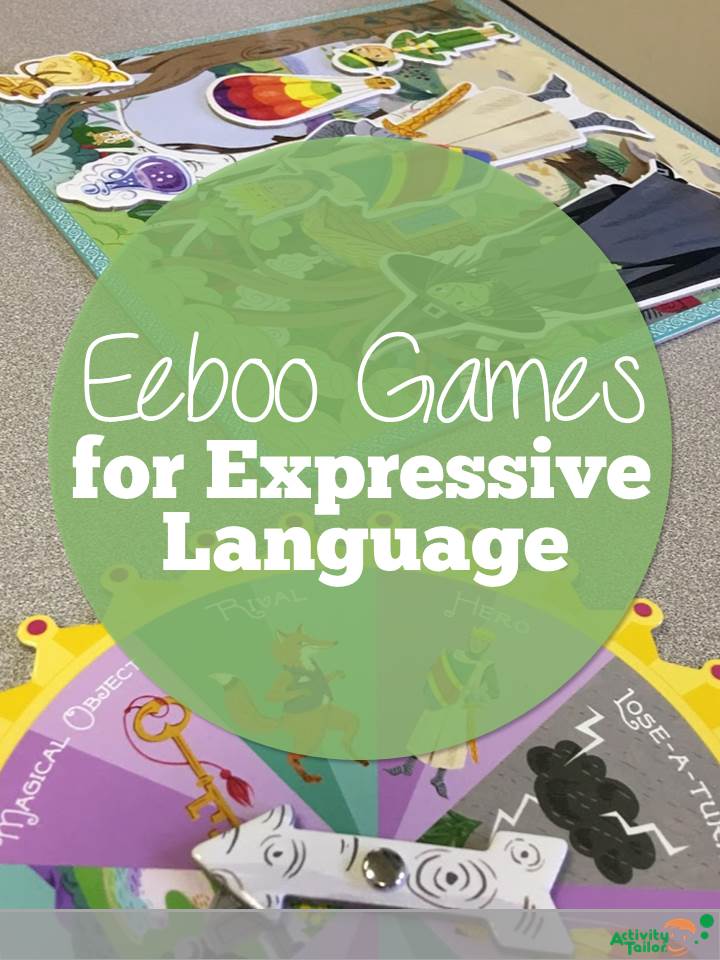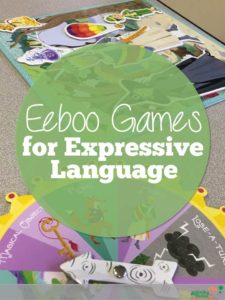 Hmmm, looks like a game….smells like a game…must be a game.
I loooove Eeboo games. Last spring I shared a bunch I used for social thinking lessons. This year I added a few more from their line with a focus on expressive language games (and, still of course, social skills). These were a huge hit and they targeted all my goals.
In fact, a few students went straight back to their parents and said I asked them to buy it for home.
(I didn't!)
But the fact that these games are right off the shelf "normal" looking with a non-therapy publisher price makes parents sooo happy that several of them did. (I should run a mobile game store from my trunk…)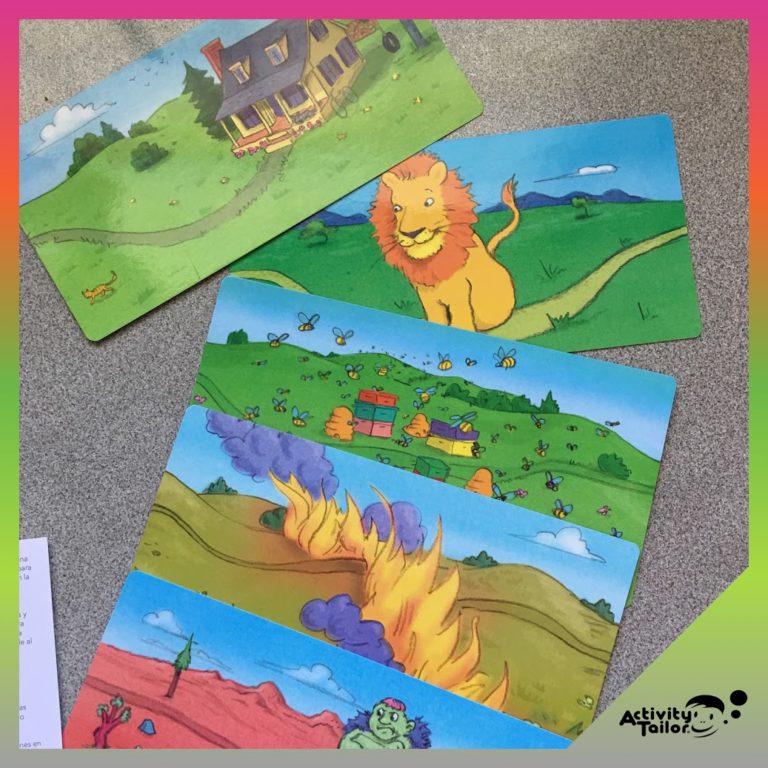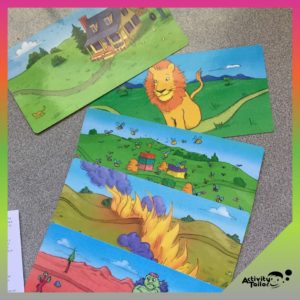 This game was so fun and so easily adaptable I could use it with almost anyone on my primary/elementary school caseload. Basically, you give every player 5-7 object cards and place a stack of obstacle cards face down on the table. Put the house card on the very bottom. For my sessions, we'd typically do about ten obstacle cards which took about 15 min.
Flip over the first obstacle card. What do you have to pass to get home? It might be gooey, gooey mud, or a maze, or terrible weather. Each player then places an object card down and explains how it would help transverse the obstacle. Stilts might help with the mud, passing candy out to drivers in a traffic jam might encourage them to let you by, a spring might help you jump over a river.
We played this cooperatively, meaning as long as each player could come up with a reason their object might work (and I would have allowed tacking your object on to another if needed) we could all move on to the next one.
Of course as you work your way through, you eventually get back home and everyone cheers.
I love the problem solving aspect, that it's cooperative and that it gets students thinking more creatively. It's so easily to work on expressive language goals including vocabulary and descriptive concepts.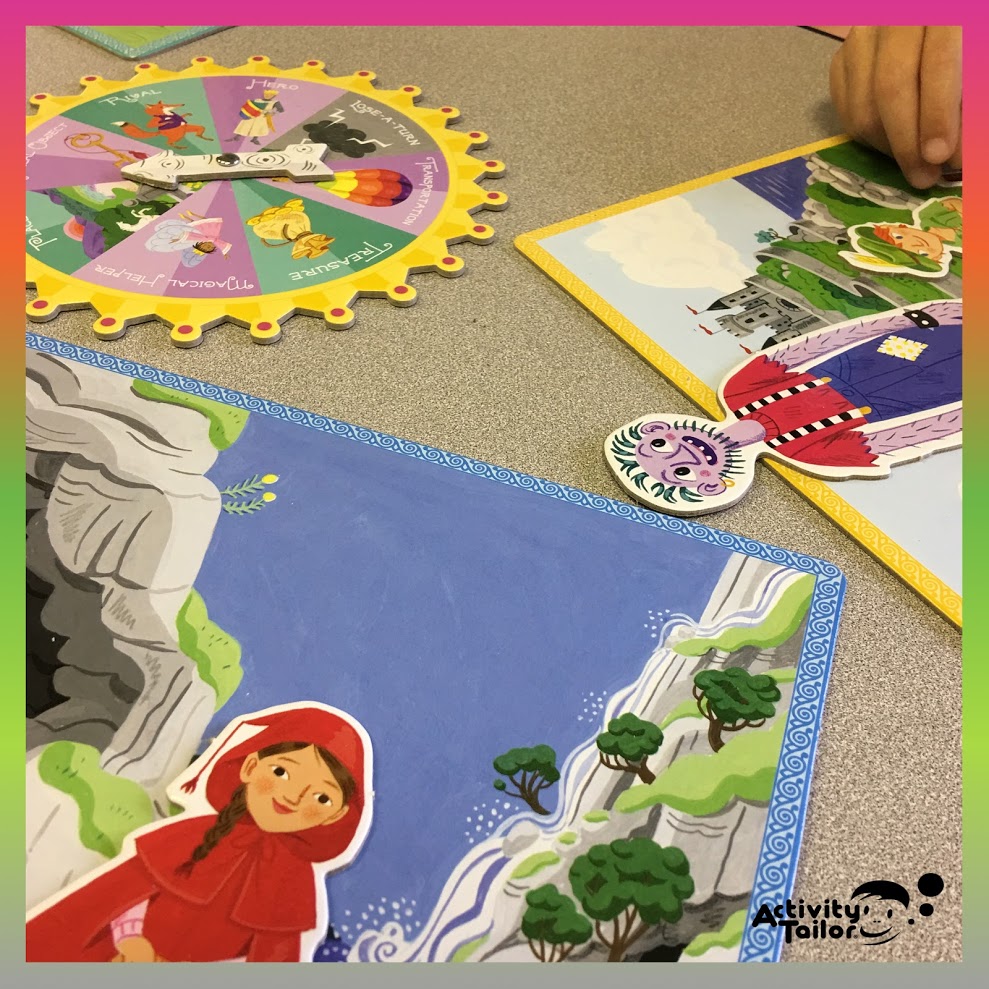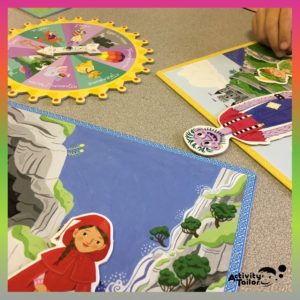 For this one, you spin the spinner and collect a background theme and characters and objects for your story. Whoever collects an object in each category first gets to tell a story….except in my room where everyone gets to tell the story, it's just that some players have theirs more structured by the number of items they've collected and others have (theoretically) more flexibility.
What I like is that the characters/objects are well known to my students (a troll, Jack, fairy, magic wand) so they have a little more knowledge for creating their story than they might if the items were completely random. We can also use typical fairy tale structure, "once upon a time," and "they lived happily ever after" knowing that in the middle we need a problem and villain to come up against our hero and then a scene in which the villain is overcome.
This review was based on my own experiences and I received no compensation from Eeboo—I'm simply a fan! So much so, that I'm hosting a giveaway for subscribers! US residents only, please! Enter via Rafflecopter. I'll choose two entries at random, one to win each game. You have until midnight ET July 24, 2018 to enter. Good luck!