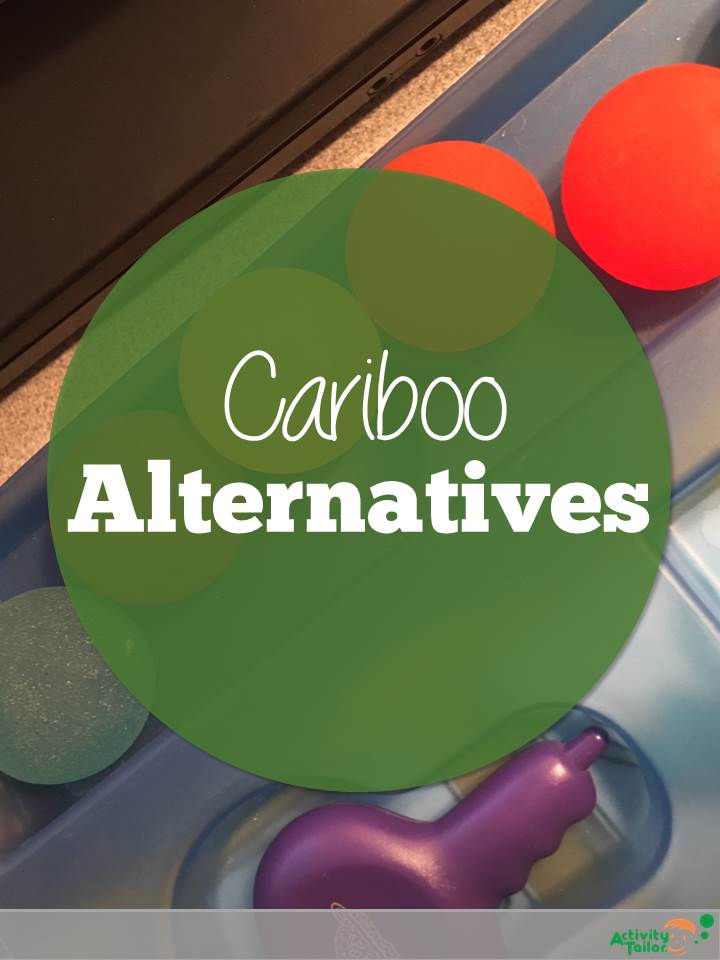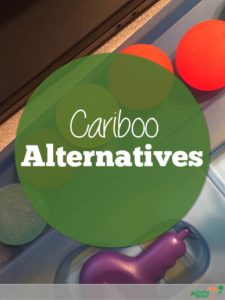 Let me go on record as saying I like Cariboo. I think it's a fun way to practice lots of speech and language skills and the magic of the treasure chest is beguiling. Plus, I like Cranium games in general and they've been regulars in my house since the kids were little. There are loads of SLPs passionate about this game for language therapy, articulation activities, you name it.
However, there are a few drawbacks to Cariboo.
It's discontinued and requires consistent local thrift shop perusal to acquire (not always a sure thing especially depending on where you live).
It's bulky. As a therapist who has worked out of her car, I view bulky as potentially problematic.
It requires decent fine motor skills.
So, I humbly offer two Cariboo alternatives for speech language activities.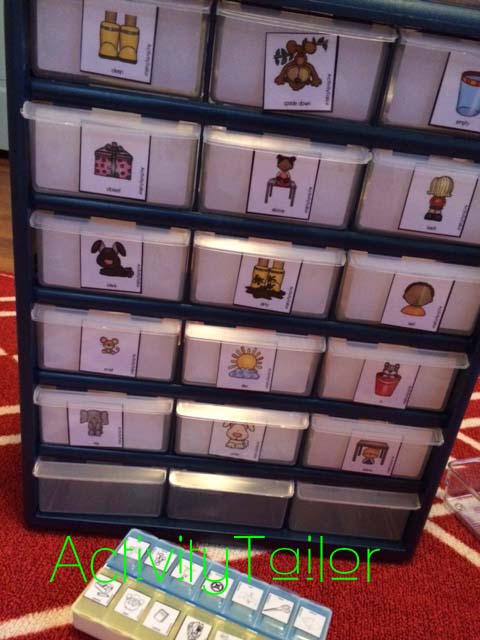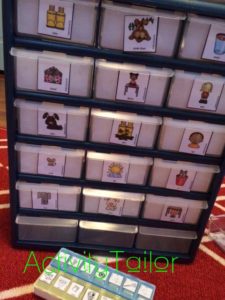 Twice a day pill organizers: These babies are available in any grocery store or pharmacy (under $5). Because these are usually designed for elderly buyers with their own fine motor issues, the individual lids open easily. Yes, it has one less opening, but with most Cariboo card sets, removing one isn't a big deal.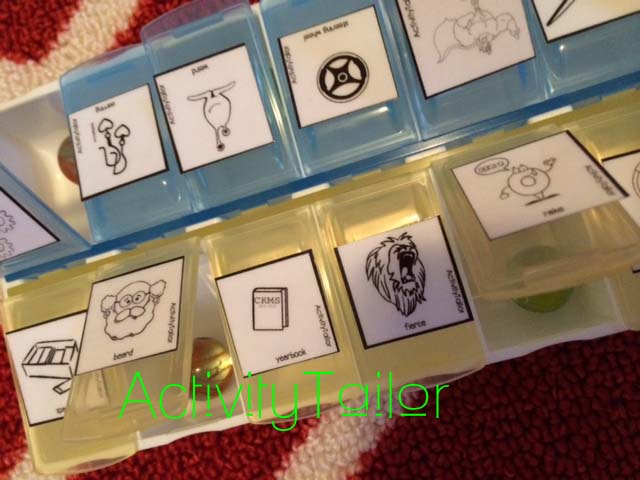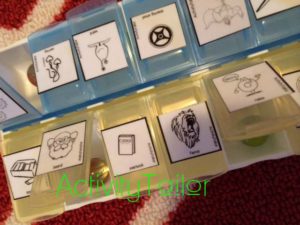 "But, Kim," you say, "the cards don't fit."
Ahh, but they can. Print, selecting the "4 to a page" option and there you have it. Add Velcro dots to adhere.
Now let's add the reinforcement. You can put a little sticker or Goldfish in a couple of compartments (or M&Ms! I'd work for an M&M!) or a marble (be sure this is appropriate for your client) for the marble run. How awesome is that?! Now you can extend the age range too (even my older elementary, Gr. 3-5, aren't too cool for marble runs, at least in the privacy of the speech room).
And this baby would fit in a large pocket if needed.
Stacking Drawer Organizers: I bought this one at my local Lowes hardware for maybe $20. Mine has 18 compartments, three extra that I can use for card storage (bonus!).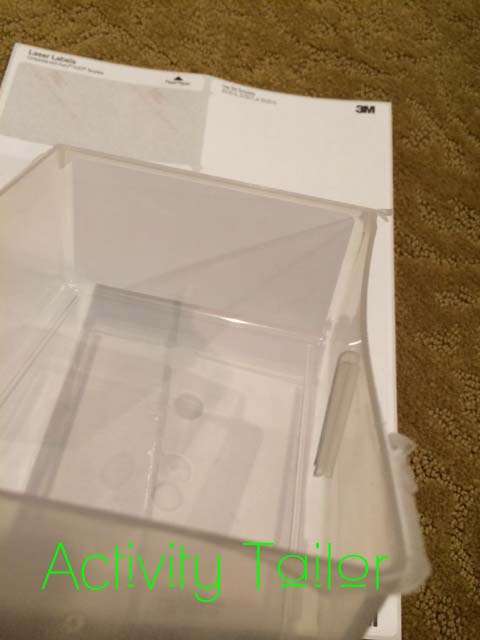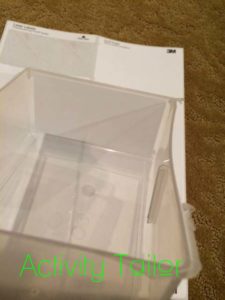 These drawers are clear so you will likely want to cover the front to start. I used 2"x4" sticker labels I already had on the inside of the drawer, but you could cut paper to fit. Add a Velcro dot to the outside. Standard Cariboo cards work fine here! (Tip: If your drawers don't slide like butter, take a razor or knife to trim the excess plastic on the edges that's the likely culprit.)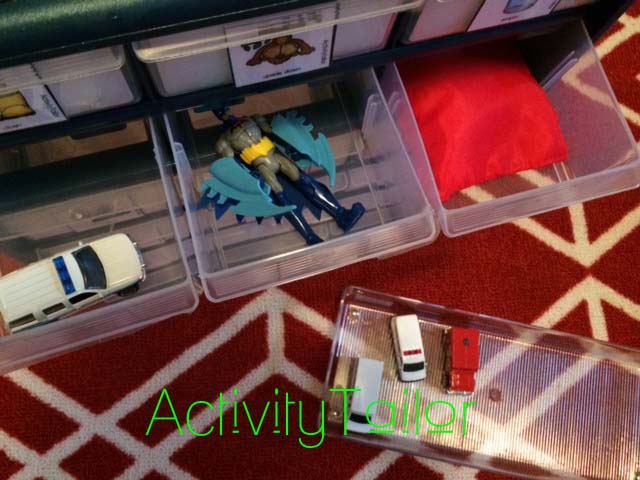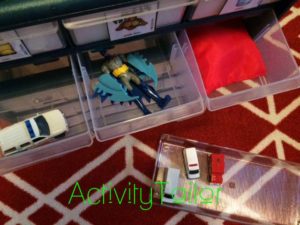 While it's not as aesthetically pleasing and it is bulky, there are several advantages to this option.
It holds big reinforcers like Hot Wheel cars or action figures or beanbags. You could even put a card with the answer inside the drawer (depending on the targeted skill) to create a self-checking station.
The drawer backs are still clear and visible on the back side. So if you want to rig the game….not that you'd ever cheat, but I'm just saying…
You can use as many reinforcers as your student needs—one every time if that's what it takes. Not everyone does delayed gratification.
The drawers are more manageable for motorically challenged kiddos.
You don't have to use an array of fifteen. If you need to drop to nine or six you easily can.
I have a drawer organizer insert next to my faux Cariboo to hold our treasures until we find it all and then we can easily transport it to the next "station" or activity.
Now for some freebies:
A couple tips for the original Cariboo:
I cut my Cariboo cards a little large so they "catch" on two side with a small buckling. Makes changing cards easier in lieu of Velcro.
Check out this tip from the Speech Bubble for removing (gasp!) the jewel and subbing in…how about a to-keep-spider ring?! Click here.
Freebie cards: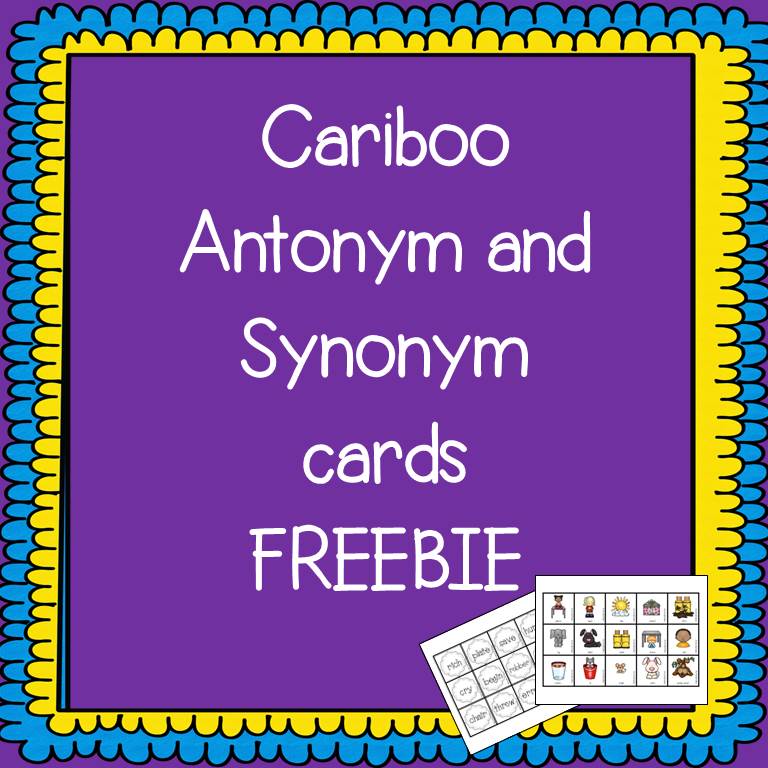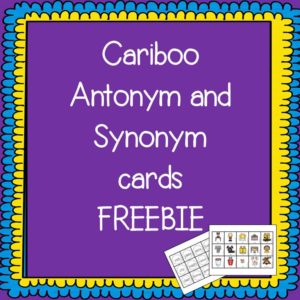 For you skeptics that don't want to purchase card packs until they see it work with their own two eyes click here.
I've made two standard size card sets—one for antonyms (picture prompts for little ones) and one for synonyms (appropriate for older students).
If you download, feedback and follows are always appreciated!
Check out my Seasonal Attributes packets which contain a Cariboo card option (and a sorting mat, in case you don't have one!).
Thoughts? Comment below. Love it? Take a moment to share. And don't forget, my newsletter is filled with exclusive subscriber tips, freebies and giveaways. Join here!