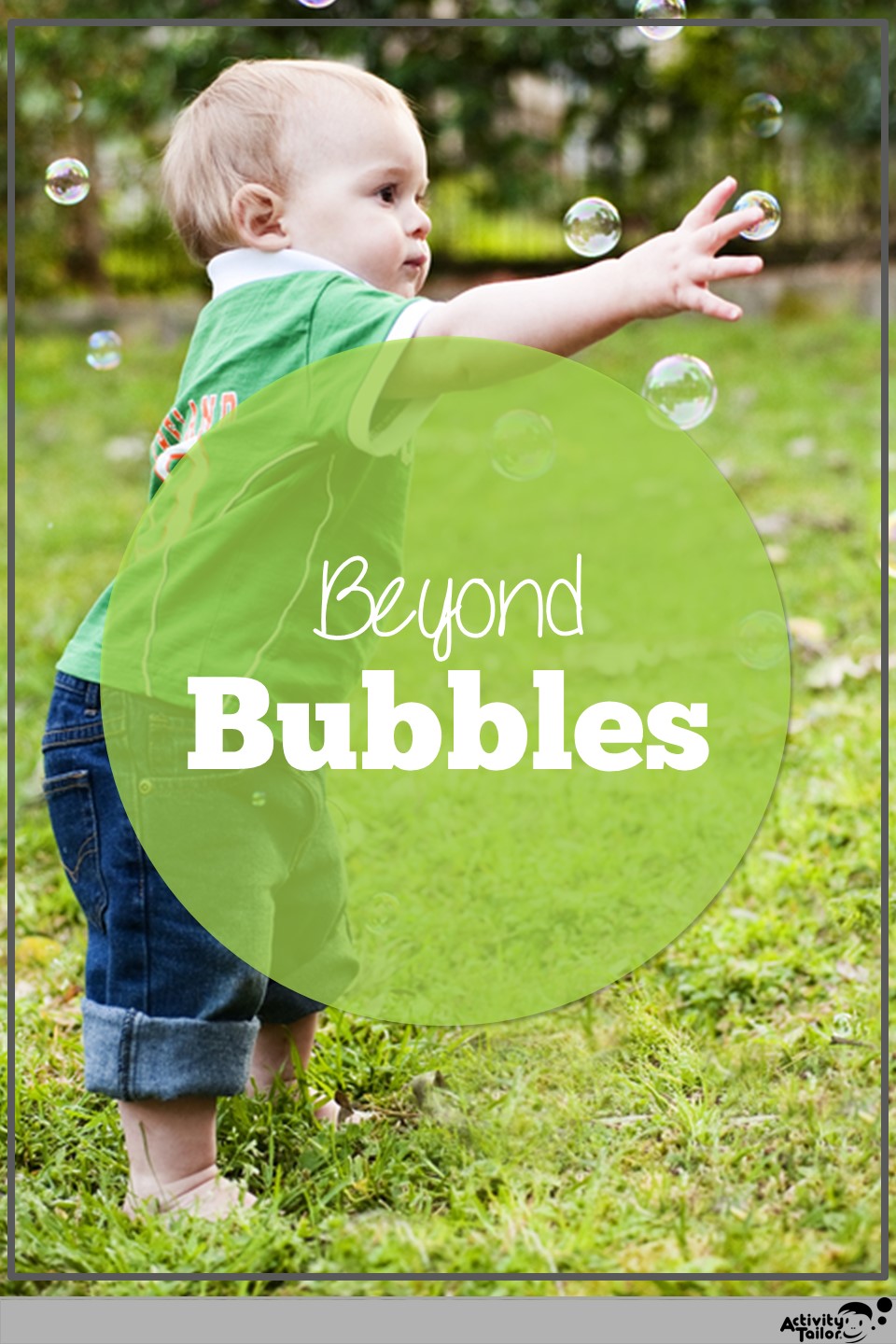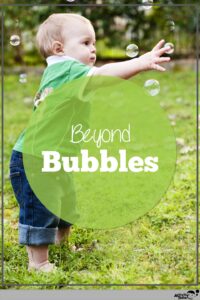 Bubbles and early language are a perfect match. It's cheap and easy to carry. If you can overlook the periodic spill, it's nearly perfect.
Bubbles lend themselves easily to early language development—i.e. requests/demands (depends on your perspective), joint attention, turn-taking, size concepts, etc. plus early developing speech sounds like "b," "p," and "m."
Using bubbles for lip sounds (bilabials)
When it comes to speech sounds, let's talk about what bubbles are (and aren't) good for:
Lip sounds, like b, p and m, are some of the earliest to develop because the movement is a bit more broad and it's very visable. "Bubbles," "pop," "blow," "more," "mine" all have lots of lip sounds and are easy to incorporate into bubble play.
Bubbles draw attention to the lips which is where we want our little ones to look when we start working on sounds.
Blowing a bubble is VERY motivating. Lots of little ones will try to imitate this before they'll try to imitate your sounds or words.
Blowing activities don't strengthen the lips, mouth or tongue. Generally, mouth exercises that aren't actually words offer no benefit.
Using bubbles to develop early language and first words
Before words emerge, our little ones will demonstrate the skills to attend to the same thing we are (joint attention). Bubbles are great for this!
Bubble are often used for first words like "open," "more" and "my turn."
Taking turns passing the wand back in forth to blow or popping the bubbles is an important skill and a foundation to the back-and-forth of conversation.
Bubbles have lots of opportunities for increasing verb vocabularies including: dipping, blowing, waving, shaking, floating, stomping, popping, catching, squashing, dropping and spilling
Save an empty bottle and keep a small amount of liquid in it (water is fine) so you can strategically "drop" and "spill." It's the "accidents" where I tend to get the most language!
You can start to bring in early concepts like "big" and "little" and "high" and "low" too.
All kinds of bubbles
I like the traditional container with a classic wand, but you can experiment with other types as well.
There are huge wands that you use a full arm movement to create the bubbles. You might try these with a child needing more gross motor practice.
Automatic bubble shooters or machines eliminate the frustration of blowing.
A bin of water with a good dose of liquid dish soap and a loofah can make a lot of foamy bubbles too! Throw in a few plastic toys to create a bubble bath or car wash.
Options for bubbles that aren't quite bubbles
But where can you go with this if you fear your head is the next thing to pop? Maybe your child still needs help with the same vocabulary or is a bit "stuck" on bubbles. Maybe your new blouse doesn't take well to glycerin spots or the spill factor is too much for you. In that case, check out these ideas for a "same but different" experience:
Bubble wrap: I adore bubble wrap. I save it from any packaging that arrives at my house, but you can also purchase it fairly cheaply. The teeny bubbles can be popped with fingers, fists, feet, elbows, bottoms, or a wooden mallet. It's great for fine and gross motor development too. For a more able child consider twisting out the last few pops as well.
Air Bombs: Surely they have a name other than this, but it's what they go by at my house. These are the more modern bubble wrap on steroids that arrive in lots of packages. Usually they have perforations to separate each bubble. These require a bit more heavy work, big stomps or jumps, and can be particularly effective with children that have sensory integration issues. Consider using some double stick adhesive to keep them in place. They can also be batted around like a balloon lending themselves to "my turn" and "up".
Pop Ice Cream: My son loved this thing when he was little—a soft foam ball on a string that fit onto a plastic cone. When you depress the button on the side, "POP", it makes a thrilling shot into the air. (search Amazon for "Ice Cream Shooter")
Poppers/Suction Cup Poppers: These are a tremendous value; usually found in the cheap bins at toy or party stores. The classic popper is simply a small plastic dome, about the diameter of a silver dollar. You turn it inside out, set it on a table or the floor and step back. The suction cup poppers usually have a cute character sitting atop a spring, attached to a suction cup. You press the character down firmly and "pop", up it shoots. The exciting element of either of these is that you don't know exactly when they will detonate!
Fisher-Price Corn Popper: Remember this gem? How exciting to take turns pushing the corn popper around the room! And, you may want to sit down for this, it comes in a keychain size as well! More practical in some situations, you'll still get the pop action just not all the movement.
Panic Pete Squeeze Toy: You've seen this, an odd sort of squishy stress relieving ball shaped like a little man. When you squeeze the body, "pop" his eyes, nose and ears protrude! Sure to elicit giggles.
Stomp Rocket: A huge hit with the preschool crowd and, again, great for those kids that might have additional sensory issues. You set the rocket on the end of a plastic hose, and stomp down on a good-sized plastic "balloon" (remember, bottoms work as well as feet!) to shoot it into the air.
Playskool Busy Poppin' Pals: These classic activity boxes require some fine motor dexterity to pull levers, push buttons or twist dials. With a little searching you can find variations in difficulty. They also provide a gratifying opportunity to slam the little door back down. Lends itself easily to "open", "down", "bye-bye".
If your little one isn't quite talking or not talking as much as you'd hoped, join me for my Late Talkers Course and receive immediate support.