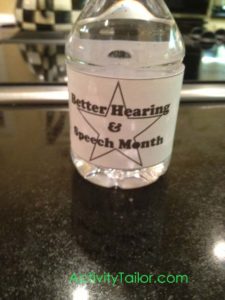 Last week I caught an exchange on Twitter discussing ways to celebrate/promote Better Hearing and Speech Month. I loved an idea from @ndnspeechmom which was to pass out bottles of water with vocal hygiene tips. So, here you go—wrappers designed for 8 oz bottles of water (though they'll fit larger too) with some basic facts. They print black and white, four to a sheet. You can opt to use color paper if you want to add some flair. Simply use a piece of tape or your contact information on a return address label to adhere. ***Note: it is easier to stick the wrappers/labels on if you work on room temperature bottles.
You can grab your copy
here
.
I also loved Mary's idea from SpeechAdventures.com which was to offer free hearing screening to staff–another quick, easy and low-cost idea. What do you have planned?