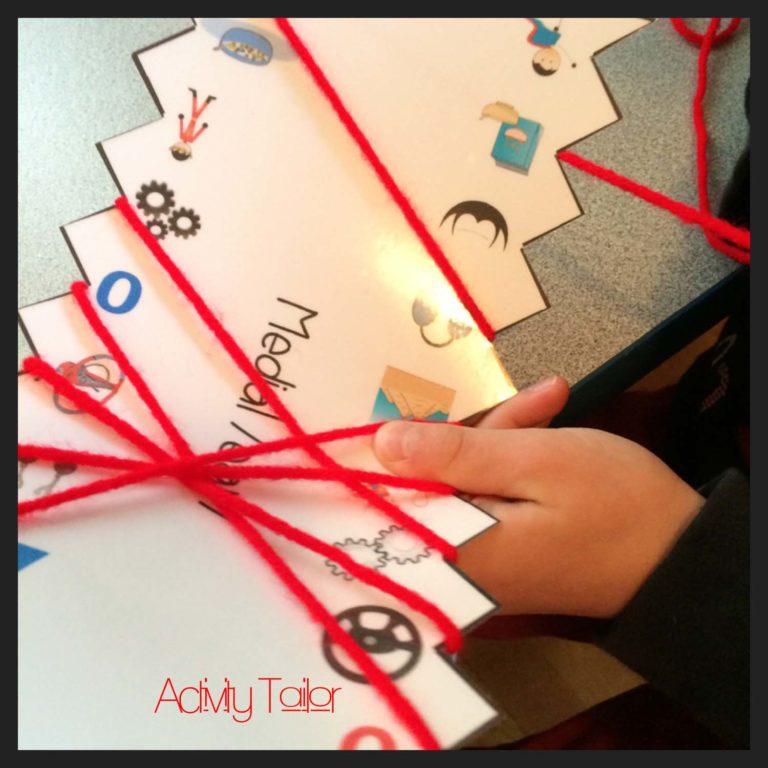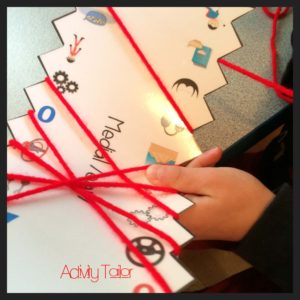 Welcome back and Happy 2015! I really took time off this year—two full weeks—and am feeling refreshed and eager to face the new year! (If you have any interest in seeing some pics from my time away, you can see them on Instagram. Just click the camera icon to the right or search "Activity Tailor" on IG).
Just before the break, I began posting one of my newest therapy activities, Zig Zags. I was so excited when I started making them, but became ultra-enthused when I tried them in my therapy room because they were such a huge hit!
A Zig Zag is simply laminated cardstock with zigzag notches down each side and a long piece of yarn at the top. Students start by nestling the yarn into the top left notch, crossing over the picture and finding the matching notch on the right hand side. Then they bring the yarn back up to the subsequent notch on the left. Easier than lacing!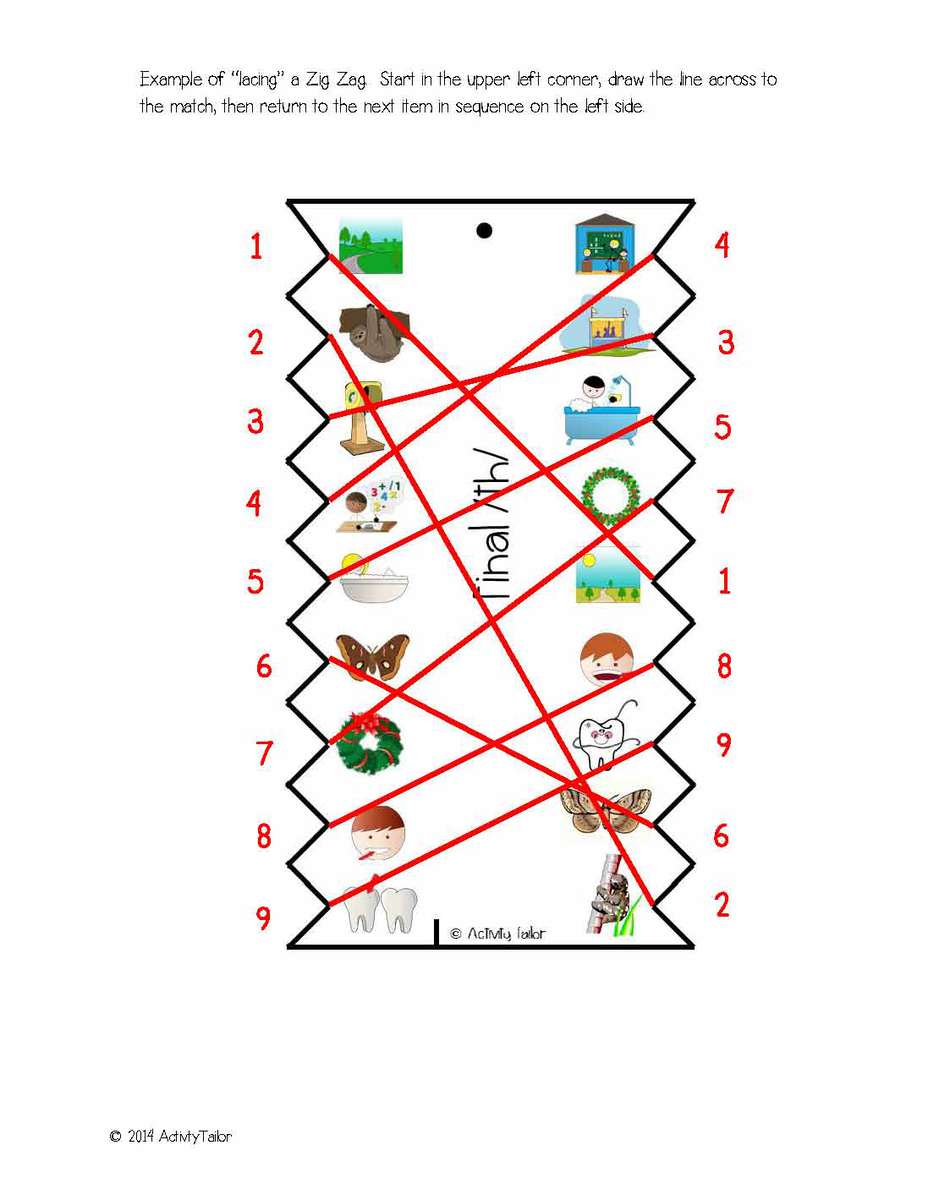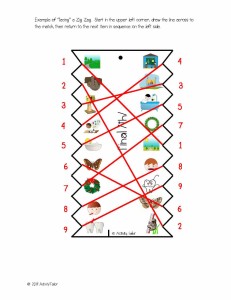 For the articulation Zig Zags, the students are matching the phoneme/position specific word (pictured) to the same word/different picture to help solidify the vocabulary and make it a little more challenging.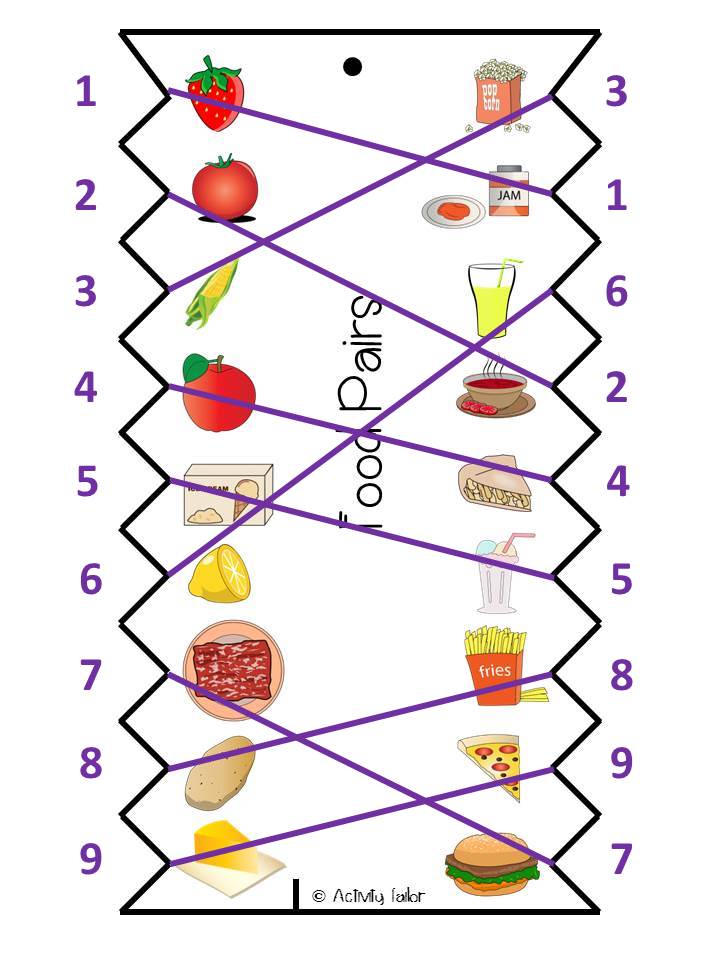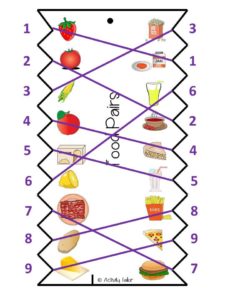 For the language Zig Zags, the students are matching either antonym pairs or associated pairs (ex. dog/bone, fork/knife). Each languge Zig Zag has a different theme: antonyms, associations (general), mealtime, food pairs, what do I eat?, around the house, where do I belong?, sports associations, occupations, cold weather and warm weather.
The majority of the graphics are from Smarty Symbols and have an ageless appeal. Because of this, as well as the fine motor component, these are appropriate for a wide age range—even adult rehab!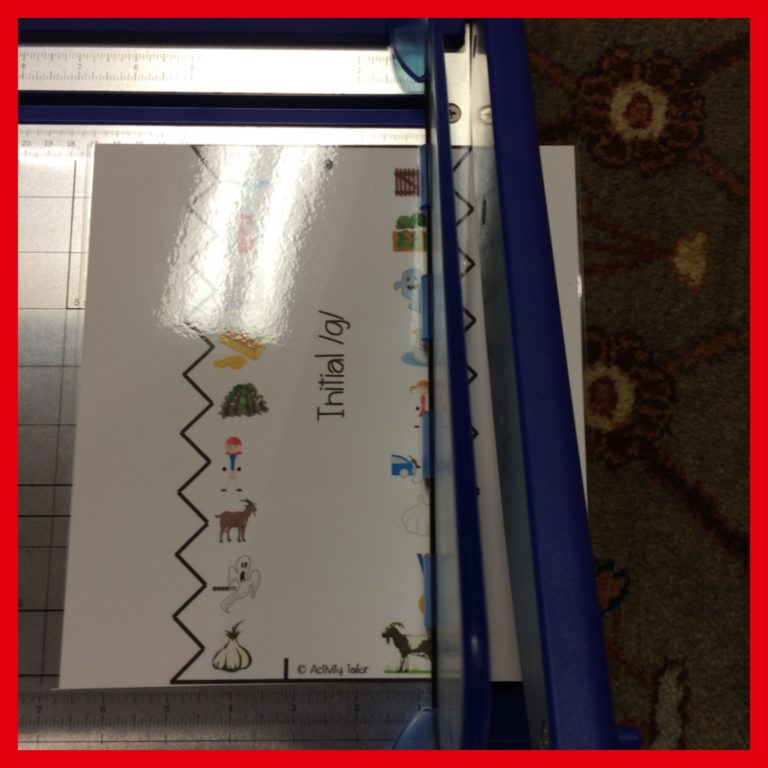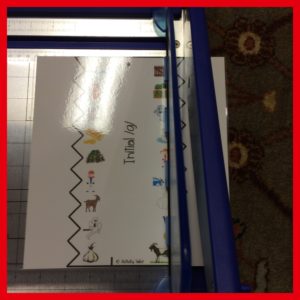 These go together much more quickly than you'd imagine. Print on cardstock, laminate and cut in a rectangle using a paper cutter. Then, use a scissor to quickly snip the zig-zags and the notch at the bottom which can be used to hold the yarn once the card has been laced and is waiting for checking. Punch a hole at the top and add a 9" length of yarn.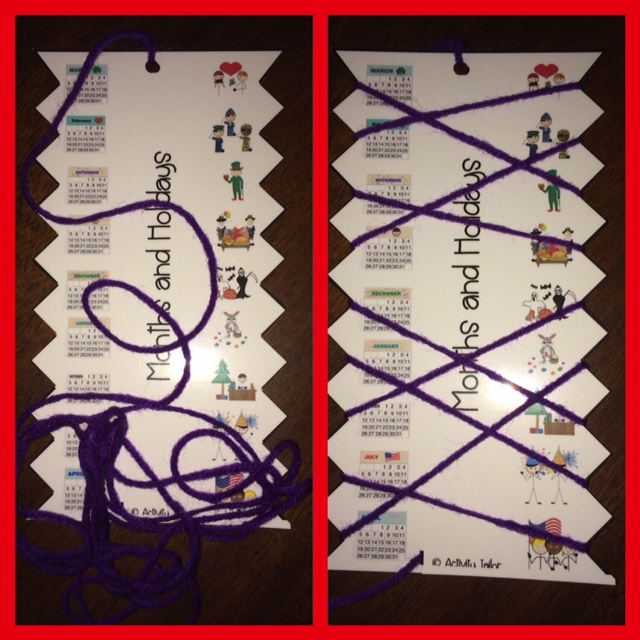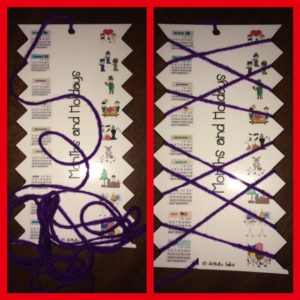 FREEBIE! Want to give it a try? Download a copy of Months and Holidays and let me know what you think! Click here.
To view complete descriptions of the available titles, click below:
Zig Zags for Articulation of R and vocalic Rs
Zig Zags for Articulation of SH, CH, J and TH
Zig Zags for Articulation of K, G, L, F and V
Don't forget today is the 7th which means that a large number of SLP sellers are participating in the #SLPMustHave sale which offers a select item at 50% off for one day only. To search, go to TPT and type in #SLPMustHave in the search bar and see what pops up! Today I'm offering my Articulastory BUNDLE which includes fill-in-the-blank stories with word banks for R, S, TH, CH and SH. Click here for more info.