I discovered the You Tell Me series a few months ago after seeing it listed on Lynda's Frapps (this is a great FB page to follow, but you'll need to make a request) as a free ebook app. I was curious as to what they might have to offer.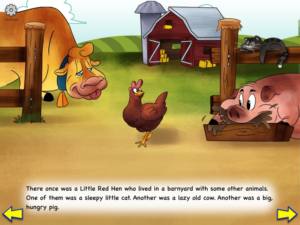 I found that this ibook series is an excellent training tool for parents in learning how to read aloud to their child and elicit/encourage additional language. (The picture above shows the standard re-telling.)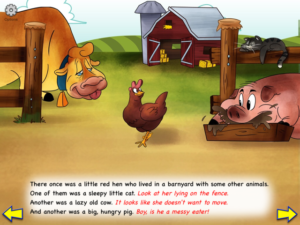 There is an engaging narrator with superb intonation who reads the book with or without "word winks" (in listen mode). "Word winks" provide comments that draw the listener in or help to emphasize concepts. For example, the page might say something about baby bear's small bowl, and the Word Wink will comment, "He is small, so his bowl is small too." You can keep "Word Winks" on but have the book in "read" mode if an adult prefers to do the reading but needs the suggestions for eliciting language. (The picture above shows the same page with Word Winks on.)
At the conclusion of the story there are two activities. The first has four "cards" with illustrations from the story that the child re-orders and the next has the child record their own retelling. What a bonus for so many of my little ones!
I'm planning to share this series with a number of families with suggestions for use over the summer months. I'm hoping that the private tutorials the books offer will carry-over for the parents into other read-alouds or even just conversation! I'm also hoping that allowing them to see their child's struggle in sequencing/re-telling will help them understand some of the skills we are working so hard on! (For some reason fewer parents seem to buy into this goal as either a necessity or that it's a toughie for their child.)
There are five books available, all free and a few are retellings of classic stories.
There are no animations in this app which may be a disappointment to kiddos accustomed to lots of bells and whistles though I find it to be one of the appealing aspects. The story re-telling and narration (optional) is excellent, but not all of the illustrations were my cup of tea.
I particularly liked the Three Bears and Little Red Hen stories.
To check it out yourself, click here.
Anyone else using these or something similar?