What can you expect from a speech and language evaluation with a toddler or preschooler? Whether you finally got the referral you've been asking for or received a referral you didn't expect, let's take a look at what you can expect for your late talker on evaluation day.

Before you go
You may receive paperwork ahead of time including a release of information form. This allows the speech-language pathologist to share findings with other family members, schools or professionals. It is always your choice as to who has access on your child's development. If you aren't sure you're ready to share that information, don't feel pressured to! You can always choose to make a copy of the report to hand to a teacher yourself.
You will likely fill out an extensive developmental history form. Take some time with this! When your child reached a wide variety of developmental milestones, including any difficulty with feeding, can provide a therapist a better picture of where and why your child struggles. Be honest about whether your child still uses a pacifier or a sippy cup.
You may be asked to keep a record of the words your child says over a day or in the week prior to the appointment. This can be very useful information to share! Many little ones are more verbal at home than they are with a new adult.
While you're there
Pediatric speech-language pathologists have lots of practice in working with toddler and preschoolers and are sensitive to their developmental needs. Unfortunately, many standardized language assessments aren't going to quite as "fun." While a child won't be expected to sit at a table and look at flashcards, there will be more structured activities than a therapy session would have. You'll see your child looking at pictures in a book and asked to point or label items. You'll also see your child interacting with toys and the therapist.
If your child is very young or very uncomfortable with new people or the environment, the assessment may take the form of a parent interview. Again, these can be standardized instruments that will still give an accurate picture of your child's skills.
When a standardized assessment is used, there are strict procedures that need to be followed. You can expect that your child will have more success at the beginning, but that the test will continue until your child misses multiple (often 4+) questions in a row. This is worth repeating because it often causes parents' stress. Regardless of how "well" your child is performing, the test continues until they can no longer answer correctly.
There will also be some unstructured time to see how your child plays with toys and to gather a language sample. Language is more than the words they say! The therapist will be looking at gestures, babbling, and eye gaze/contact that's used for communication.
If your child was referred only for difficulty with articulation (pronouncing words), they'll be asked to look through and label pictures in a book. This allows the therapist to collect a complete inventory of their speech sounds in each position (beginning, middle, end) of words.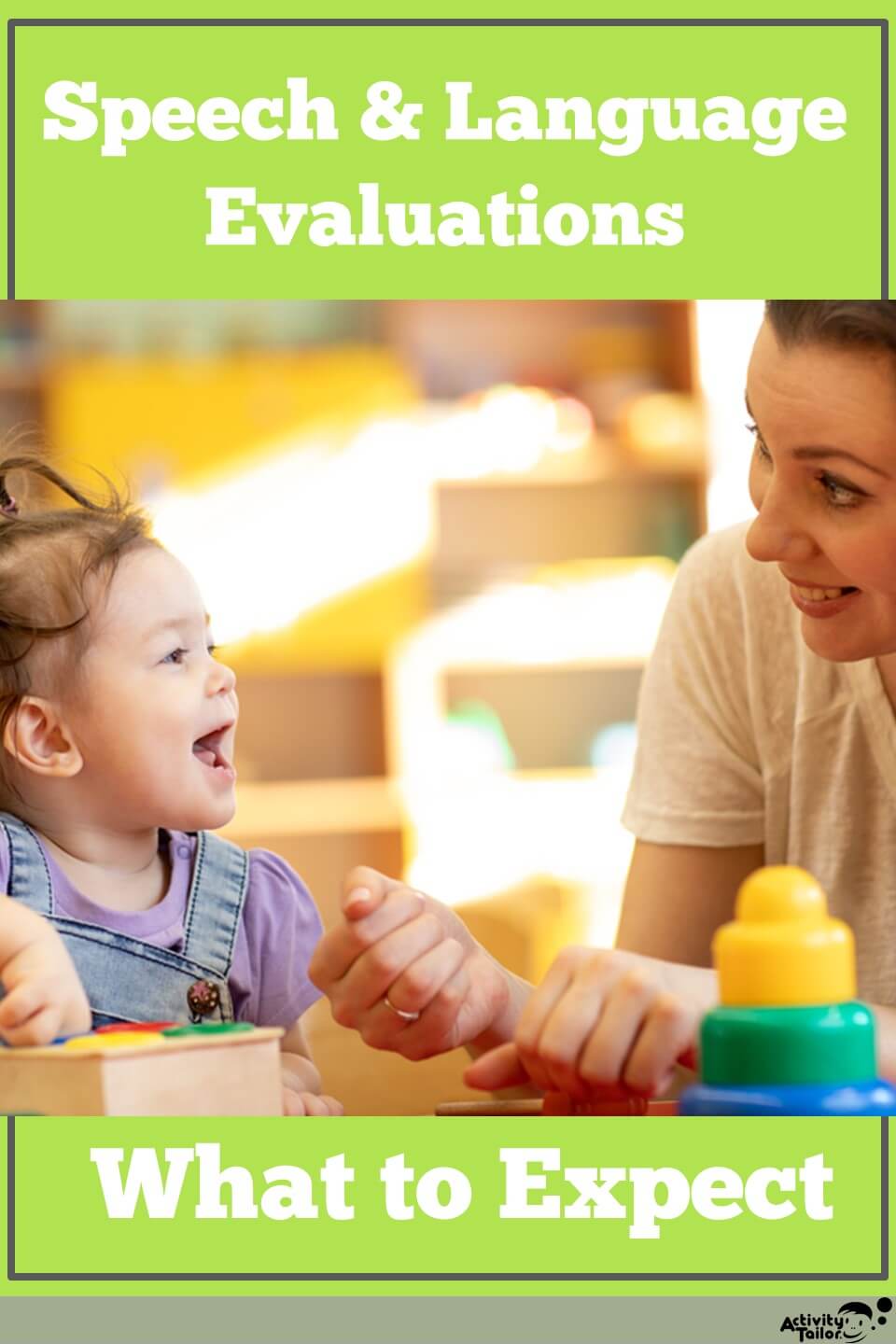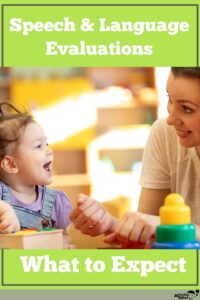 What's next
You should receive immediate feedback and initial impressions on where your child's language skills are in comparison to others their age. A full written report will be available within a week or two. You'll also receive a recommendation as to whether therapy services are needed or not.
Early intervention is effective and efficient so if services are recommended, you shouldn't need to wait to begin! If possible, start as soon as you can.
Wondering how much speech therapy costs? Click here.
It's natural to feel apprehensive when your little one is being evaluated, but knowledge is power! We want to be able to support our child especially if they are struggling.
If you are looking for a way to support your child at home, join us for a caregiver webinar or check out the Intentionally Parent Late Talkers Workbook.
SLPs, looking for caregiver education handouts you can send home during evaluations? Check these out!