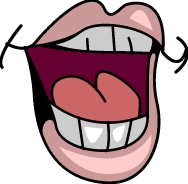 I've always had a thing for voices. My husband, attractive, funny and compassionate as he is, first caught my attention with his voice (and trust me when I say it was the vocal quality and not the lines it delivered). This was several years before I even considered our profession so it wasn't a learned appreciation. I'm curious. Is it just me, or is this a typical SLP preference?
A poll done at Wake Forest University in the early 2000s found that voices that fall in the low end of the normal range (11-130 Hz males, 200-230 Hz females) were often cited as more pleasing. Interestingly, descriptions of vocal quality, even by trained individuals have been found difficult to quantify or agree on. I guess it's one of those "I'll know what I like when I hear it."
I tend to like deeper voices with a hint of humor in them; not a slow drawl (despite living in the South), but not the rapid rate of the Northeast where I was born, somewhere in the middle.
When my kids were younger, we listened to lot of books on tape and Jim Dale was the best. But, which voice could I listen to, regardless of content, for hours on end? Hmmm….my voice "crushes" are:
Mike Rowe: Lucky for me, since he seems to narrate or provide voice overs for a large percentage of TV content and he has a new series starting with an aggressive marketing campaign.
Hugh Bonneville: I love Downton Abbey any way, but Hugh's voice and accent really make the dismal English weather worth tolerating.
Jerry Orbach: Something about his deep voice and humorous patter makes me feel that he's on the brink of breaking out into song. It's a pick me up for my ears. (Sadly, Jerry Orbach passed away in 2004, but it's easy to catch his voice on old Law & Order episodes, Beauty and the Beast or in Dirty Dancing.)
Well? I know you have them too! Which celebrity voices captivate you? Any that drive you nuts?