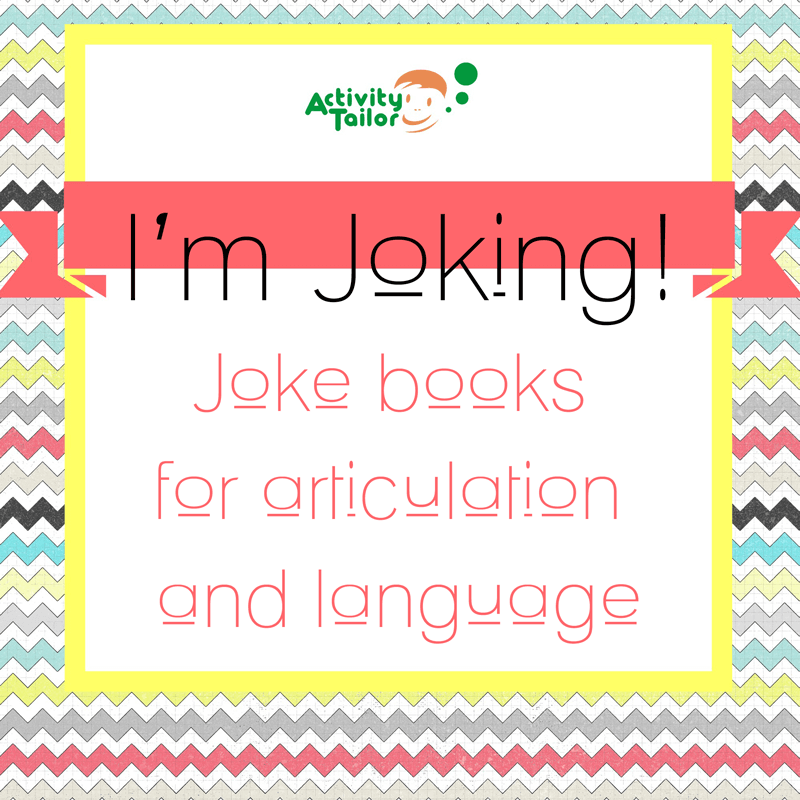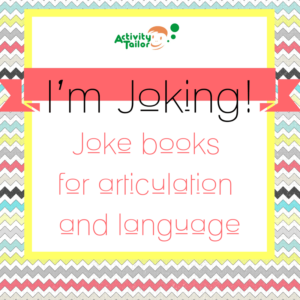 A few years ago, I inherited a caseload full of 2-5th grade boys that had been in therapy longer than they wanted to be. Need I mention it was chock full of "R" and "S?" It was a creative year for me because they didn't tolerate boring and were happy to tell me when an activity was. One of my most successful speech therapy ideas was jokes.
Kids love jokes of all kinds! By bringing in carefully selected jokes, I found that we would have a great time in therapy and they were eager to try them out on friends and family. (It didn't seem to cross their minds that this was actually homework getting done and I didn't tell them!) It was especially helpful for the articulation of R which seems to require lots and lots of practice.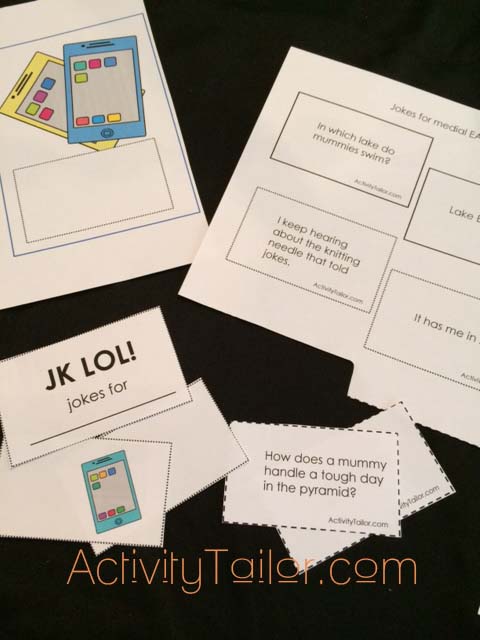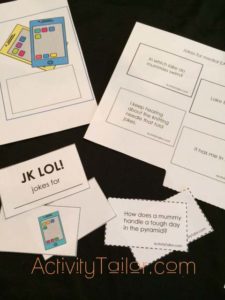 This summer, I organized approximately 300 jokes. The bulk of these I sorted by articulation target. This means that each joke will contain at least one instance of the target sound in the correct position, but the target will not appear in another position or variation. So, a joke targeting final "ear" will not have another variation of /r/ in any position, like:
"What do you call a deer with one eye?"
"No-eye deer."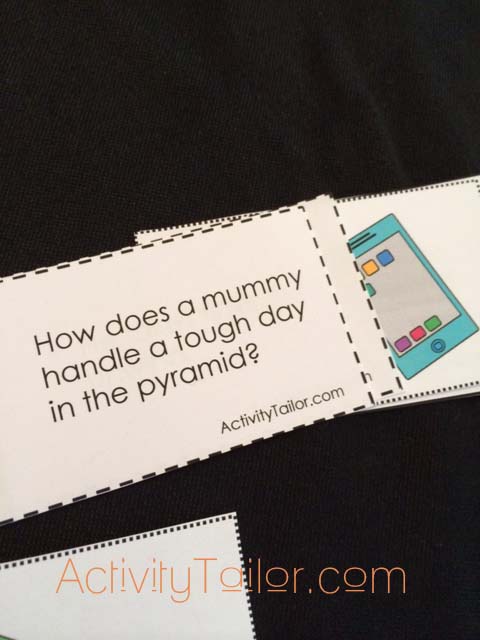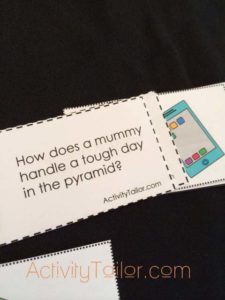 All jokes are great for working on inference skills since it takes sophisticated understanding of language to understand the humor in many of the puns or situations. By helping students with these language "surprises" you can address language and pragmatic skills since shared humor is a common basis for friendship. For these kiddos, you can use any of the jokes in the book for your language activity. Note that the jokes sorted by sound can often double as spelling/reading rule practice. There are also six sets of seasonal jokes: Halloween, Thanksgiving, Christmas, winter, Valentine's, warm weather.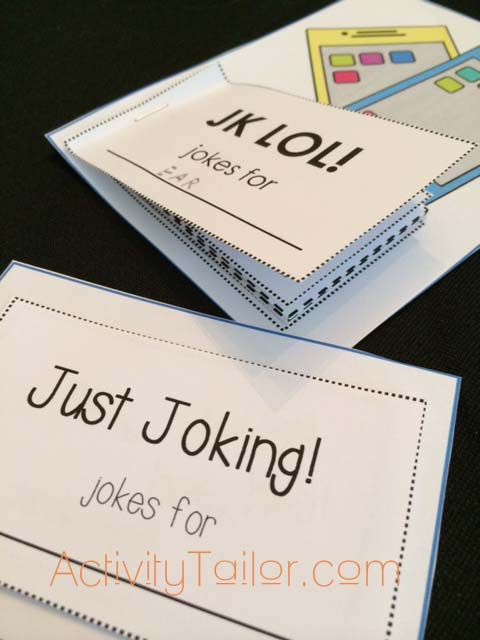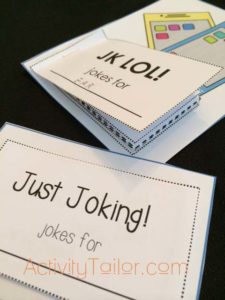 Following the jokes, are twenty mini book templates. To use, print a book back and the matching book pages. During your lesson, have students choose their top three jokes to assemble into a home practice book. There is space on the mini book to write either the theme name or articulation target (which will serve as a reminder which phoneme to focus on!) Stack the jokes, separated with the coordinating theme sheets (which helps language/pragmatically impaired kiddos "time" their jokes more appropriately) and staple to the bottom of the book back. Includes one generic and one blank template for middle/high school students.
Jokes so fun, you KNOW they'll practice!
***This activity requires a silly sense of humor!***
Contains the following:
L (12 initial, 9 medial, 12 final, 6 carry-over); CH (9 initial, 9 final); SH (9 initial, 9 final); J (9 initial, 6 final); TH/THR (9 initial, 9 final); S (12 initial, 9 medial, 12 final, 6 carry-over); R (12 initial, 6 for each medial AIR, EAR, OR, IRE, ER, AR, 6 for each final AIR, EAR, OR, IRE, ER, AR, 9 carry-over); Thanksgiving, Christmas, Winter, Valentine's Day, Warm Weather themes contain 9 jokes each.
Halloween theme contains 15 jokes.
Book templates contain 18 different themes, plus one generic and one blank for a total of 20.
Click here for more info.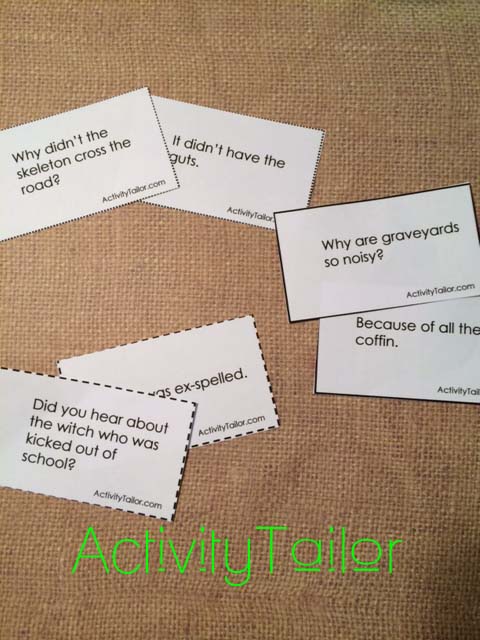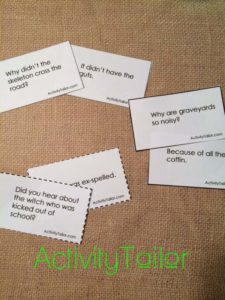 Want to try it out? Click here to download some spooky Halloween jokes and a book template!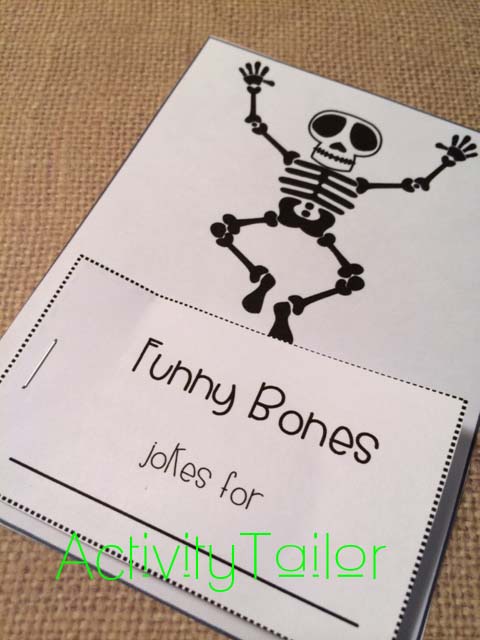 If you take the time to download, feedback and follows are always appreciated!