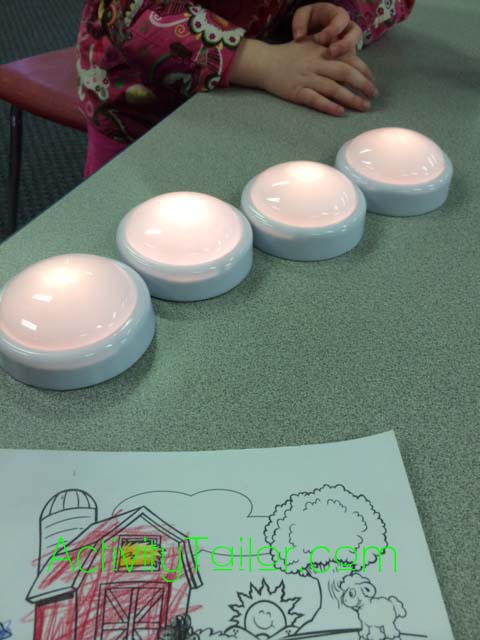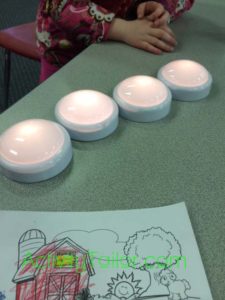 Is everyone back in the swing of things? My school year starts a bit later than most. I'll be starting screenings next week and can't wait to see all those little faces again!
My space changed this year (you can see all the pics next week) and it was kind of fun to unpack all the boxes of things that moved with me and rediscover some favorites.
One of them was my box of toggle night lights. I bought a set of four at Walmart a few years ago and I use them primarily for phonemic awareness tasks and some articulation/phonology issues. (I've added the link so you can see what you're looking for but I'm fairly certain I spent less then this in the store and mine came in a pack of four.)
You simply press the light to turn it on or off (it does require a bit of firm pressure). I've used them to mark syllables by having students turn a light on for each syllable as they hear/say it. I've used them to break words down into individual sounds like, "b-a-t," and turning a light on for each sound. Then, I might turn off a light and say "now change the 'b' to a 'k'." When they turn the light back on, they say the new sound and just tap gently on the lights/sounds that stay the same.
For kids with phonological processing issues, I've used a light to "turn on" the final consonant. For many kiddos, having that visual and tactile cue to place a sound at the end of the word works wonders. I've used it for kiddos with cluster reduction in much the same way (similar to my sliding worksheets).
You can also attach an artic card and hide the lights around the room, having them turn on the word as they locate it. It's like a variation of flashlight tag.
It's particularly fun to use them in a dim room.
Anyone else using toggle lights? How do you use them?