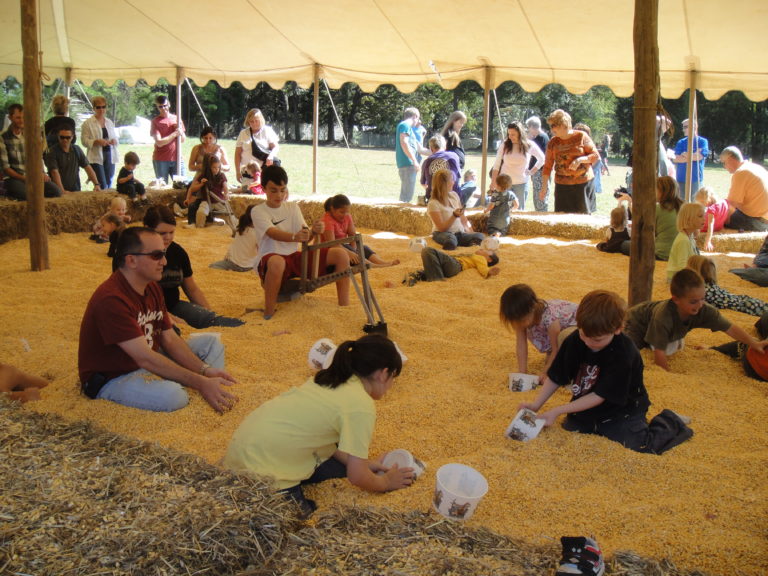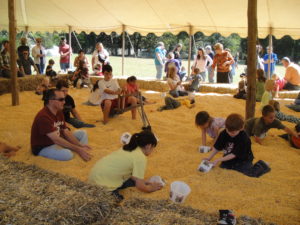 Another weekend found me at a fall festival. The weather was perfect—that wonderful combination of warm sun with cool hovering just beneath. The smell of straw was in the air. Ahh….
This event had a few activities new to me such as pumpkin slingshot. Yes, it's as thrilling as it sounds.
They had a huge stack of straw with giant drainage pipes set up as slides. I was a little scared at first, but once you're down, you feel invigorated. And I certainly wasn't going to walk back down the straw with all those little kids taking the slide plunge.
But what was really fabulous was the 20' x 20' cornbox. Literally a giant sandbox filled with a 6" depth of feed corn. How cool! How tidy!
I've used both rice and sand bins in therapy, but switching to feed corn, even if just for the season, seems like a great plan to me. The kernels are large, so they're easier to clean up and there's a different weight and feel when you submerge a foot or hand. I found it to be less "tickly" than sand can sometimes be and also a more comfortable temperature (sand seems to retain a too hot or too cold feel especially when it's outside and depending on the season).
If you haven't used a bean/rice or sandbox before you're in for a treat! Here are just a few ideas to get you started:
Language activities

: Work on progressive verbs by pouring, scooping and dumping. Address prepositions as you place corn in or out of a bucket or hide objects under the corn. Elicit early language as you put in corn, put in more or dump out.

Articulation

: Hide target appropriate objects or flashcards in the bin. Step inside the box—literally—and find them with your toes!
If you fall for this idea please tweet it! And I know you have some great ideas for using the corn box yourself. Please share in comments!
Remember, all US subscribers (as of TONIGHT, midnight October 18, 2011) are automatically entered in a drawing for Artic Attack! Don't forget to sign up!