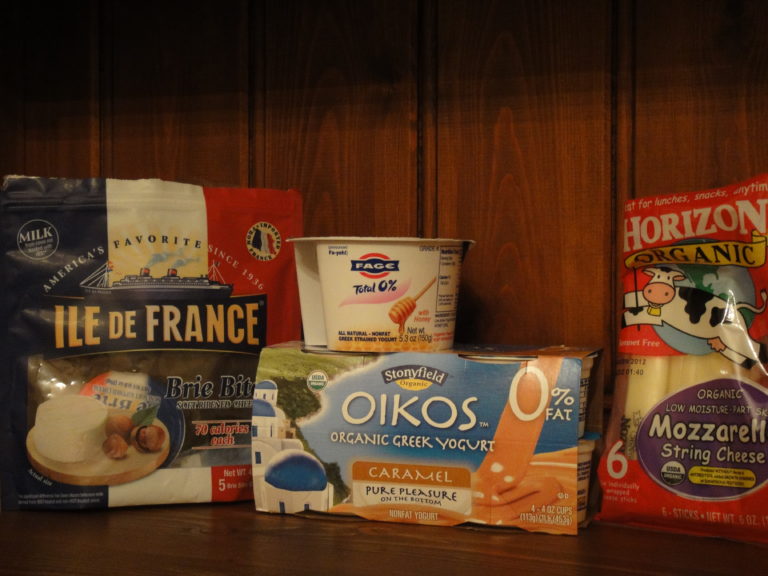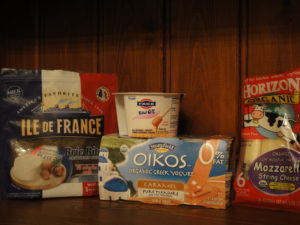 At first glance this might not seem quite as pertinent to your treatment room, but if you've ever had a non-stop day with a rumbling stomach you know how critical snacks can be. So, I'm going to run through my favorites.
Fage Greek yogurt and honey: My kids tease me mercilessly because I eat this so often and I'll admit I get a little anxious if I don't have one in the fridge. The yogurt is so thick and creamy (with no icky watery stuff) and you can customize each spoonful with your perfect yogurt/honey ratio. It's just perfect.
Oikos caramel yogurt: This is a new arrival in my house and it is so delicious it sometimes substitutes for the honey/yogurt above. It's certainly caramel-y enough to be a virtuous dessert as well. The container is small so it's also a good choice if you absolutely have to have something, but it's getting awfully close to dinner. The yogurt is a little tart, the caramel is sweet. The whole thing is blissfully creamy.
Horizon mozzarella cheese sticks: Doesn't everyone keep these around nowadays? So quick, so easy. And I love Triscuits. Four to six Triscuits with a cheese stick will get me through for a little while.
Ile de France brie bites: I couldn't believe my eyes when I spotted this bag. Mini brie cheeses, individually wrapped! What a great idea! My kids hate brie so buying a wedge often seems like more of a committment than I really want. These little beauties can sit in the fridge for several weeks, aren't nearly as messy and are so darn cute. (I also love to cook and I keep envisioning salads with this sweet little brie circle served on the side of a gorgeous stew. Can't wait for colder weather.)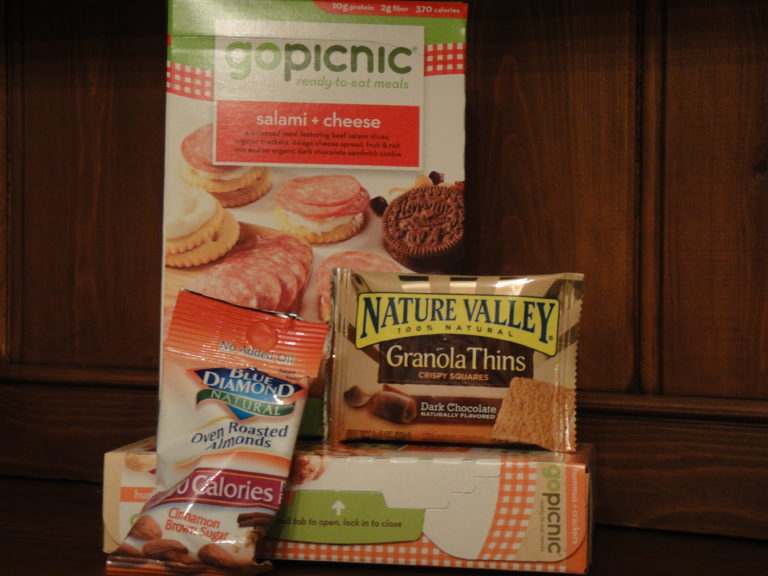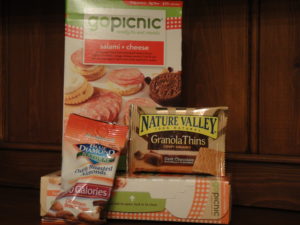 Let's move away from dairy and take a look at some crunchier options.
Nature Valley granola squares: They come in dark chocolate or peanut butter. I'm definitely the chocolate type. It's small, but you can always have two. Much better than a granola bar. More like a cookie. Ideal with a cup of coffee.
Blue Diamond Cinnamon Brown Sugar almonds: Mmmmm. They aren't messy just crunchy and slightly sweet.
Go Picnic: These things are awesome! More like a lunch or a big snack they come in two combinations: salami and cheese or hummus and crackers. Each one has the protein source and crackers, a nut & fruit mix pack and a little treat (cookie or chocolate square). I think the whole thing is organic (the hummus one is gluten free and vegan). They come in these clever little boxes which open into a tray and, while you eat, you can work on the puzzle they've printed on the inside. It doesn't even need refrigeration! I'm a huge fan. (Oh happy day! When I went to their website I found a number of other combinations I didn't even know existed!)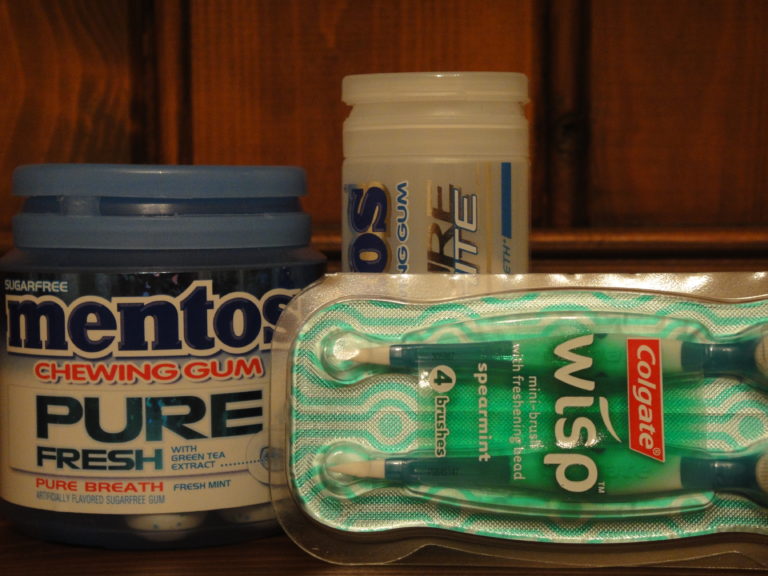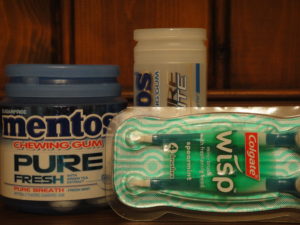 Final items fall under good manners (see Artic Brain). If you're going to talk close to someone's face, it's best to practice some oral hygiene after a snack.
Mentos gum: This is my favorite gum. I keep the squat little pot in my car and the tall narrow containers in my purse. I'm starting to save the containers. I just know there is a therapy activity in there somewhere…. Weird habit of mine, I only chew a minute or two and then I'm done. I really should be more of a mint person, but I just don't care for them much.
Colgate Wisp: Love these little things and always have them in my purse. You literally get a full tooth brushing without need of a sink. Invaluable on long plane trips, especially if you tend to fall asleep.
Your turn! What did you bring for snack? Wanna trade?
This is an unsponsored post, though I would love to see a box of any of these products arrive on my doorstep.