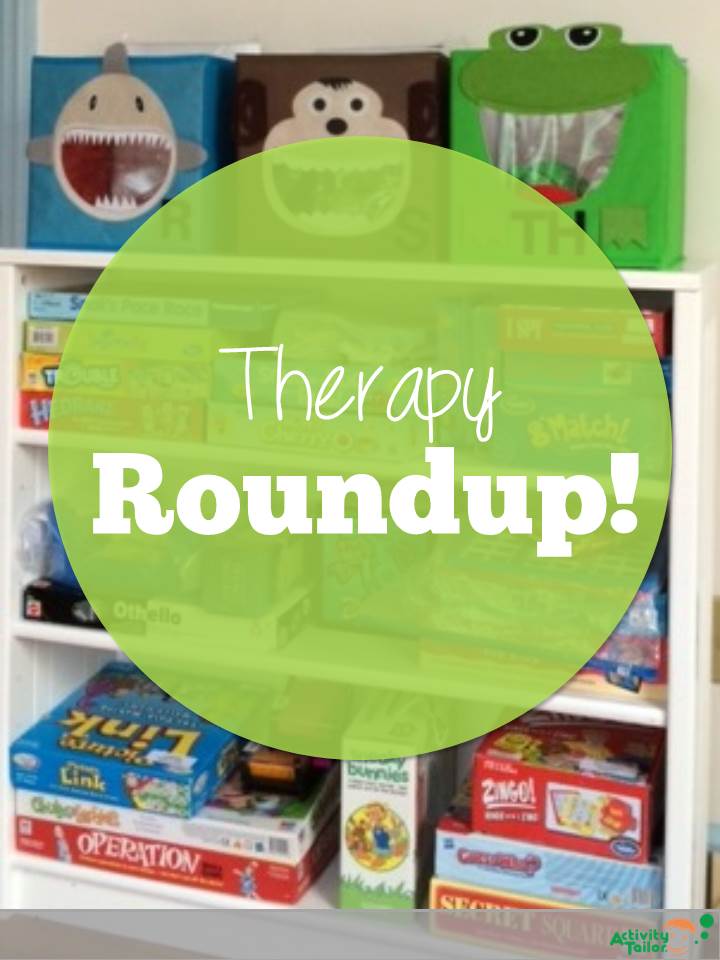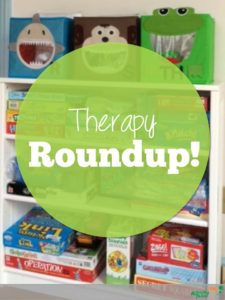 Welcome back to my weekly therapy roundup!
Sometimes you have a little one that really needs you to tap into their area of expertise to become completely engaged. Often it's superheroes, or trains, or Legos. Sometimes it's garbage or construction trucks.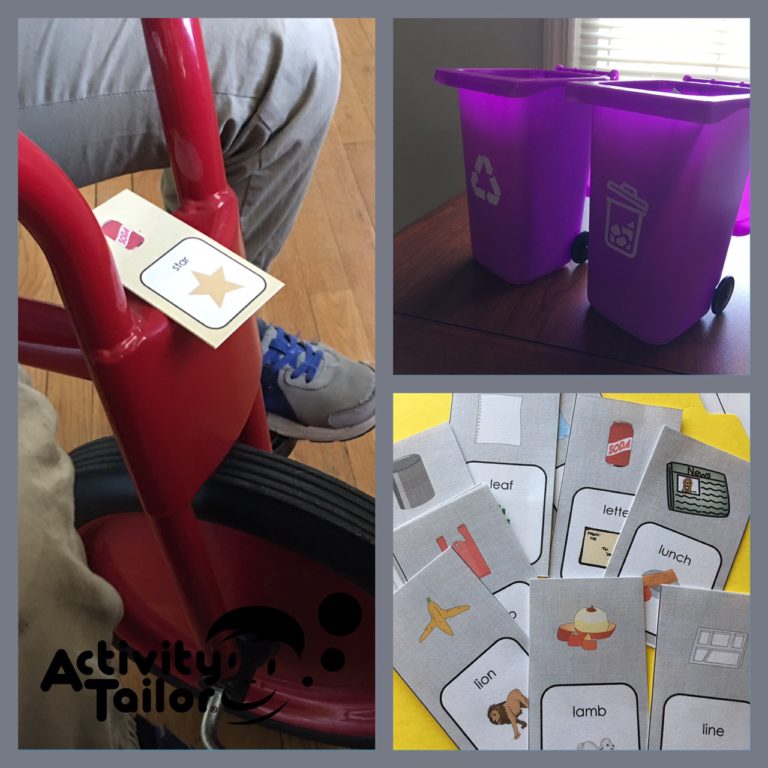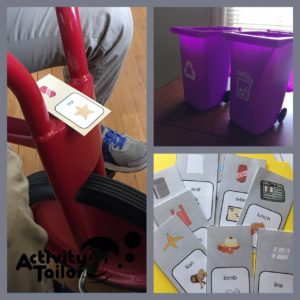 Dollar Tree has, inexplicably, but to my delight, pencil holders shaped like garbage and recycling cans (I'm linking to a similar set on Amazon. Dollar Tree doesn't have what I purchased online and my location was nearly out of this item.) This week, I made cards with our articulation targets that also contained a picture of trash. I have the luxury of an available big space, so I set up a garbage route of an approximately 10′ diameter circle. My little guys would pedal their tricycle to the chair at one end, pick up a card and pedal back to me. We'd practice our target word then look at the pictured trash. They'd decide whether it went in the garbage or recycling can, then pedal off again. We only had 30 minutes, but they would have pedaled until the end of the day! (I realize biking isn't possible for most SLPs. They would have been just as happy driving a toy garbage truck on the floor, using a floor scooter on their stomach to move forward a few feet or walking a garbage route around the room.)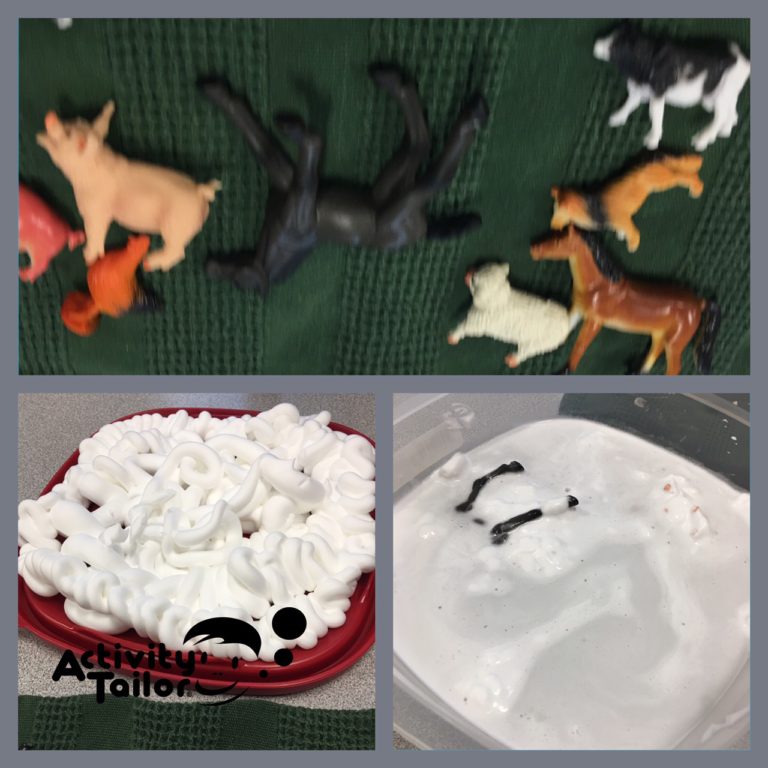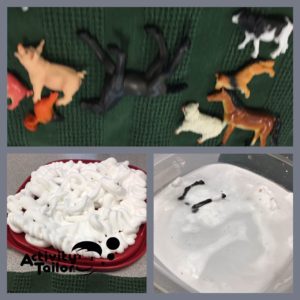 Back in December, I read Dream Snow with a couple preschool groups. I had plastic animals for each character and a white handkerchief that was our snow covering drift. This week, I brought the book back in, we brainstormed other animals that live on the farm and then we let all of the animals play in shaving cream snow. What fun! A quick hop in the lake and clean-up was a breeze too.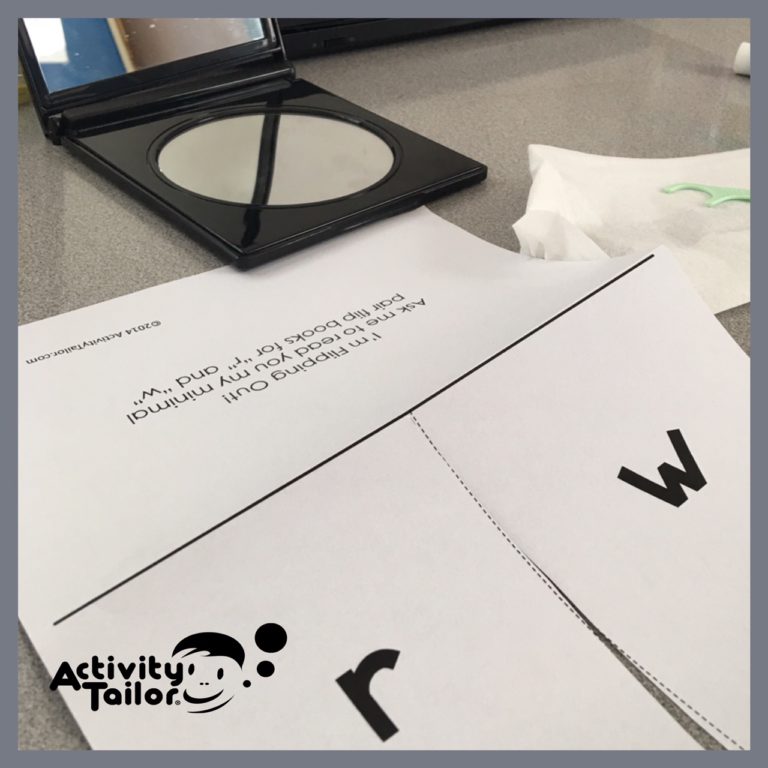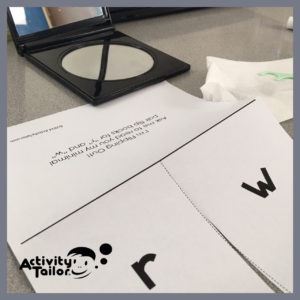 I have several learning-to-read kiddos that are struggling with decoding words with their articulation errors. I'm always including phonemic awareness tasks with my about-to-read littles and this week we worked on minimal pairs–sorting pictured words based on the starting sound and practicing the difference. I see lots of /w/ for /l/ or /r/, but I've got some struggling with "ch" or "s" and "sh" differences too.
Let me know if you are enjoying my weekly therapy posts!