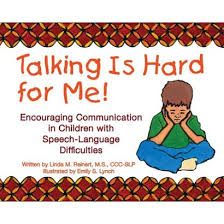 "There are certain disabilities that may limit speech, but never communication!" from Talking Is Hard for Me!
When I was in graduate school, I earned my discretionary income by working at an independent bookshop. It was an oasis for teachers, parents and children with cheerful displays, biweekly story hour and knowledgeable staff. It was a tremendous blow when a big name store came in a couple years later and put nearly all the independent booksellers out of business. And now, here we are, ordering directly to devices or from large Internet sites and even the large booksellers are struggling. It's been a pet peeve of mine that a low key outing to purchase a new book has become another opportunity to veto character toys and other non-book items.
So, I applaud the efforts of publishers like Woodbine House who offer niche titles at prices closer to what you'd expect from a traditional bookseller rather than an educational publisher. You can check out their titles for educators, parents and children here. Of particular note are the classic board books (ex ABC) featuring photos of children with special needs.
One of their newest titles is aimed directly at caregivers of children with communication disorders and is titled, "Talking Is Hard for Me!", written by Linda M. Reinert, M.S., CCC-SLP.
Although at first glance the storybook format would suggest the target audience is children, it is truly written for caregivers and, perhaps, typically developing children in contact with peers with delayed/disordered skills.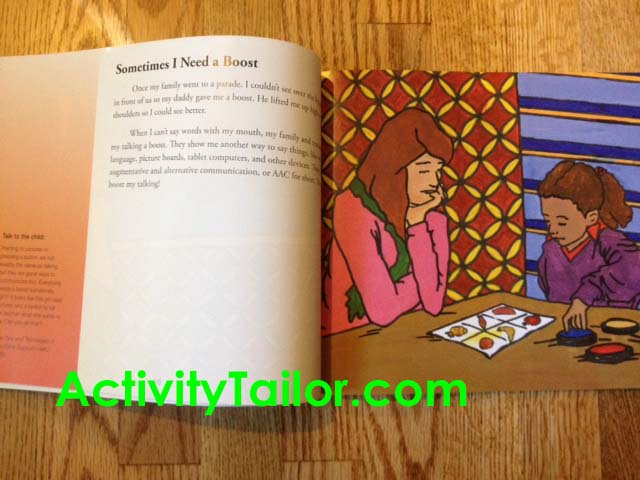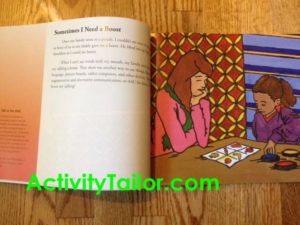 Each page has a full color picture with a short narrative from the perspective of a child with a communication disorder. On the left side of the page, there is a question for the reader and a reference to corresponding "Tips and Techniques" in the back. The fourteen scenarios offer insight into signing, speech approximations, AAC, music, creating natural communication opportunities among others.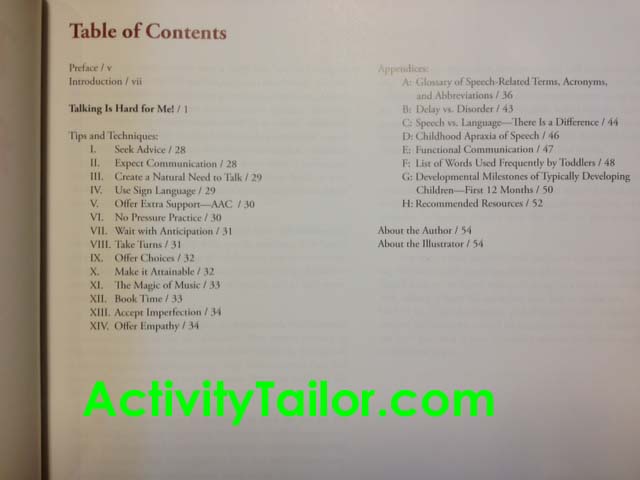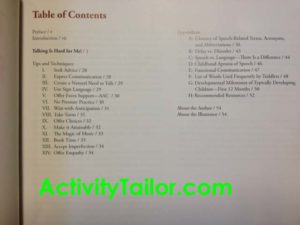 The book opens with an introduction to the reader explaining who the book was written for and how it can be used. It closes with several resource pages including a list of common speech terms and core vocabulary.
Though the book also markets its use for the child with a communication delay, the lengthy page narrative and absence of a true story doesn't make a strict reading appropriate. It may be used, however, by a creative reader as a springboard for novel dialogue.
The non-threatening format is a great way to give caregivers, whether they be a parent or child care provider, information of what a disorder may look like and how to provide intervention in a natural context. The "Tips and Techniques" are excellent suggestions, though it was sometimes a little difficult to match the "tips" to the correct narrative.
It would be a great addition to a lending library for parents or for use in a clinic waiting room. It can be ordered directly from Woodbine House, Amazon or Barnes and Noble.
Interested in winning a free copy? You may enter up to three times. The contest closes September 29, 2013 EST and the winning entry will be randomly selected and announced on September 30, 2013. You must have a US mailing address to win!
a Rafflecopter giveaway