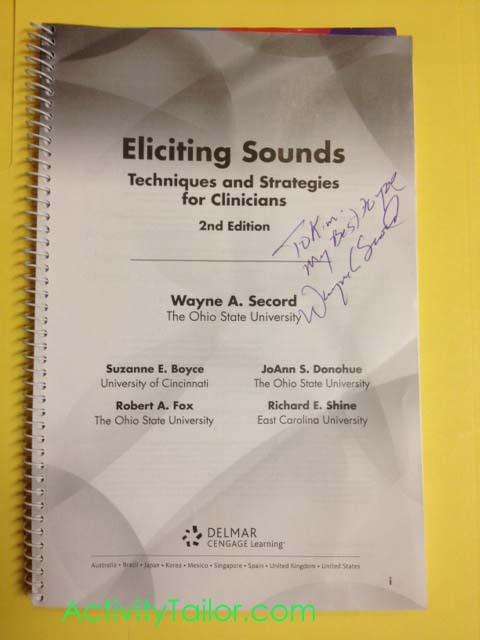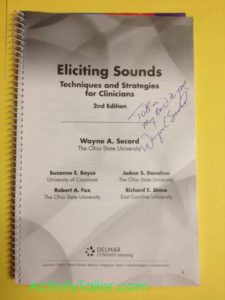 My calendar for April was full, full, full, but when I got the postcard for my state conference and saw the short course with Dr. Wayne Secord being offered, I signed up immediately. I periodically go back to my spiral bound copy of Eliciting Sounds: Techniques and Strategies for Clinicians
. Plus, he's one of the authors of the CELF. THE. CELF. It was an opportunity too good to pass up! (Did I totally geek out and get an autograph? Of course! I think it will be a good motivator when the going gets tough.)
Good news, it was worth it. I had to depart at 6:20am to make it to Raleigh in time for the 8am session and then dash out the door at noon to make it back to a 1:30 student. So what did I gain?
I'll admit it wasn't exactly what I expected. He was entertaining and he did give some practical tips on carryover of sounds that had me rethinking how best to approach this critical area. In fact, I'm instituting "words of the week" as a variation on his speech club. I'm giving most of my kiddos three words (ideally from a list of the 1000 most common words in English–I simply Googled it) for major practice during the week.
I want them to get these backwards and forwards, to the point where the production is fully ingrained. For my little "l" people this week, the focus is "like-little-long." Granted, "little" is trickier, but I made sure it was a manageable goal before sending it home. Dr. Secord and his graduate students have kiddos literally call in their words to the clinic answering machine during the week or send a digital file. I'm not sure the voice mail will work for me, but I'm toying with the audio file.
He also believes that telepractice will change our field dramatically. Honestly, I haven't given it that much thought yet, but I have a child I see in his home that I'm phasing out. We're scheduling a couple FaceTime chats between our sessions, just 5 min long, as a quick check since our sessions are dropping to every other week. I want to see how I might use the technology to my advantage.
But the real take away? I was bombarded with the idea of clinical excellence yet again– a topic I've been giving a lot of thought to this year. Where do I see myself, where am I going, what do I need to get there. I left with more ideas and a stack of summer reading including Switch and The Talent Code.
Stay tuned–I think this subject matter will be revisited soon!
Any of this strike a chord with you? Take a minute to comment below.