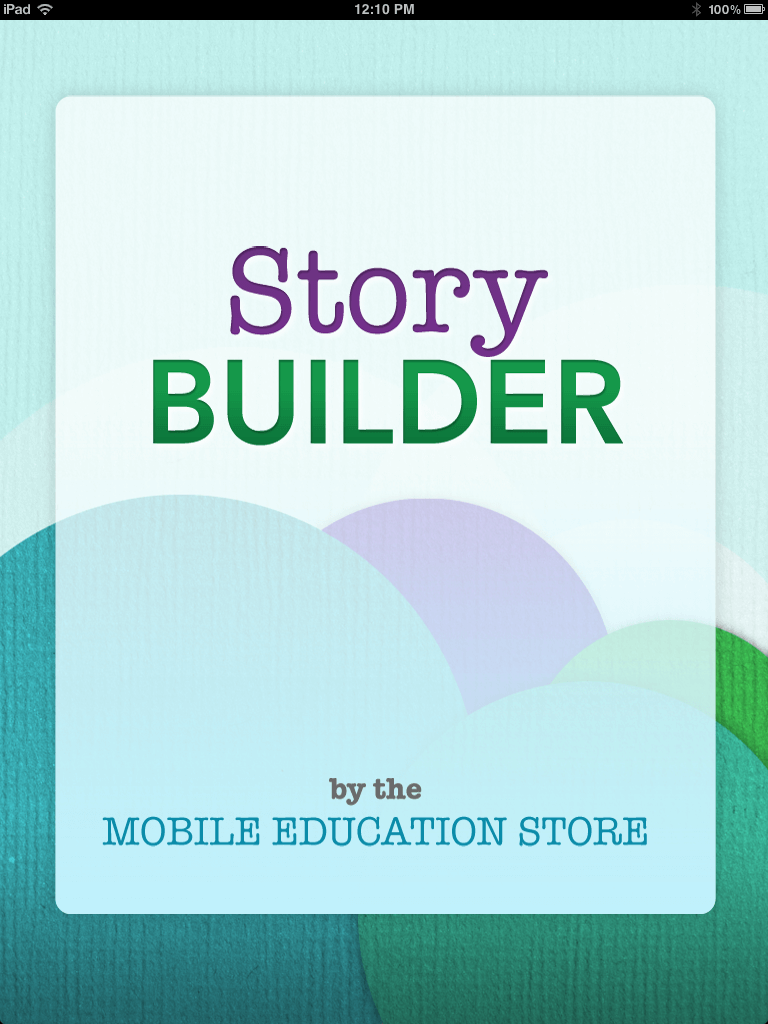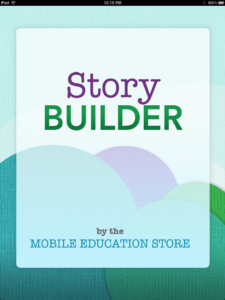 10/12/2012: Congratulations to Lynne who won a free copy of Story Builder!
Once upon a time, I reviewed Preposition Builder by Mobile Education Store. Today, I'll cover their app, StoryBuilder. One of the things I like about both these apps is their complexity and, while the illustrations are fun, they aren't babyish. At this time, I work primarily with students that have mild/moderate speech and language issues. While this would seem an enviable situation on some days (and I am awfully happy with my current position), it can pose problems for materials. There isn't always the variety of products I need at the level I need. What happens more often is that I'm buying "regular" games and adapting them for specific goals, or coming up with something completely new.
StoryBuilder is an app however that is made for me. Its target is narrative expression which, as we know, covers a whole host of skills including sequencing and inferences. The app has three levels each with a different level of prompting. Regardless of the level you are first given a picture–generally dramatic, often humorous.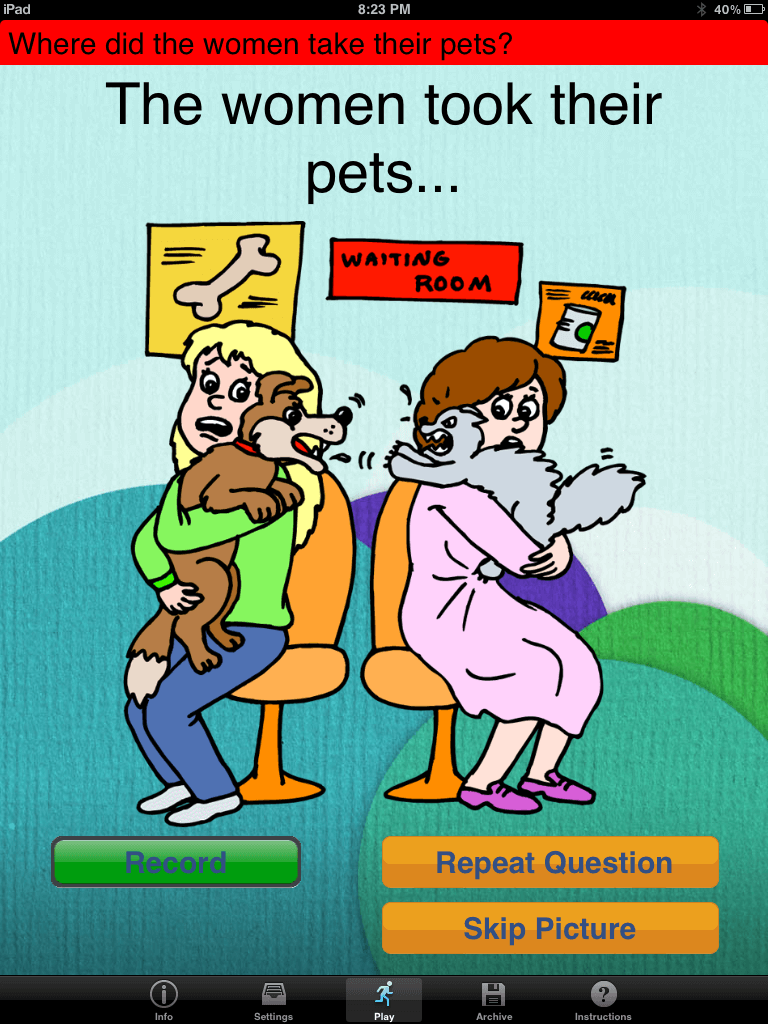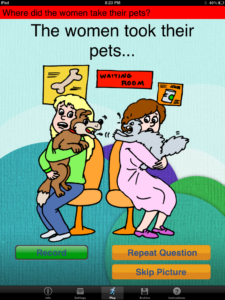 Level 1 walks you through four question prompts (you can opt for the auditory prompt or just use written). After each question, the child records their response. To encourage complete sentences, you can opt to have a written cue to get you started. So, in this scenario, StoryBuilder asked me, "Where did the women take their pets?". I would record something like, "The women took their pets to the veterinarian.". Once my answer is recorded it will prompt me with three additional questions, each based on the pictured scenario. At the end, I'll have the opportunity to listen to my entire narrative. Fun!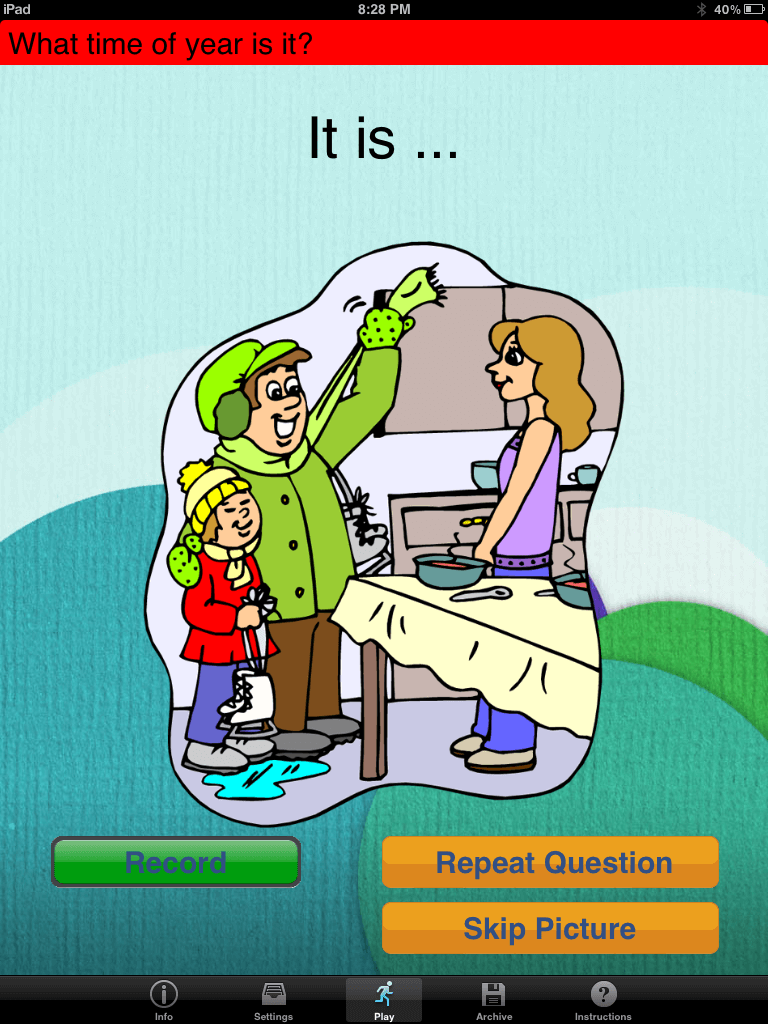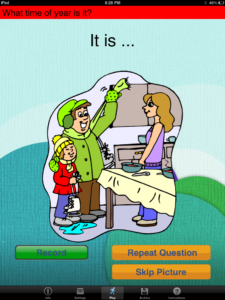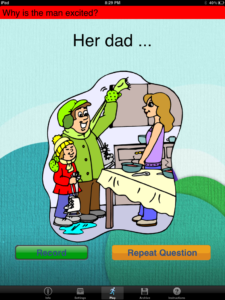 Level 2 works similarly, except that there is a series of seven questions and they require higher level skills, often inferences.
Level 3 has you creating stories without prompts.
In addition to using this with kiddos working on language, I'm looking forward to using it with kiddos working on the carryover of their articulation skills and fluency clients.
And we all lived happily ever after. The end.
Wishing you had a copy? It's possible your fairy godmother could make your dream come true. Just let us know in comments your favorite fairy tale by midnight EST, October 11, 2012. The winner will be chosen at random and announced on Friday, October 12, 2012. Let's see, mine is probably The Three Billy Goats Gruff.
*** Also, ASHA Special Interest Group 1, Language Learning and Education, is sponsoring a Live Online Chat October 9, 2012, from 8 to 10 p.m. EDT, on the assessment and intervention of narrative skills in preschoolers and school-age children.