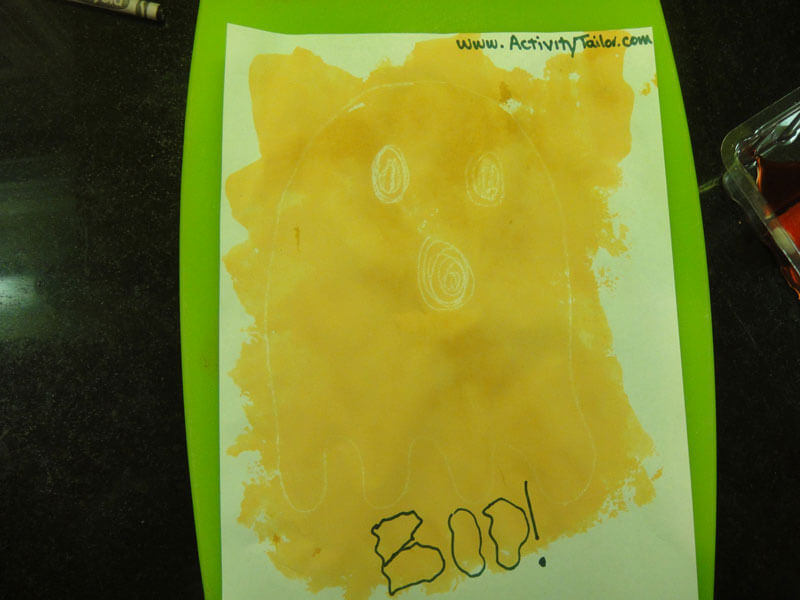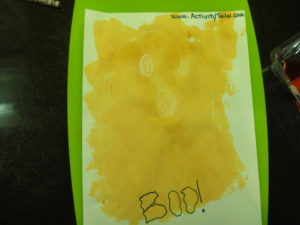 Halloween is such a fun holiday. There's lots of fantasy and candy, no pressure of presents or entertaining. The kiddos love it, though I know plenty of parents who are sent into fits over costumes.
My household is filled with very active imaginations so truly creepy wasn't a good fit for us and as a result my Halloween projects tend to focus on sweet excitement. This project is very easy to put together and can be used for early language or specific articulation work. It incorporates some great fine motor skills as well so your OT will be happy. (Click on the photo above for a better view; the camera doesn't really do the effect justice.)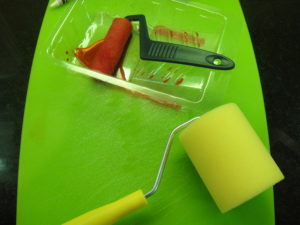 Materials:
Small rolling brush (You can buy these in the paint section of hardware stores very inexpensively. Think about what size arm movement your kiddo needs to decide on the roller diameter.)
Paint tray: My real mini roller came with a little paint tray which is ultra handy, but a paper plate would also work.
Paint: you have a lot of flexibility here, but thin and watery works particularly well. A couple drops of food coloring in water is perfect (but watch out for stains!).
White crayon
White paper: computer paper is fine as long as you don't get it sopping wet
To Assemble:
Before your kiddo arrives, you'll need to organize your painting sheets. For a child working on articulation you might simply write five words, well spaced on the sheet. A strong light will help you see where your marks are, but I would recommend drawing a black line to separate sections. Another option is to draw a large Halloween object to play a guessing game or cover the sheet with a bunch of the same mini objects (i.e. pumpkins, spiders, witches hats, etc)
To play:
[wpvideo jOyoLKwq]
Articulation: I would have the child brainstorm Halloween themed words with their target first. Once they came up with a few, I would have them reveal the first word by rolling the paint over the first "track.". Was it on the guessing list? Great! Let's see if the second one is! The words in the above video are: rattle, wreak, ravage, rapping, rant and ripping. Other spooky initial /r/ choices might be: RIP, rage, raven, rank, rat, rot, rancid, raining, rabid, ragged, radioactive.
[wpvideo jNxPSc6B]
Language: With one large picture, I might have the child start with one big reveal roll through the center. What do you see? Eyes? A triangle nose? What do we think it could be? A pumpkin? Hmm, if we do a roll right here, what will we see next? Or, if I've "hidden" a bunch of smaller pictures, we might do a roll and either label what was revealed or count the number of objects.
Hope you liked this trick and treat! I'll be sharing other Halloween themed activities this month, so stay tuned!