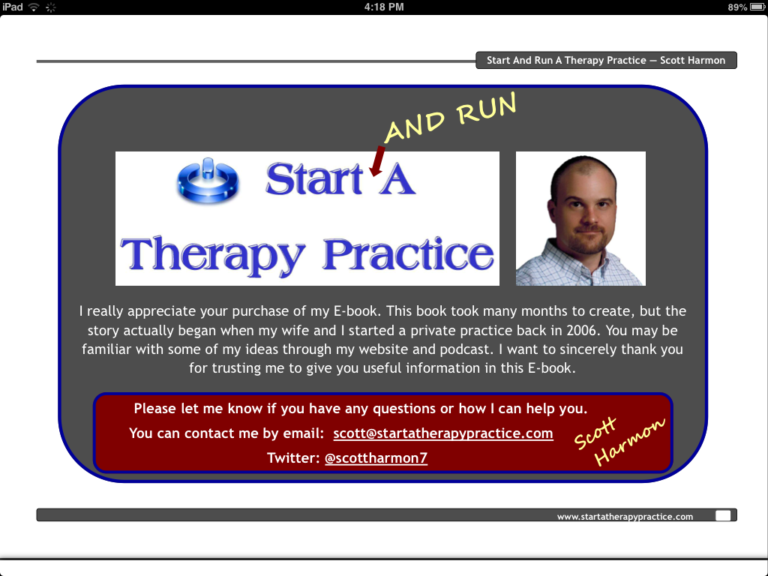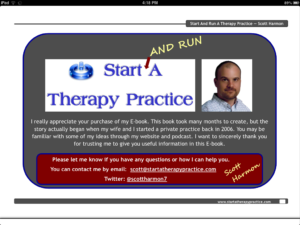 ***Congratulations to Brynn who won the FREE copy of Start and Run a Therapy Practice!***
The overwhelming majority of direct email queries I receive are about private practice—everything from "how do I get started" to "what kind of billing form do you use?" So I know that the dream to strike out on your own is near and dear to many.
I'm a firm believer that if you harbor the desire, you need to take the risk and try it at some point, in some capacity. However, I'm also fiscally conservative and would always suggest starting small with as little overhead as possible while you build your caseload.
Scott Harmon at Start a Therapy Practice has podcasts and free forms that can answer a lot of your questions, but his recent endeavor, Start & Run a Therapy Practice e-book, contains an over 120pg blueprint for the fledgling practice. (Check out his website to download sample chapters for free.)
He thoroughly covers marketing research, funding, billing, even adding on employees. It was an easy read with important recommendations you can return to as you need or grow. I was personally quite taken with the extensive list of resources in the back. While I was familiar with a number of them, I'm now working my way through the rest!
A short word of warning however, this book contains the truth and not simply "go get 'em, Tiger!" You won't like everything he has to say, but you need to hear him out (a.k.a. don't shoot the messenger). This might be particularly difficult if you're already "in", but I promise you that you'll reap more success considering these tips (even if it mean cutting some losses and beginning again) than you will sticking your head in the sand.
Scott generously gave me two copies of Start & Run a Therapy Practice. One to review (though the opinions expressed here are strictly my own), and one to give away. To enter, leave a comment below letting us know the area you feel least knowledgeable about in terms of starting your own practice. Enter by Sunday, April 20, 2014, midnight EST. I'll select a winner at random and announce it on Monday, April 21, 2014. Good luck!
Did you know I often post "extras" on my Facebook page? Check out the activities I've been doing with Easter eggs!