I have family in the Chicago area so we travel there with some frequency and when my daughter was little we spent an inordinate amount of time in the American Girl Store. It made me smile that as you approached you would begin to see lots of 4-10 year old girls carrying dolls and wearing matching outfits. The store is an experience and if you can pop in for tea all the better (they set your doll up in a booster chair with their own doll sized plates and cup). And let's all take a moment to appreciate the women who work in the "hair salon" and tame (or re-tame) abused doll hair into something glamorous. Though the sticker shock is…shocking, I do generally like the messages they promote which seem almost quaint by today's standards.
While our AG dolls were passed on a while ago, I have little girls I see regularly who are still big into it. For them, I give you "American Girl apps for speech and language therapy!"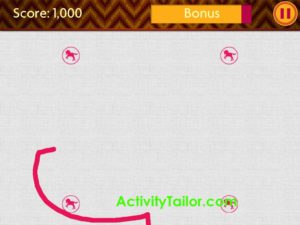 Most of their apps are FREE and, of course, you could just dangle them like a carrot. Do this for me, and you get 2 min on the iPad. McKenna's Gymtastic (free) and Saige's Paint Ponies (free) are best for this since they don't offer a lot in terms of speech/language. (Though Saige's app could be used with a child for pointing/handwriting type skills since you need to draw a smooth line around like-colored ponies.)
Kanani's Shave Ice (free)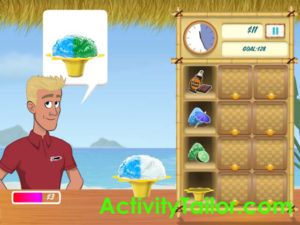 I've used this one with kids that struggle with tracking left to right and/or sequencing. The object of the game is to create the shaved ice concoction that the customer is thinking of and the app requires a specific order be followed. First the container (of course), then you need to add the flavorings (tracking a left to right order) and then the topping. Seems easy, easy, but I've had kids struggle with it.
Runaway Pup (free)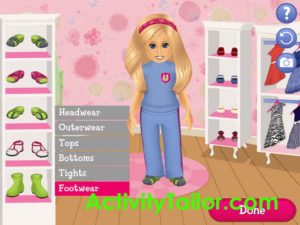 First, you need to dress your guide in appropriate clothing, great for vocabulary and making reasonable choices based on weather. Next, there is a story with a runaway puppy scenario. This can be used for discussing possible outcomes, ways to help, etc. You have to complete a little map puzzle (I often do this for the kids because they can't figure it out) then you're on your way to finding Pepper.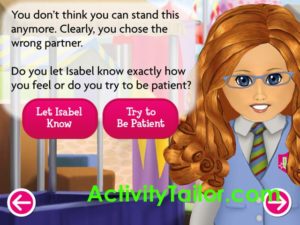 While the story continues, it will present you with a sticky social situation. You get a choice of two answers and you end up with consequences of your selection (no going back to "fix it"). It's a nice way to discuss what the repercussions of each might be and then see them play out. Once you've found Pepper, your friends host a Charming Party, a game with a large party scene for you to scour for charms. Honestly, the girls I've done this with can never locate the charms and it's just a boring, frustrating activity. If you can scoop the iPad out of their hands after the happy puppy reunion and move on, I would.
Scene Sounds (free)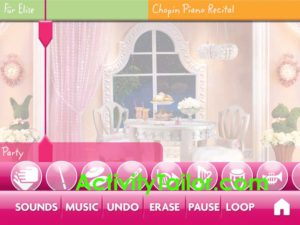 This is designed for open ended play. You choose a pictured scene to accompany your play (Gala, School, Summer, Winter) and can create a play list of three songs for the scene (songs are included). Knock yourself out if you have the patience to hear an endless loop of children singing. I prefer the "sounds" options in which you can press buttons for sound effects. You can use these to: guess what the sound is (using the location as a clue), add drama to your play or to discuss/plan how your script will play out. For example, the school scene has the sound of a school bell so I might prompt a little one to come up with a school activity that can be interrupted by the bell and that will then prompt us to "pack up to go home" and do an activity there.
Catalog (theoretically free)
I haven't actually used this app, but you do have the option to download the AG catalog. You could use this for all sorts of describing activities or to remind yourself how good life can be.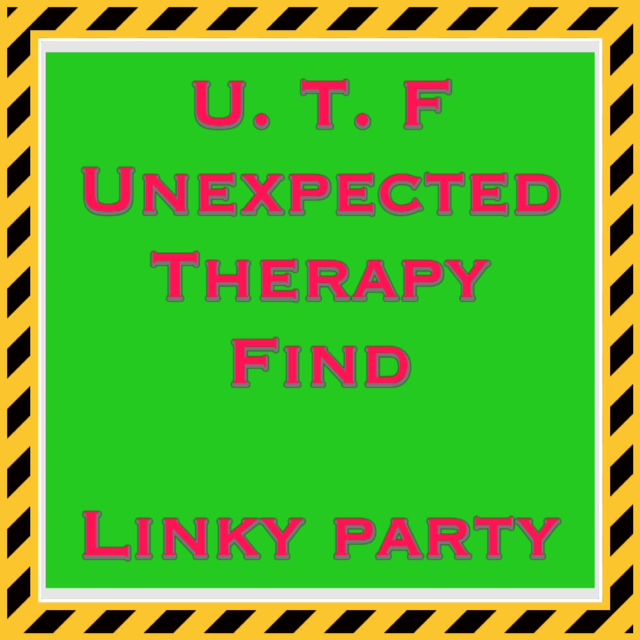 I'm linking this post to the U.T.F. (Unexpected Therapy Find) Linky Party over at The Speech Place. This month's theme is "Apps" so hop on over for some other finds.
The post was in no way sponsored by or endorsed by American Girl. To download any of their apps, simply go to the app store and search "American Girl" for the complete list.