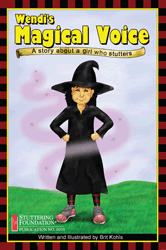 I do realize with statistics you are looking at data, hopefully quite a bit of it, over time. But it often feels "in the real world" like there are cycles when it comes to kiddos and their speech issues. I won't see any /th/ issues for ages and then suddenly the next several kids couldn't get a /th/ out for the life of them. Let's take fluency. It seems like you can go a couple years sometimes without a new fluency client and then out of the blue several. And girls. Go figure.
Well I like working with fluency issues. The kiddos often seem particularly adept in the language department (gross generality I know), and the therapy itself is fun. I recently invested in some new materials from The Stuttering Foundation. In particular, The School-Age Child Who Stutters: Working Effectively with Attitudes and Emotions…A Workbook and the currently discounted pack, "Complete Set of 16 Stuttering Foundation Books."
Within that particular grouping is Wendi's Magical Voice which I've been using lately. I like that it's endorsed by TSF and I also like that the design looks so similar to popular new reader series. The story is ok, message-y and a bit pat, but it's been well received and it's given us some starting points for discussion. It's a particularly nice activity for this time of year since Wendi is a witch.
Wendi's Magical Spell-ing Book: For this worksheet, I cut up 1×1 vocabulary squares, two-thirds were nouns, the other third was adjectives. I had purchased mini "cauldrons" from Target to draw the words out from and then they were pasted into place so that, (noun) turns into a (adjective + noun). My worksheet has general, silly targets but you could also print out 1×1 cards from LessonPix or BoardMaker if you needed articulation specific words.
Then we came up with something silly to say that became the spell for that transformation. And since it is a magical spell, it sound s a little different. We always strrrrrrreeeeeeetch the first sound of a spell. (don't you? Is that why your magic doesn't always work?). Stretchy speech has been one of our fluency techniques. The spell also works better if we use some magical Silly Putty as a visual aid to stretchy our speech. (Silly Putty really is magic)
Peter's Supportive Words: In the story a giant friend, friend who is a giant, offers kindness and a positive attitude. For this sheet we came up with some things we might say to a friend who was in need of bolstering or what we might like to hear when we are feeling blue. This helped me address attitudes and feelings.
Wendi's Magical Powers: Here we discussed that each and every person has talents and came up with five that my kiddo possesses. I try not to dictate here, even if they are struggling to think of something, but try to lead them into coming up with items on their own. I think it gives them more ownership and I think there is a lot to be gained by saying, "actually, now that I think about it I'm really good at (talent)." Items can be anything from "a back handspring" to "remembering my speech notebook" to "scratching my dog's ears."
Zap!: This myth-busting worksheet has kiddos draw a line from the magic wand to each myth and cross it out. (I recommend a HUGE "X" or scribble).
Magic trick: Directions for a simple magic trick with cards.
Due to time constraints, especially since I'm talking at a slower rate and the general feeling of our session is "this is a no rush zone", we generally do the first couple items and send the rest home.
Next week we'll follow up by learning a simple card trick and having her explain it to me. We'll record it and see if we can identify any "bumpy" speech–a tough task for her currently. At home, she'll perform the trick and teach someone else how to do it, by explaining, not just showing.
Click here to view this product in my TPT store. And while the activities were inspired by "Wendi's Magical Voice" the worksheets also stand on their own for fluency or language. This post was not sponsored or endorsed by the Stuttering Foundation.