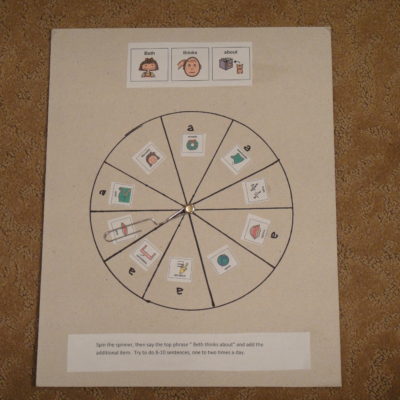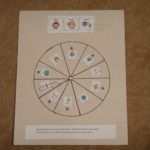 Giving a child a task to do during speech or language therapy empowers them. They need to work, but by giving them some control over the activity, I find that the session goes more smoothly and is more motivating. Even something as small as spinning the spinner to create a sentence decreases the perception of "clinician driven" work. This is something I use:
Materials:
Cardboard (I save the backs of notepads and the sheets that often come in the bottom of packing boxes)
Brad (the little gold thingie with two flexible "legs")
Large paperclip
Appropriate clip art
How to assemble:
I glue the carrier phrase across the top of the sheet. This is the phrase that the student will repeat on every turn and may or may not include the articulation target. Then I trace a large circle and divide it into the number of slices I need for my target words. I punch the brad through the center of the circle, unfold the paperclip and hook it around the brad so it spins freely. You may need to adjust the height of the brad and/or the tightness of the paperclip. I glue the targets in each "slice". The targets in my sample came from www.speakingofspeech.com but you could also use a program like Boardmaker. And if you have the talent, you can always draw them yourself.
How to play:
Easy as can be. The child spins the spinner and the word it lands on fills in the blank. In this case the child would say "Beth thinks about" (the carrier phrase along the top), "teeth" (the target selected by spinning).
You can also adapt this to work on categories. Keep the top phrase the same, "Beth thinks about", and put category names in the slices such as "animals", "foods", "vehicles" and have the child list 3-5 items from the category the spinner selected. To advance this even more, you might put the broad category in the carrier phrase, "Beth thinks about food, such as" and have the categories in the slices be more specific, "vegetables", "fruits", "desserts".
This is also a nice activity to send home since it encourages more interaction than flipping through cards or reading a wordlist.
If you would try it, then share it too! And take a minute to subscribe. You will be automatically entered in a drawing for a $25 iTunes gift card to put towards that app you've been eyeing. And while I believe in the concept of sharing under most circumstances, I NEVER share email addresses. You must subscribe by December 22, 2011 midnight EST and have a mailing address within the US to enter. The winner will be notified on December 23, 2011. Good luck!