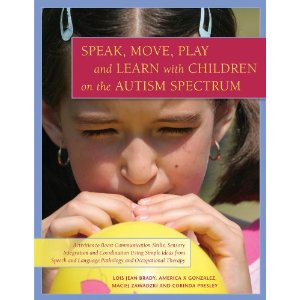 (this post was provided by the author, Lois Brady)
Congratulations to Kim who won a free copy of this book! (updated August 31, 2012)
In all areas of healthcare and education, a multidisciplinary approach is the most effective way to meet the needs of the students you are working with. Every field has their own unique perspective to bring to the table and it helps provide an overall picture of the individual and their needs. In the educational setting, working with professionals from varying backgrounds is a part of the daily routine. Through the years occupational therapists and speech therapists have discovered the value of combining their expertise to elicit the most out of a child. The occupational therapist brings a sensory-motor approach using meaningful activities such as crafts and arts, while the speech therapist brings the most important aspect everyone needs in any setting: functional communication.
A variety of common classroom and household materials are used in the activities and most are interchangeable. The main focus for group activities is providing an opportunity for the children to engage in supported socialization and conversation. It allows opportunities for joint attention and to think about other people in the group with commenting on each other's work, and sharing materials.
Click here for the video of Speak, Move, Play and Learn with Children on the Autism Spectrum.
We have a giveaway! To enter let us know who you most often co-treat with–OT, PT, another specialist, or always by yourself. You have until Thursday, August 30, 2012 midnight EST to enter. The winner will be chosen at random and receives a free copy of Speak, Move, Play and Learn with Children on the Autism Spectrum. Must have a US address. Winner to be announced Friday, August 24, 2012.