I used to do lots of crafts with my own kids when they were little and I miss those days! Periodically, I'll bring something to my therapy room that we can "create" but I'm between three schools which means I'm limited in a couple locations with supplies/space/time (as far as drying is concerned) so I'm often looking for easy projects too. Here are a few snow themed items I'm hoping to include this year. All can be used as open ended reinforcement, as general language activities and for vocabulary.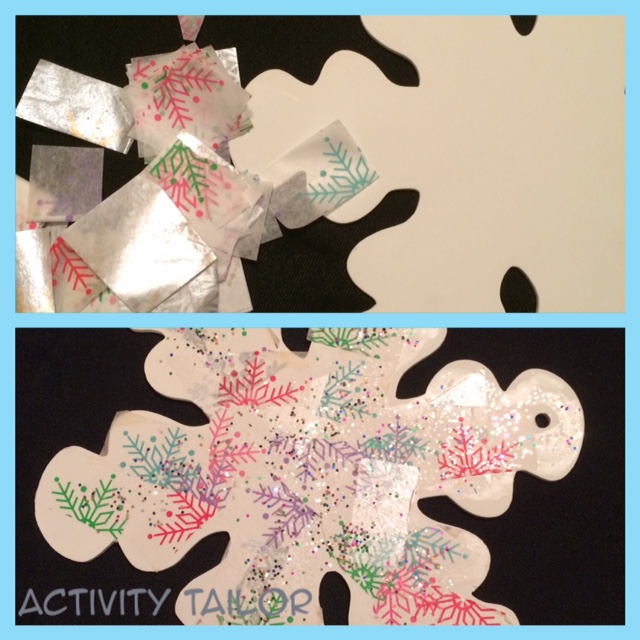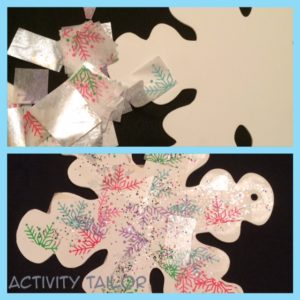 Decoupage snowflakes: I found white wooden snowflakes at Michaels which makes prep a breeze. Cut some tissue (mine has a snowflake theme, but plain silver or white would work fine). Make a thin glue/water mixture and swipe it on the wooden form. You don't need much. Lay down the tissue pieces and when it dries you'll have a sparkly snowflake. I do love glitter so I always add a sprinkle at the end. (Because the glue is so thin, it dries very quickly but I think a glue stick might even work here.)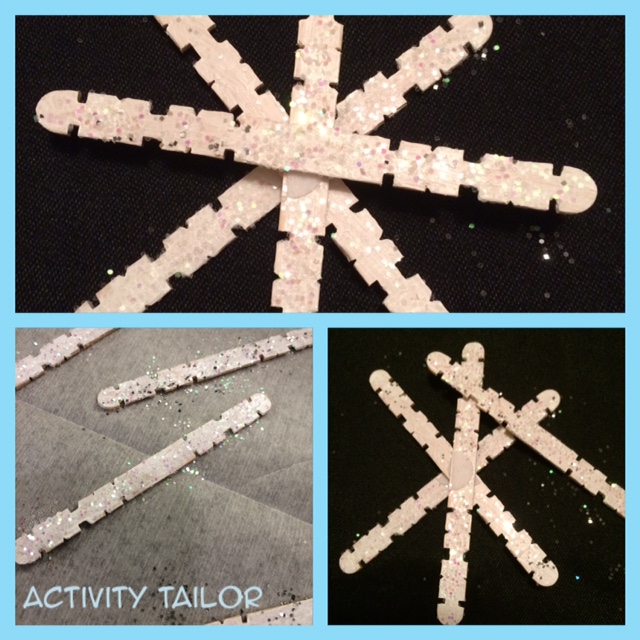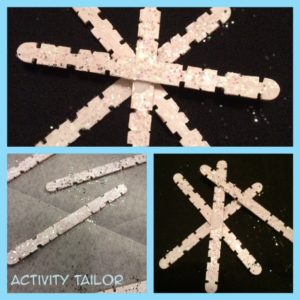 Popsicle snowflakes: I've got a lot of popsicle sticks (unsure as to why exactly), including the notched ones which have a more snowflake look to them. Paint white, sprinkle on glitter and let dry. You will need drying time for this project if the kids do the painting. Glue sticks together in a snowflake pattern. Note: Another option is to make the sticks at home (avoid glitter in the center of the stick) and add a Velcro dot to each. I put half a fuzzy Velcro dot on the white/glitter side of each stick and a half of a hard Velcro dot on each back. Now it's an activity for little ones in which they can build (and rebuild) snowflakes.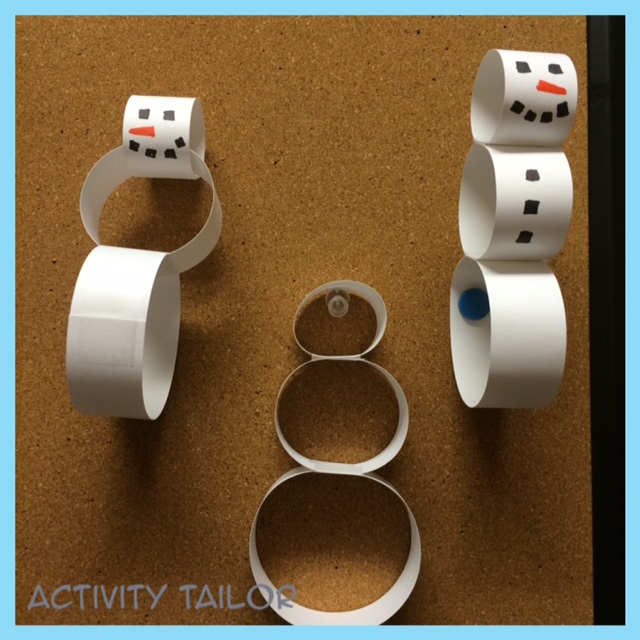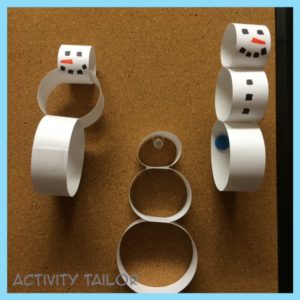 Paper Chain Snowmen: This is almost mess free. Take three different lengthened strips (mine were 8.5, 6.5 and 4.5 inches) and loop like the classic paper chain as you go from largest to smallest. Draw a snowman face on the smallest loop and hang on a bulletin board. Option two is to make three unattached loops and then stack and glue or tape them into a snowman shape. You can hang with open circles or turn to the side and add a few features. The third option is fun on a bulletin board because you will thumbtack the largest circle which gives a lot of dimension to the board as the snowmen stand out from it. Gives lots of opportunities for talking about size and comparisons.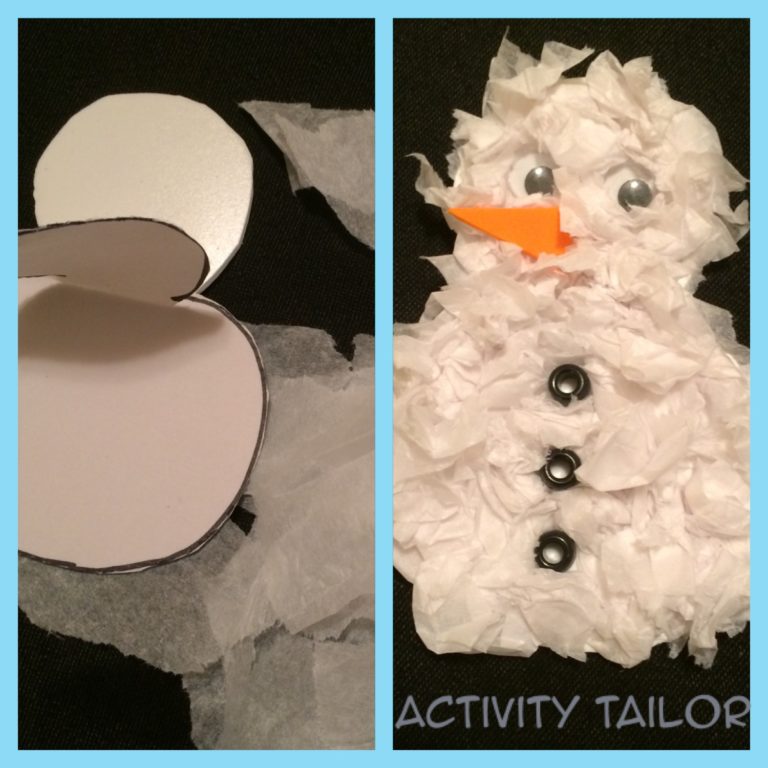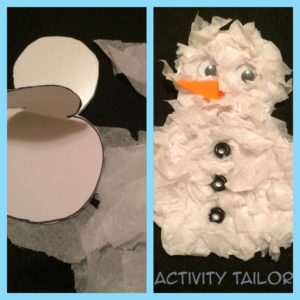 Tissue Paper Snowmen: Again, this is almost mess free. Cut a snowman shape from foam with a sticker back. Provide tissue that can be torn into 1-2" squares (I like to rip strips and kids can rip off the smaller squares). Pull back just a portion of the snowman to start. If it's the face, add two eyes (I used google eyes) and a carrot nose (mine is a scrap of orange foam). Crumple the tissue and stick it on until the entire face is covered. Now pull the sticker back off his body, add three buttons (I used black pony beads) and cover with tissue crumples. What I like about this project is that we can start one day and finish on another as long as I only pull off sections of the sticker back as we go.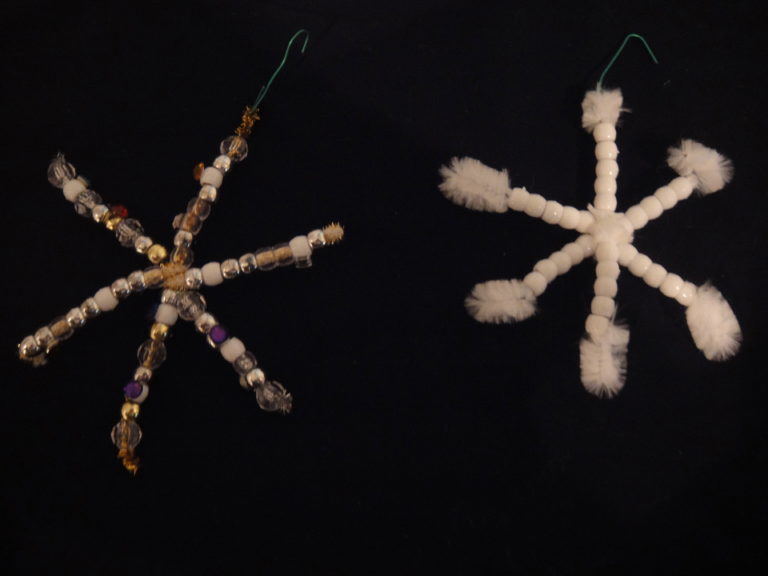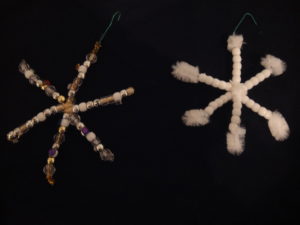 Pipe cleaner Snowflakes: Another easy, mess free project that I've blogged about in the past. Click here for instructions.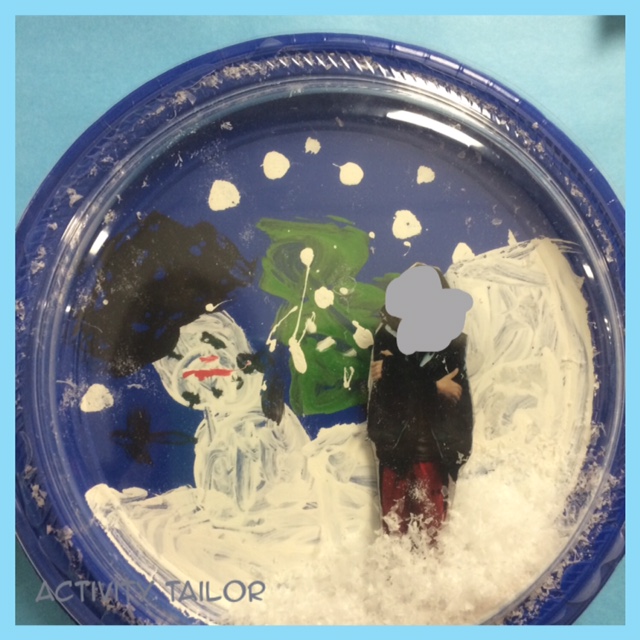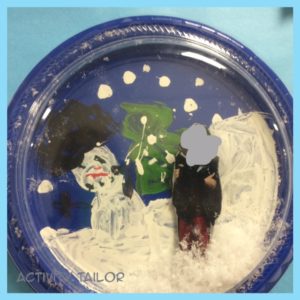 Snowglobe variation: I've seen so many cute "If I lived in a snowglobe" writing prompt projects, but this display I saw in a school hallway really caught my eye. The kids painted on a colored plastic plate and a mini "me" was created from a photo cut-out. Add a little artificial snow and top with a clear plastic plate. Voila! How adorable!
Have a snow craft that you'd like to share? Please link below! (The linky party will be open until January 31, 2015).