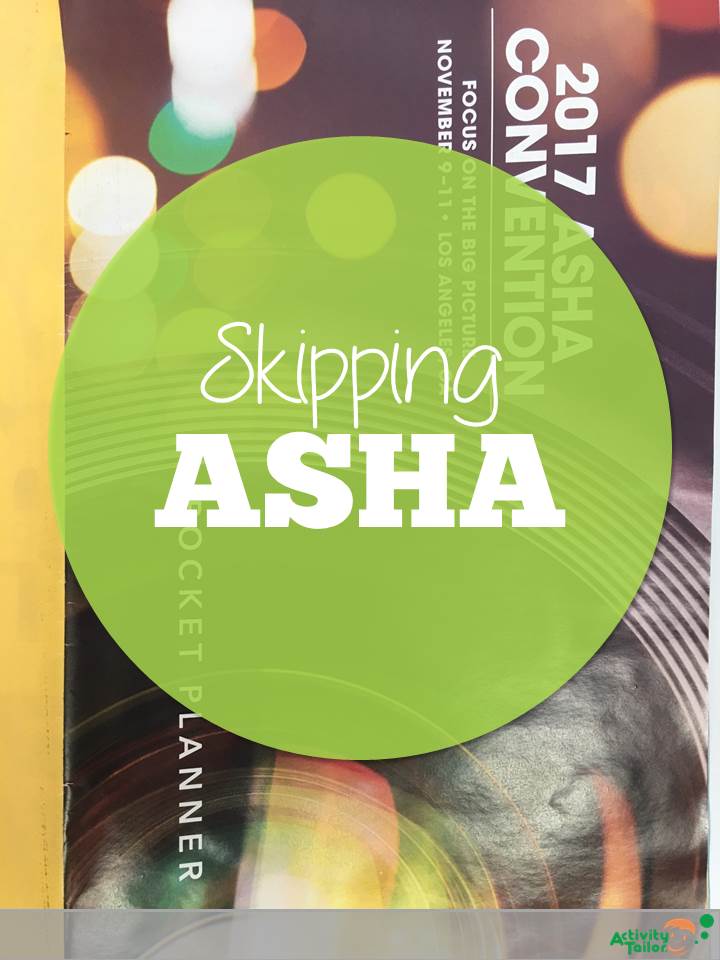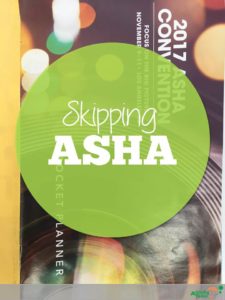 My ASHA pocket planner came last month and it sat on the kitchen island for almost a week, unopened, before I moved it to a less conspicuous spot. It was too taunting.
I didn't go to ASHA this year. The first time I haven't gone since 2010 and it was for a combination of reasons. Los Angeles is about as far from me as you can get which means needing a full day on either end for travel and, more importantly, it fell on my son's birthday and I wasn't going to miss that.
It's okay not to go.
When the flurry of ASHA posts start going up, it's easy to feel like you're missing something really important. You're really not.
Don't get me wrong. I've loved my convention experiences and I would certainly put it on your SLP bucket list, but if you pro/con a list, you may find that the cons outnumber the pros.
Expense: The convention is expensive. The early bird rate is $390 (less if you're a student or CFY), generally you're looking at 3-4 nights in a hotel. Food adds up. You might need a flight.
Topics: There's a little bit of everything, but it never fails that several of the sessions that would be on my "must" list overlap and I have open times with nothing that really pertains to me. Many of the sessions are more research based—important to be sure, but there are a lot fewer that send me home with practical tips I can start using on Monday.
Impersonal: It's big. Really big. And a lot of groups seem to travel together. If you don't have plans to meet up with others in advance and don't have the personality to insert yourself into a group, you may find ASHA to be a bit isolating.
Discounts/Freebies: Exhibitors do offer discounts, often free shipping and possibly a 10% discount too, but it's not enough to offset the total expenses by much. Honestly, the free swag is so-so. You can live without it.
If you are going to ASHA to knock out all of your CEUs, I'd suggest staying home. Your state conference is cheaper and there are lots of online options. The years I've gone to ASHA and maximized CEUs are the years I felt like I needed two days of sleep afterwards and wasn't sure if I was any better equipped for my practice than before I left. While I know we need the hours, I find myself less resentful if I'm not just checking hours off my to-do list and focus on sessions that actually support me.
The reason to go to ASHA is the people. If you don't have a group of SLPs at home to bounce ideas around with or to commiserate about paperwork or to laugh with about not-to-be-believed parents or kids, GO! Get involved with an online community in advance or reconnect with grad school friends. Approach it as a combination of learning and a girls' trip.
If you head to the ASHA website, click on "events" for the convention and then "exhibitors," you can see a list of where and when it will be for the next nine years (a bunch on the east coast which is easier for me, including D.C. which is drivable, in 2021, and Indianapolis, which I love, in 2026).
Have you been to the convention? Will I see you there at some point? Let me know!