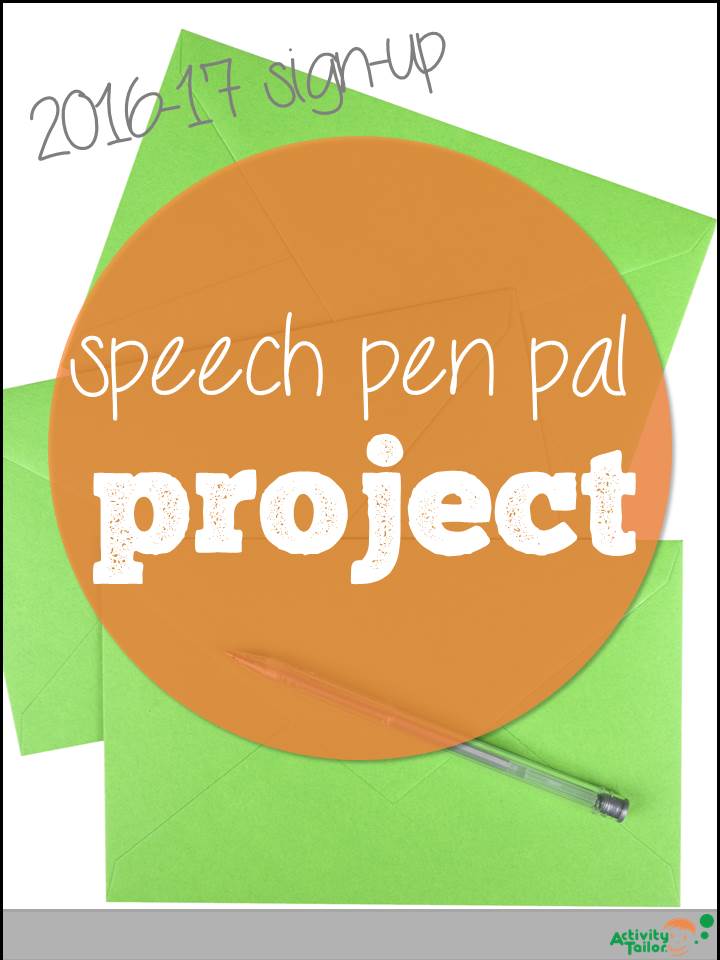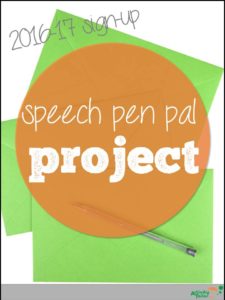 Admit it. It's still a thrill to open the mailbox and see what arrives each day. It's amazing when you think about it, considering how often the answer is "bills" and how seldom it's "card!" or "letter!"
Little guys particularly love to receive mail in an envelope which is just one of the reasons the "pen pal project" was born.
If you aren't familiar with this, it's an opportunity for your students to connect with other speech and language students from all over the country. Gabby at Middle School SLP and I started this two years ago and the response has been overwhelming—well over 400 signed up for the 2015-16 school year—and lots of you have been asking when we are starting again.
It's sign-up time!
Here's how it works. You will complete a sign-up for each match you need. A match might be a single student or might be a group that is matched with another group. Please do not request more than FIVE matches in any single category (by category, I mean same age range/disorder/severity). It is perfectly fine to request more matches as long as the disorders/age ranges differ. Note that a group match only counts as one match.
We match based on age ranges (even adults!), goal type (articulation, language, pragmatics, fluency) and severity. We do our very best to make appropriate matches for every student/group we receive a request for, but sometimes the numbers don't work out perfectly. If this happens, we will let you know that we are "holding" a request until an appropriate match comes in. We had several post-sign-up requests that we were able to match in this way last year!
Anne from Beautiful Speech Life had this to say:
"I've participated in the Pen Pal project for the past two years. I really can't say enough about it. My students love the experience of opening a "real" envelope with an actual handwritten letter inside. They don't enjoy the writing part nearly as much at first. But with some gentle coaxing and guidance they not only develop more confidence, but they make their letters more interesting and relevant.
Many of my students have only traveled to Mexico; Arizona is the only state they've been in. We have fun looking at the map and finding their pen pals locations in other states. The Pen Pal project opens their mind and engages their curiosity in a way that is relevant. Because they are communicating with students their age they aren't scared to ask questions and they really are interested in the similarities and the differences between their lives and their penpals lives. They have to organize their thoughts, think about cultural differences and use their social skills. I particularly enjoy using this program with my jr. high students. This is definitely a program I will participate in again."
Sign-ups will run from now until October 14, 2016 and you will receive your match(es) by October 24, 2016.
Once the match is made, we recommend that you contact the SLP(s) you've been matched with by email to get the relationship going and decide how you want to begin. For instance, if you want to start with introduction letters that cross in the mail or have one person be designated as the "initiator."
Try to send at least five letters to your matches by the end of the school year—May 15, 2017.
To sign-up click here and please feel free to share with colleagues!
Be sure to check out Beautiful Speech Life for a free copy of "The On Book" to target prepositions.