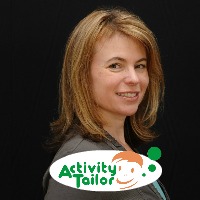 "Welcome!" (Imagine I'm standing here with iced tea and cookies) "Thanks so much for coming!"
Activity Tailor has been undergoing a huge make-over during the past month, and while our insides remain the same, our outside is looking much spiffier!
May I show off a bit?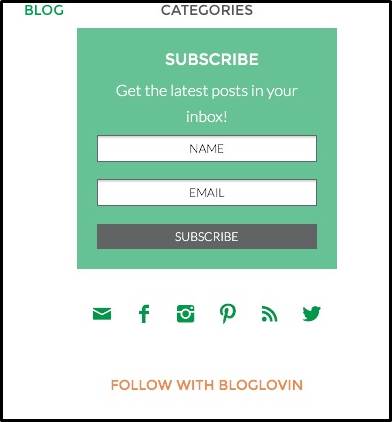 Social Media: It's so easy to follow us everywhere! On Twitter and Facebook, I have daily posts to interesting links, fabulous freebies, some humor and lots of opportunity for interaction. Instagram gives you a chance to see my speech room in action (it will be more lively in a few more weeks!) Pinterest gives you a chance to see activities I use (or plan to), plus access to parent and private practice resources I think are worthwhile. Contact me if you'd like to contribute to either of these boards!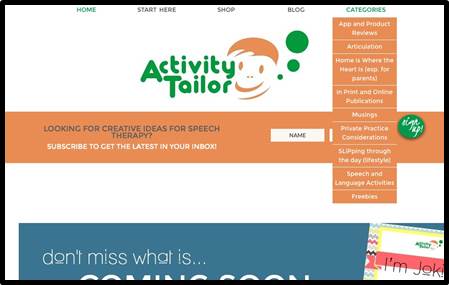 Posts: I'm still cleaning out the back room, so to speak, but searching for old posts by topic will be much easier. And have I mentioned sharing? In addition to the sharing buttons at the end of each post, all images give you an easy "pin it" hover button (so practice what your momma preached).


Products and Freebies: All of my products and freebies are now easily accessible in my TpT shop (no subscriber only password to keep up with!). If you've been shopping lately, you might notice that the look of my store front, as well as almost all of my covers, have been updated.
An enormous thank you to my wonderful designer, Ginny, at My New Favorite Design. Take a moment to visit her own gorgeous blog, A Modern Commonplace Book, or pop over to Miss Kopy Kat to enter a $100 gift certificate for her design services. You can use it to either start your own blog or refresh an existing one. Click here to enter.
I'd love to hear what you think (or what still needs tweaking). Take a moment to comment below.
A completed project this big is cause for a major celebration, so let's have a BIG giveaway. Winners will be announced August 12, 2014 (for the Hard Goods Giveaway you must have a US address). Good luck!