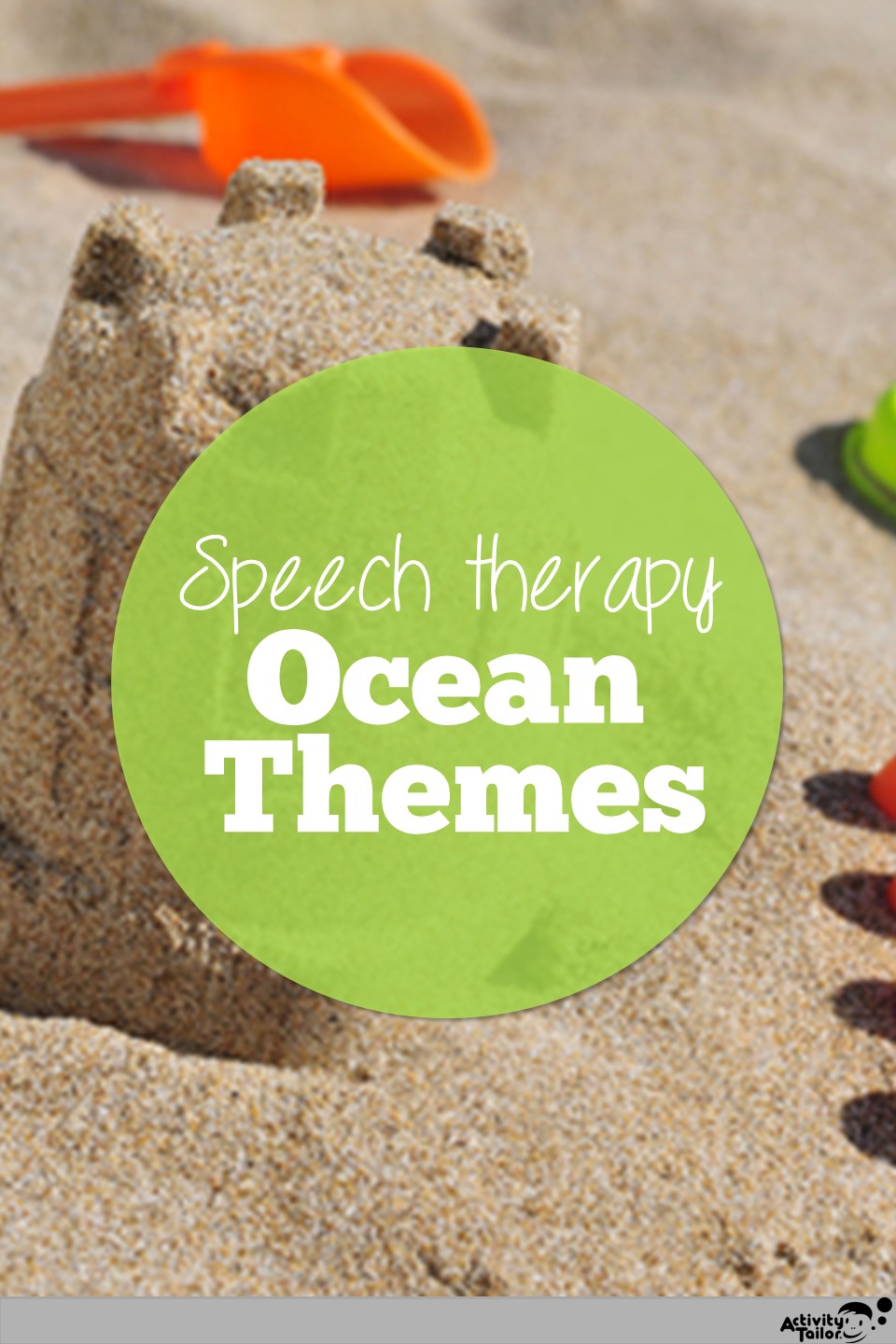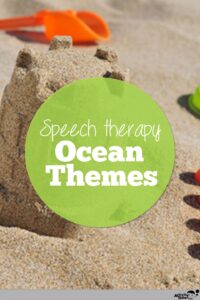 When you think ocean themes in speech therapy are you assuming it's for those of us who see students in the summer? It's time to reconsider! Ocean themes cover a wide range of activities which means an even wider range of speech and language goals to target.
Related themes or titles:
Sea creatures
Under the Sea
Speech on the Beach
Sharks
Pirates
A visit to the Aquarium
Speech rooms love pirate themes in September to tie in with Talk Like a Pirate Day!
Books with an Ocean Theme
Links to purchase books may contain Amazon affiliate links. I receive a small commission, but there is no increased cost to you. And I don't recommend what I don't use!
Poke a Dot Ocean: This series of books from Melissa & Doug is especially helpful for engaging those littles who aren't "in" to books. Giving them a job during reading—and in this case a really enticing one—makes all the difference. This is a counting book and while counting isn't the best focus generally, it does mean there are lots of repetitions of the same word on each page. In this case, ocean creatures like fish, dolphins, stingrays, sharks, and sea turtles. Each animal has a push-able dot on it, imagine reusable bubble pop, which ensures a longer pause on each page.
That's Not My Narwhal…: The "That's Not My" series is a staple of many speech rooms for good reason. The board book format is durable. The books are short. Each focuses on one primary item, in this case the narwhal, and takes readers through its parts (e.g. flippers, tail, horn) with a variety of descriptive words (e.g. smooth, rough, sparkly). Each "part" is highlighted with a texture.
Pout Pout Fish: Here's another series for your speech room and one with an explicitly social communication component. Are you an Amazon Prime member? You can read it for free on your Kindle!
Clark the Shark: A story about self-regulation (sound like a goal you work on? All. The. Time.) which includes the unintended consequences of being a little too much, how it might be perceived and how to manage it.
The Three Little Fish and the Big Bad Shark: A fun retelling of the Three Little Pigs with an ocean theme. Story retelling are a great way to work on sequencing and predicting skills. They can also be used to help your more rigid language students to work on flexibility.
Need help getting your students to engage with books? Join this free webinar!
Links to purchase materials may contain Amazon affiliate links. I receive a small commission, but there is no increased cost to you. And I don't recommend what I don't use!
Articulation Activities with an Ocean Theme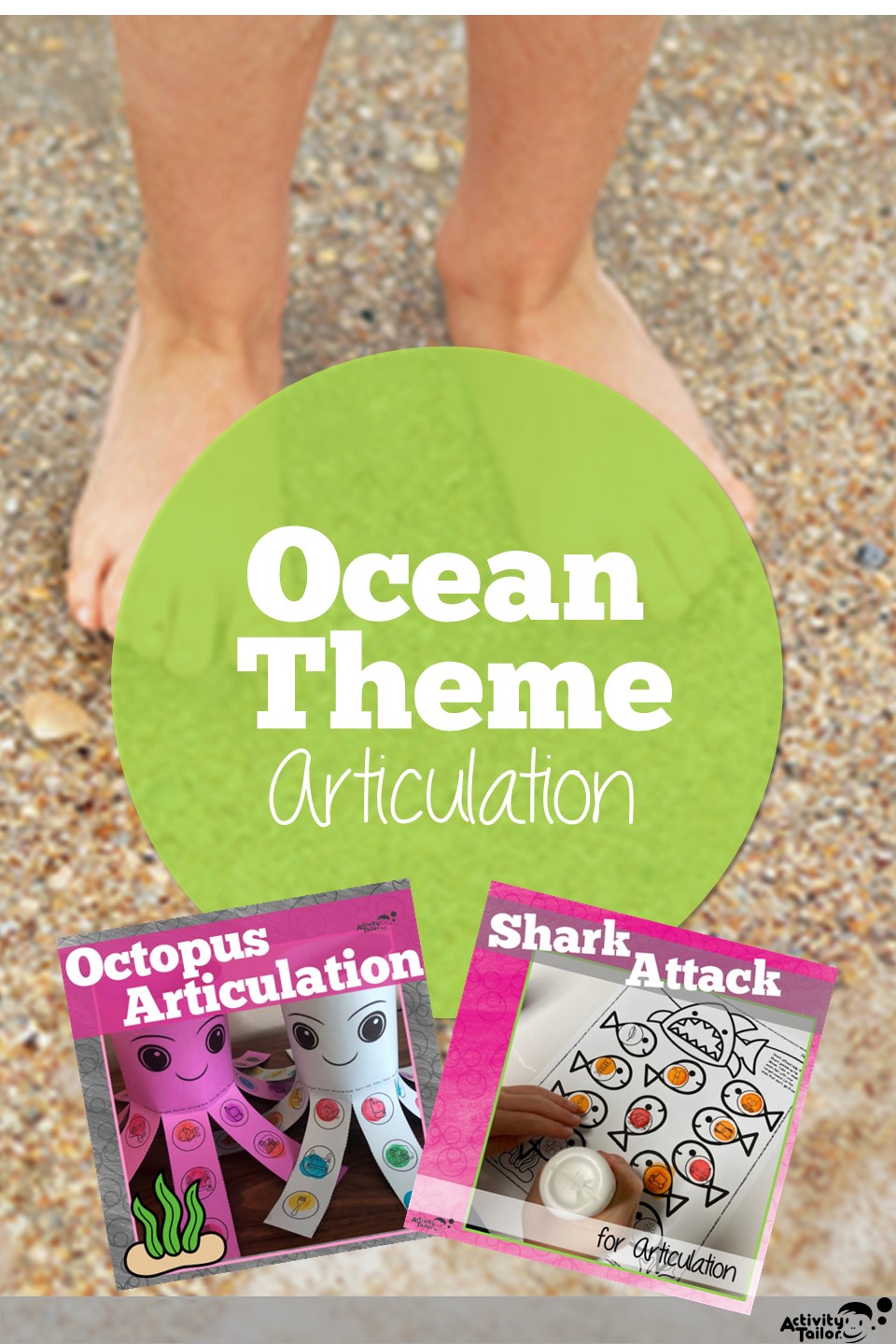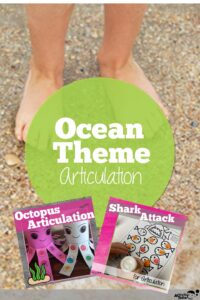 Ocean creatures puzzle: This puzzle is a little more difficult to complete because there isn't a picture of the item beneath it to guide you, but the frustration is minimized because it actually works in reverse. Present to kids complete and they "fish" the ocean animals out! Print articulation pics to hide beneath each fishy. Want a more classic fishing activity? Click here.
Octopus Articulation Craft: A sweet print-and-go craft with 24 pictured trials to color or daub. Includes an open-ended sheet with blank dots so you can adapt it for any goal—speech or language.
Shark Attack Articulation: Help a not-too-scary shark gobble up his dinner. Stay alert! Each page has two fish without the target sound and those fish should swim free. This added component increases phonemic awareness.
Shark Dentist: A version of the popular Crocodile Dentist, this little guy is easy to throw in a bag and keep little ones engaged in all sorts of tasks. Great, open-ended fun.
Language Activities with an Ocean Theme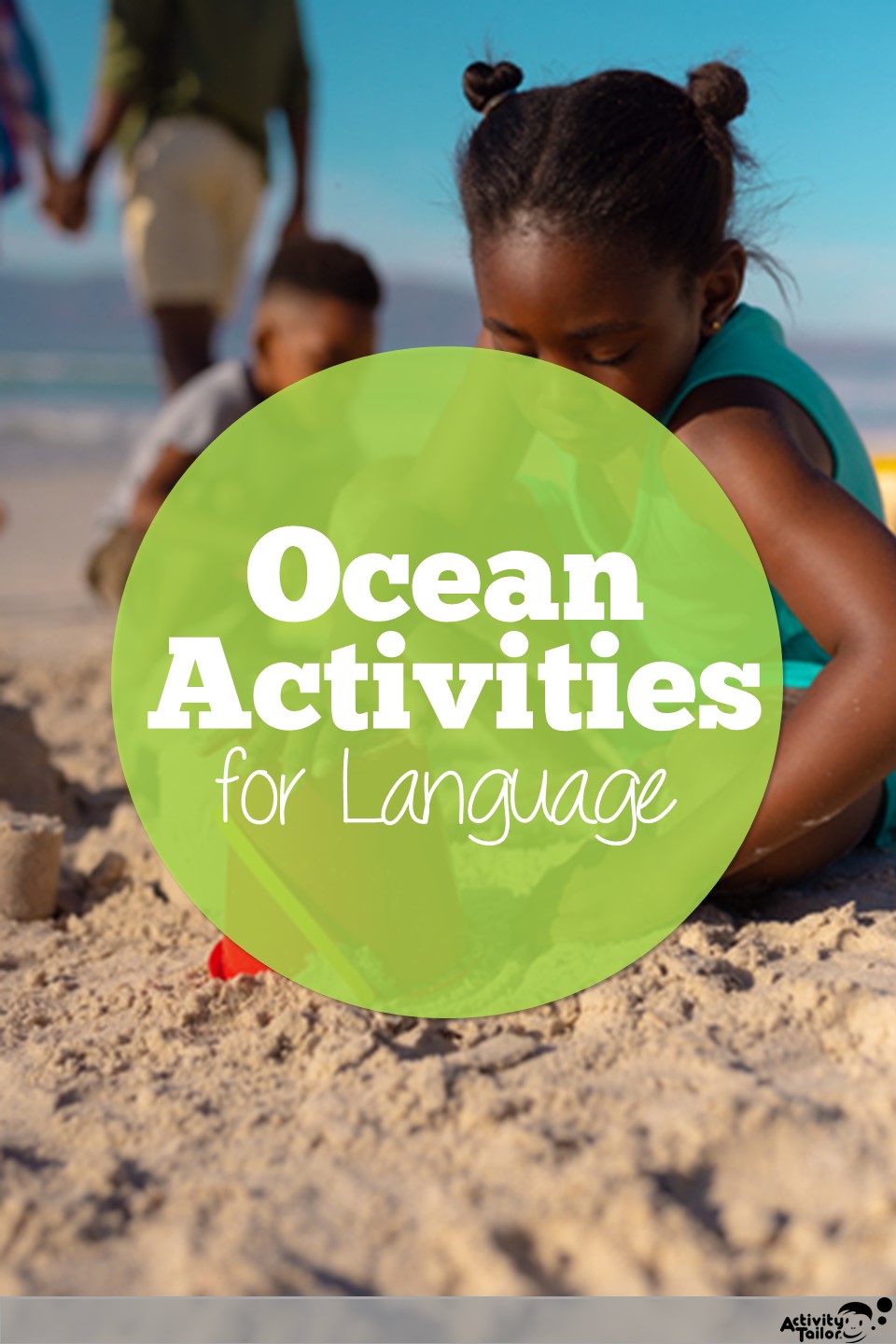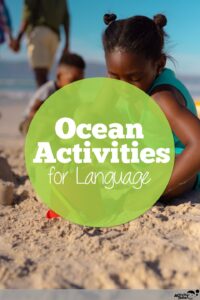 Sea animal magnets: These photo magnets can be paired with the Poke a Dot Ocean book or used to match up with plastic ocean animals. Work on the concepts of same and different, vocabulary, or use with older students for compare/contrast and attributes practice. Pro Tip: Use a cookie sheet as a portable magnet board.
Sea creature figures: It's worth having multiple sets of these, not just to widen the range of vocabulary, but so you can work on size concepts, compare/contrast and attributes, sorting skills and lots more. Every child loves that "Nemo" is in this set. I like the slightly larger size of these figures. Another, smaller sized set can be found here.
Sophie's Seashells: Tying a board game into your theme, even if you need to do some adapting, is always worth it. Our speech and language students are often the ones struggling with self-regulation, attention and other executive function skills. Board games address all of these; it's not "just play!" Sophie's is another early game from Educational Insights although slightly more difficult than some. The shells have different shapes and patterns to match. Pro Tip: No need to be competitive! Work together to complete one or two boards. Adjust the rules for the "special" spaces on the spinner to be a combination of "wild card" or "put one back."
Water play: If you have the means and temperament, occasionally pull out something a little messy, aka extra fun, like water! Use a plastic container on a towel to (mostly) contain the mess, add some sea creatures and watch the language begin! Littles will be motivated to use action words like jump, dive, swim, splash, dry. This ocean animal set is geared towards bathtub play for toddlers/preschoolers and includes a fun shark net for "scooping." A couple of the animals squeak and others change color in water.
Final Notes
Baby Shark: Regardless of whether you love or loathe "Baby Shark," you have to admit it has great appeal for preschoolers and music in general is a great way to engage little ones. If you like to use short videos in your speech room, try this one.
I'm finishing up these ocean activities in my speech room this week, but remember they aren't just for summer!