Fishing is a staple in my therapy room and I'm guessing it is in your as well. But recently, I figured out a way to make fish much easier and I also put together ice fishing worksheets for my older students (shhh, they actually like to "fish" too and we often do both, but I'll never tell!) I've bundled both of these products together for winter fishing fun; click here to check it out. Of course the fishing articulation game can be used in warm weather too!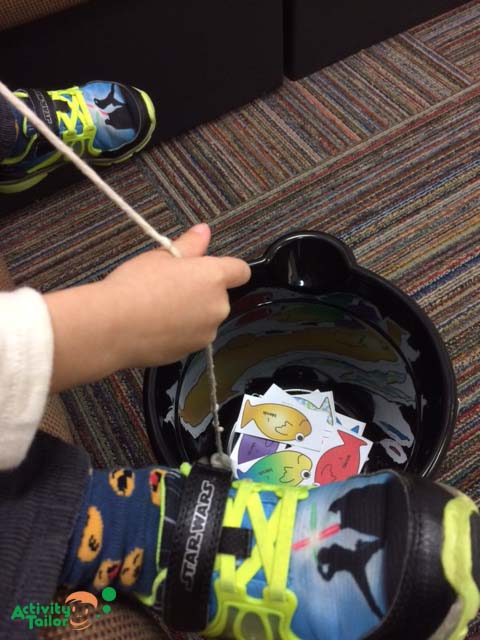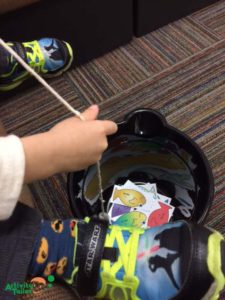 In the winter we go ice fishing. I put all the fish in a large bucket and explain how a hole is drilled in the ice and the line is dropped in (bonus, no "casting" allowed!). This makes it simple if you just want to attach a magnet to a string and drop it in, or you could attach a dowel either in a classic pole style or horizontally so it is rolled up.
Fishing for Articulation of Early Developing Sounds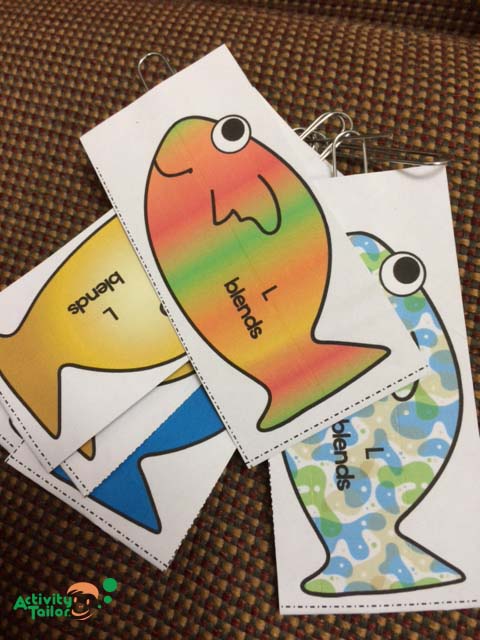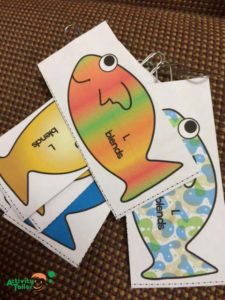 My little fishies are so beautifully colored every child comments on them; on the back are the target sounds. We catch the fish, say our word or "I caught a (word)." Once all of the fish are caught, we say them again as we hook the set onto a paperclip or binder ring.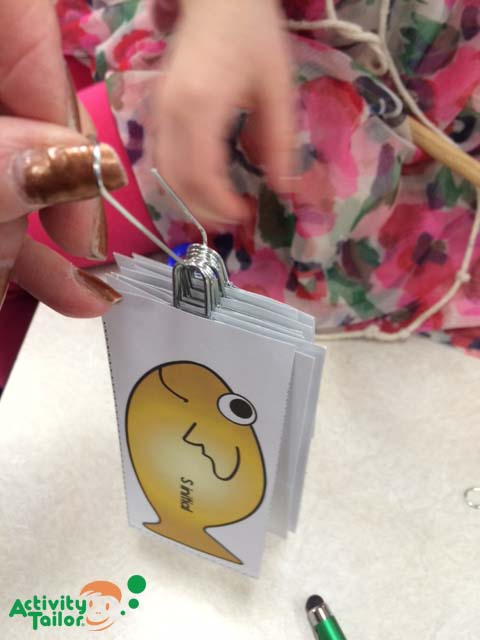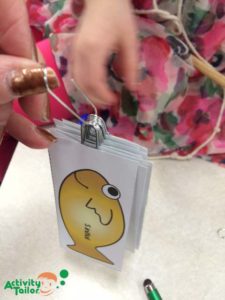 Assembly is a breeze–really! I print sheets out on full sheet shipping labels
(8.5 x 11). They're available at office supply stores and, more cheaply, at Amazon. Next, I peel off the backing (they have large cut outs that make this easy and attach a jumbo paperclip to stick out just a bit from the edge of each fish.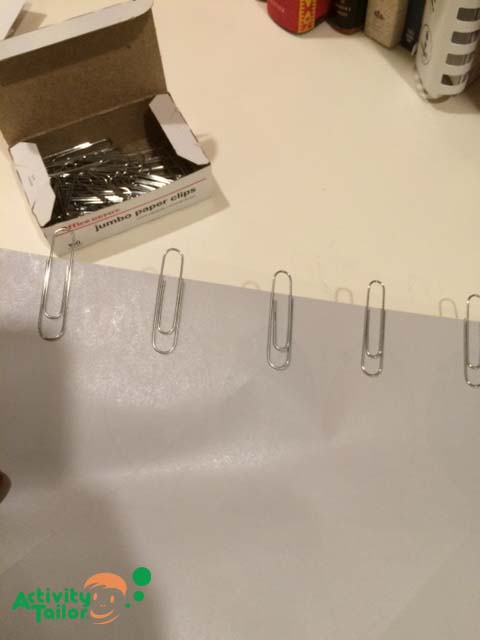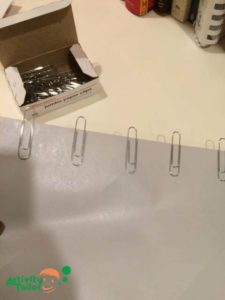 Now, I fold the sheet in half and smooth it flat. A couple quick cuts to separate the fish, and I have a new set.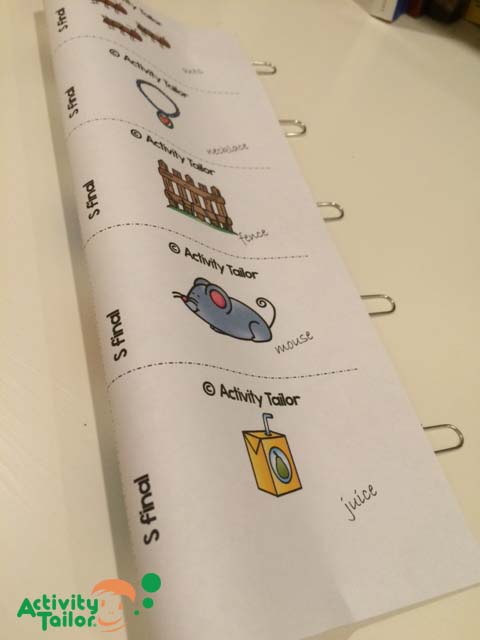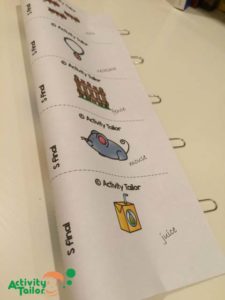 Each sound (P, B, M, T, D, K, G, F, V, L) has 10 fish each for the initial and final position. I've also included 10 L blend fish. These are great, year-round speech activities.
Articulation Worksheets: Ice Fishing!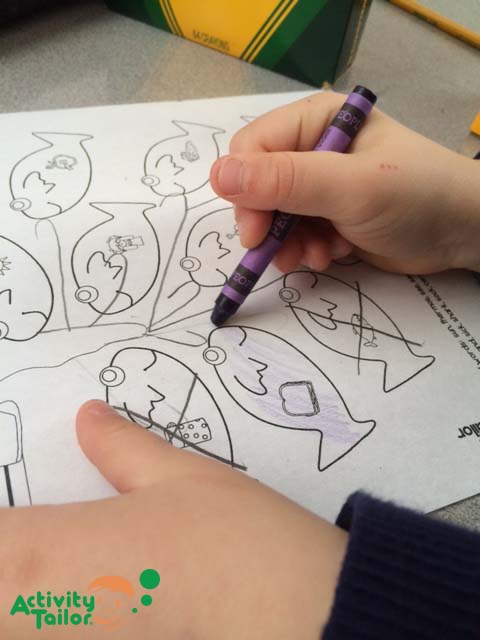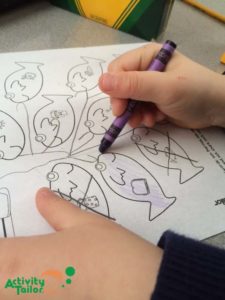 Once we've had fun fishing, I pull out an ice fishing worksheet. Each of these sheets has 10 fish. Eight contain their target sound, two are foils. If a fish has their sound, they draw a line to "hook" it. If it doesn't, we cross it out. It's a great way to make sure they stop, feel and listen to what the word is. Foils often contain a common substitution so the task is a bit tricky.
At the bottom, I'll check "Color and say at home" to provide speech activities for home. If a child is proficient at single words, we say "the fish ate a (word)." They think this is funny.
Worksheets print black and white and contain pictures for the student (and text for the SLP/parent. Am I the only one who sometimes struggles with what a picture is?!)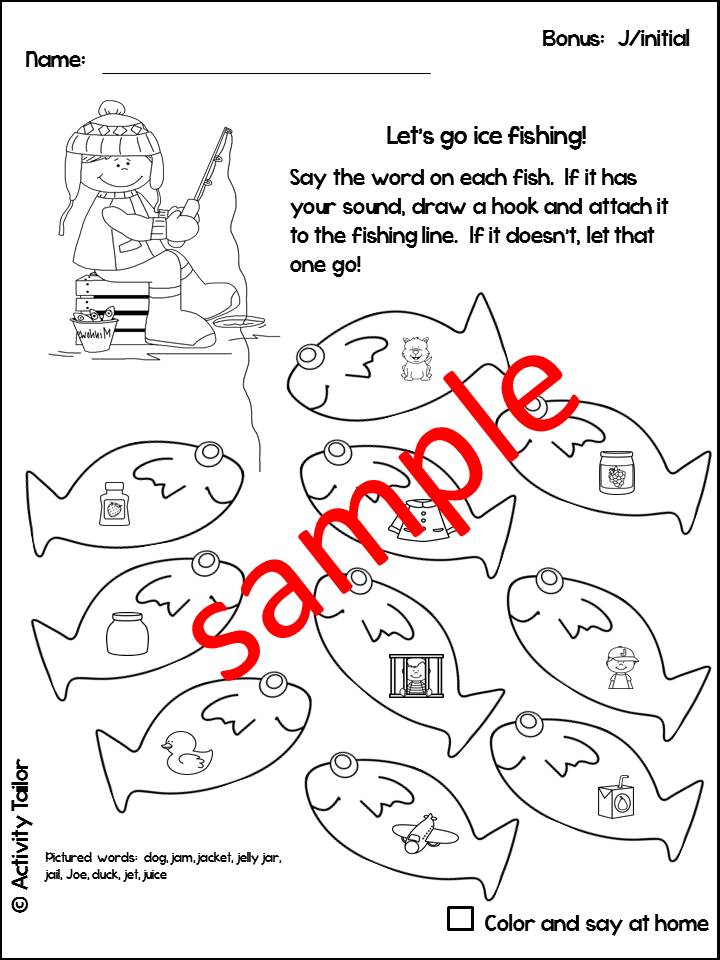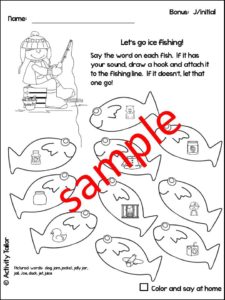 Want to give this a try? I have a freebie to target initial "J." Click here.