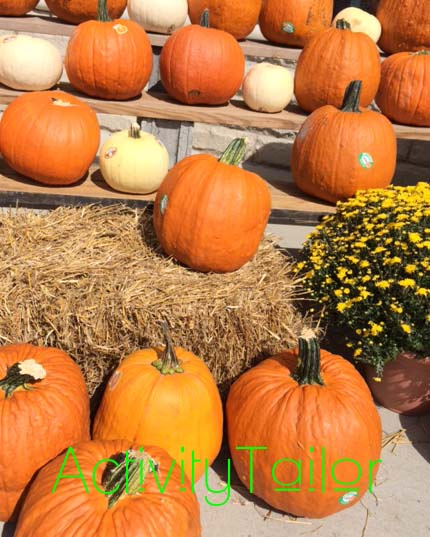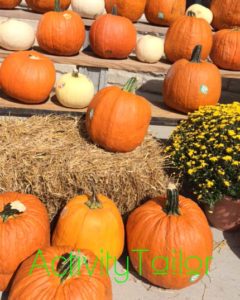 Fall is my favorite time of year. I love the smells, the activities and the traditional foods. Even the school themes tend to be some of my favorites. Both of my children have fall birthdays so it's always a festive time of year in our house too!
When my kids were in preschool (a loooong time ago!), I always volunteered to organize the Halloween parties. It's funny, because I'm not a huge costume person and I'm not into the scary stuff, but pumpkins, leaves, and watching the costume parade is fabulous!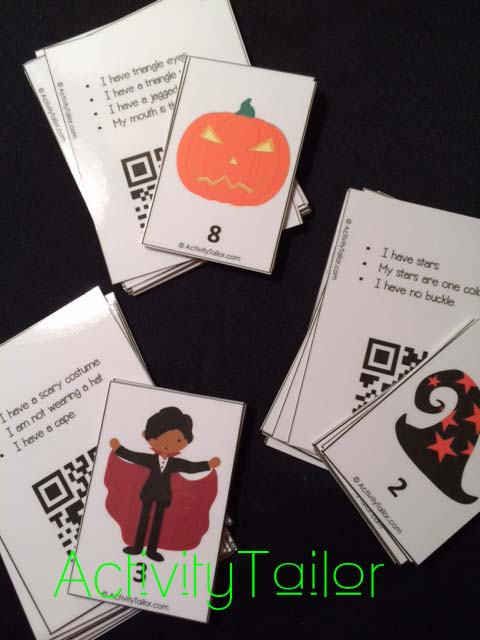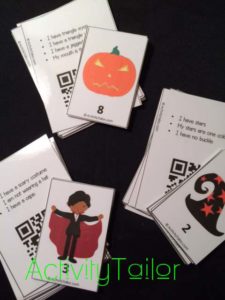 I had a number of kids really struggling with describing objects and comparing/contrasting skills last year. So I've put together a Halloween attributes game that I think they'll love. There are three sets of cards—jack o'lantern, witch's hats and costumes.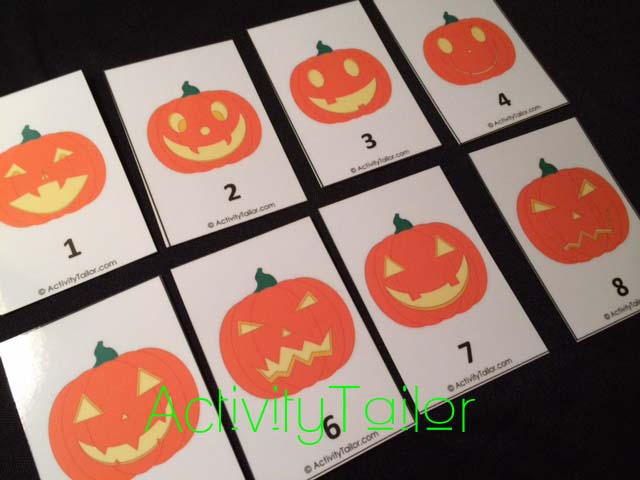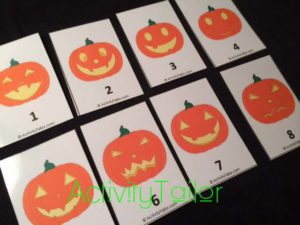 Choose a set and lay out all eight object cards. Next the therapist begins reading clues from the clue cards (16 clue cards for each set). The student(s) makes a determination as to which cards stay and which need to be turned over or taken away (it's like an intro Guess Who? game). When you have it whittled down to one you can check your answer by scanning the QR code! (Of course, the SLP can simply tell the student and provide reinforcement, but I had young ones that loved using my phone last year, so I threw in the QR code as a motivator.)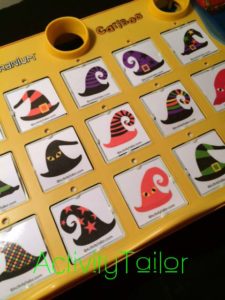 Everyone has been into Cariboo these days, so I've also added a set of witch hat Cariboo cards. For these, simply attach each square card to the game and either give clues (for receptive targets) or have kiddos describe the hat they will look over (expressive targets).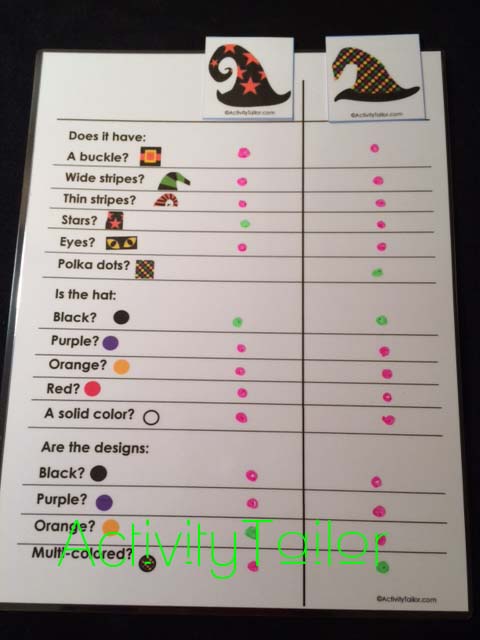 If you don't have Cariboo, don't worry! There is a sorting chart that allows you to compare/contrast two hats with visual prompts.
You can see a full product description here.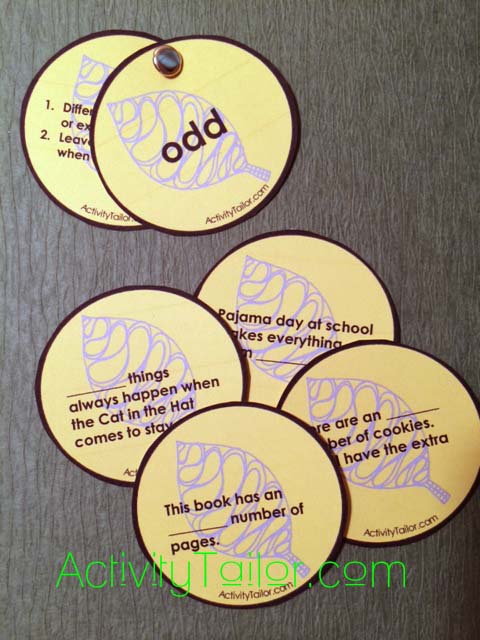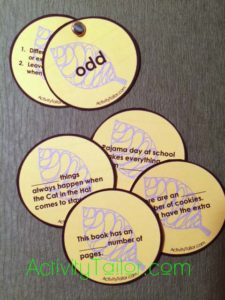 I've also added Multiple Meaning Leaves to my Multiple Meaning Words packets (and now they are all available in a bundle). This set contains 15 multiple meaning word card sets (no overlap with any other set). Print and cut out all the cards and attach the definitions behind the multiple meaning word cardss. Now you have a sorting activity perfect for therapy or centers. Students match the fill-in-the-blank sentences to the correct word. (***Note: The cards are gold with gray leaves. I don't know why they keep photographing yellow and purple.)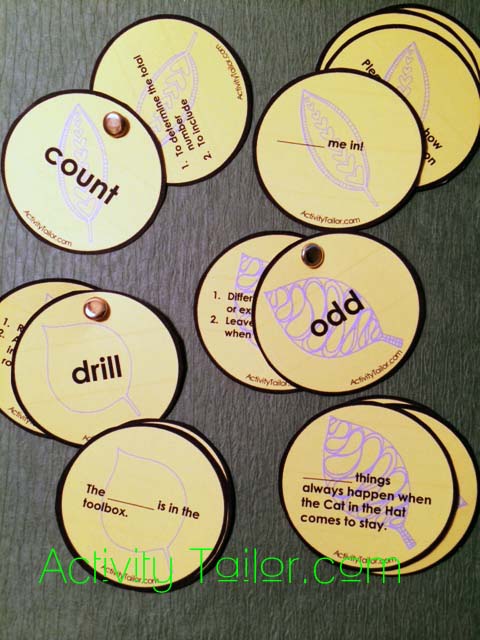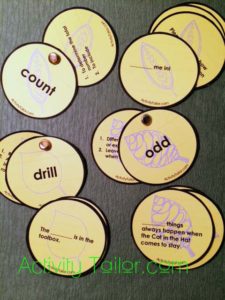 And here's the tricky part! Each set has a subtly different leaf design which allows you to check work at a glance (many kiddos don't catch on to this facet of the pack).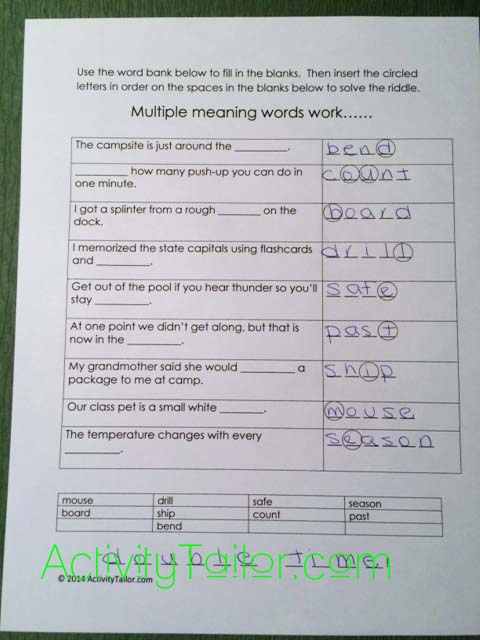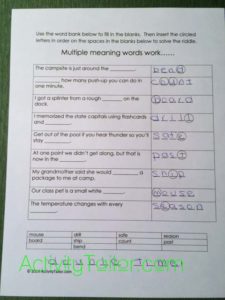 Also included is a self-checking worksheet that can be used as an additional therapy activity or sent as homework.
You can see a full product description here.
I'm running another contest! Several readers inquired about my animal cubes and I was able to locate three more. You can either scroll down to my "Where it Happens" post to enter or hop over to my Facebook page and look under the Giveaway tab. Good luck!
I apologize for the technical glitches like double post notifications of late. I believe they are all worked out and appreciate your patience!