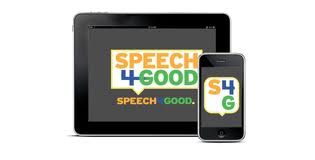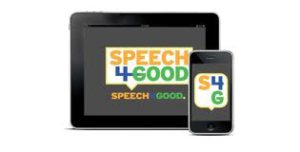 Update 11/7/2012: Shane won the free copy of this app. Congratulations!
I remember using Delayed Auditory Feedback (DAF) therapy with fluency clients in our university clinic (Wahoowa! UVA!) and, while it seemed to offer benefits in the session, it seemed tremendously impractical. I had a few adult clients that needed to "see" that their speech could become more fluent, but the process was so slow going due to the infrequency of session. I also remember thinking, how on earth would I ever afford the thing? Could I justify the expense if I wasn't primarily working with this diagnosis?
Not an issue these days! The Speech4Good iPad/iPhone/iPod touch app by Balbus Speech, has made DAF extraordinarily accessible. It's portable, it's inexpensive and, since it uses "regular" devices, it's cool looking! (Available in the iTunes store, $19.99)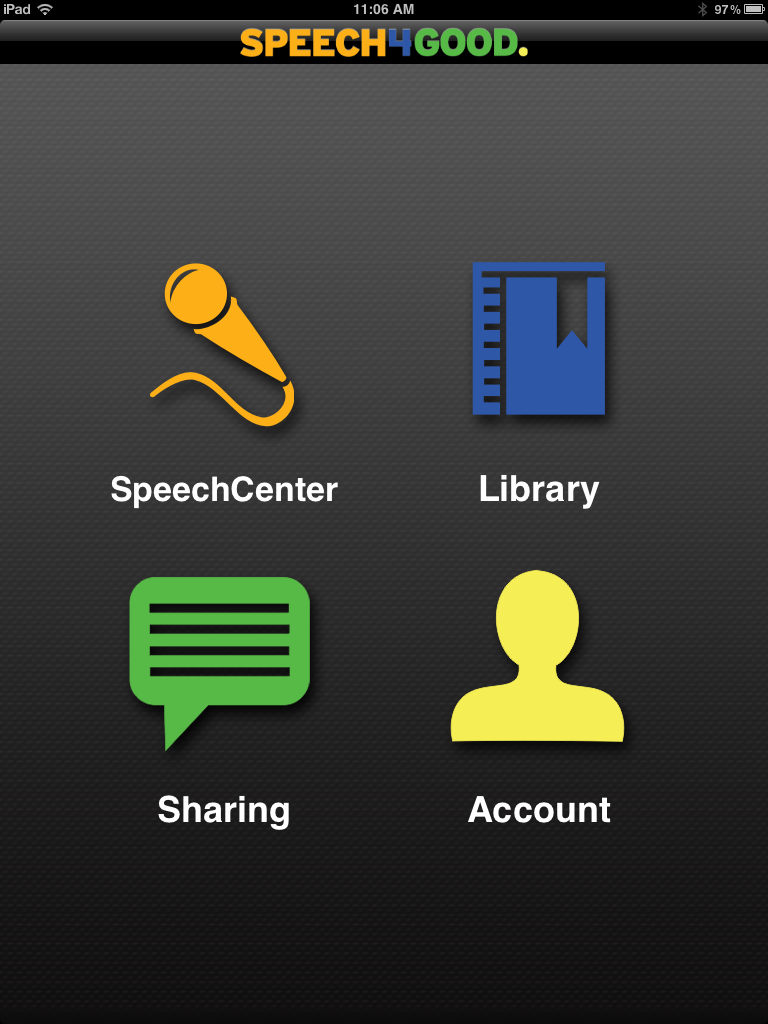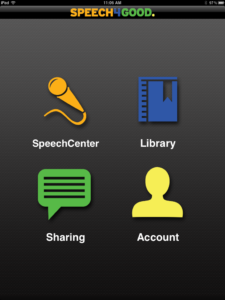 The app is very simple to use. The home screen gives you four choices: Speech Center, Library, Sharing and Account. Click on the Speech Center and you will be looking at an oscilloscope. Choose your settings: speech graph (on/off), DAF (on/off) and what delay (20-300), and record (on/off). If you are using DAF you will need to plug in headphones/buds. Then start talking! The graph is great visual feedback for your speaker. A fluency client can actually see the moment of disfluency, which is great for those clients who sometimes have difficulty identifying where they had trouble. They can also see what easy onset looks like or "stretchy" speech.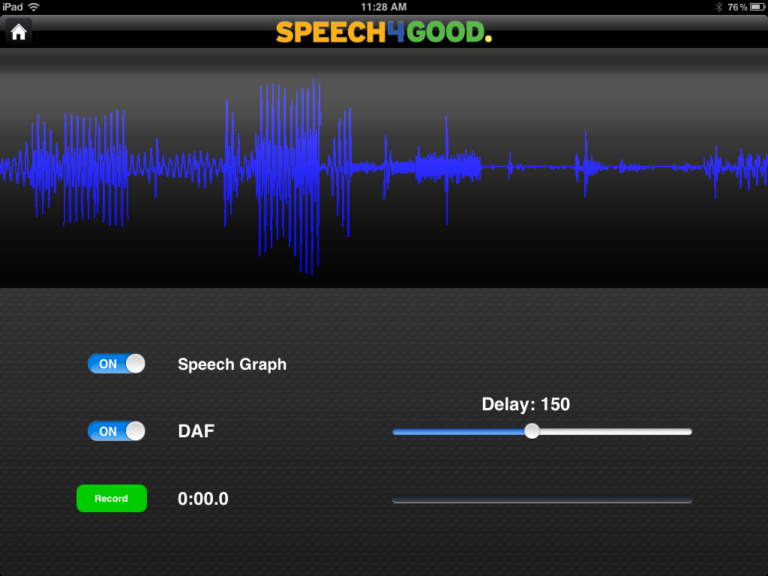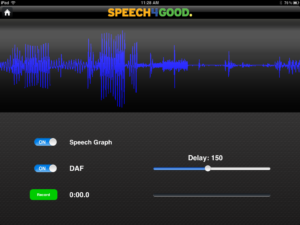 Once you've done some recordings you have options to save and share. This particular feature is awesome because it can be used for home practice accountability. Since the app is reasonably priced, I would recommend a family download a copy for home practice, set some goals (i.e. 10 min/day) and have them email me the recordings as they go. It also gives you space for a message, so the client could give some immediate feedback on how they thought the session went. Just the idea that a student could now use DAF on a regular basis, enough so that they would begin to see changes outside of DAF…There's some more fluency magic for you!
The app doesn't have to be used strictly for fluency. Voice and articulation clients can reap the benefits of visual feedback as well. Simply turn off the DAF feature and start watching and recording! A lite version is also available. (iTunes store, $4.99)
Speech4Good provided me with a copy of their app, but all opinions are mine. They have also generously provided an additional copy for a lucky reader! To enter let me know what university clinic you worked at and what kind of fluency therapy you did. Contest ends Tuesday, November 6, 2012 at midnight EST. The winner will be chosen at random and notified on November 7, 2012. Good luck!