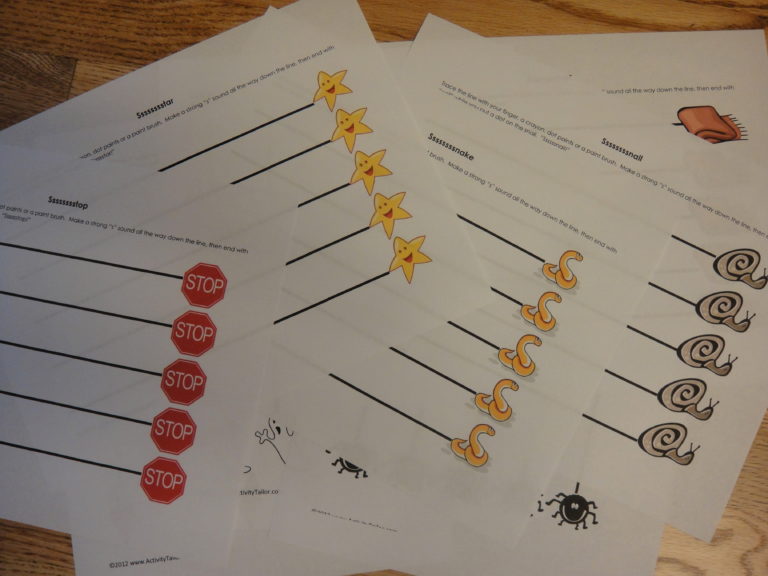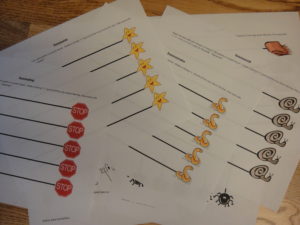 A couple weeks ago, I mentioned a kiddo working on /s/ clusters that kept the /s/ and omitted the other consonant (click here for post). But, the more typical profile I see with cluster reduction is deletion of the /s/, so most of the activities I have on hand target that.
Have the kiddo trace the line with a finger, marker, dot painter or paintbrush while producing a prolonged /s/. Once they get to the object, I have them do a "stamp" or "push" and finish the word (which is why dot painters are particularly good).
[wpvideo Gwrlsapm]
These are sheets that I'll do in a session and send as a home activity. We might just use our finger in therapy and let them use paint or a marker at home. If mom doesn't like messes, we paint in treatment and I'll send blanks home for finger tracing. It's great for providing both visual and proprioceptive feedback (use finger paints and get some sensory stuff going on too!).
My set of eight worksheets include two sheets for each of the following clusters: st, sk, sp, sn. You can find them in my TpT store (click here).
I'm curious, how often do you send home follow-up activities? I try to send them home at least once a week depending on the family.