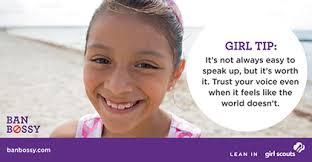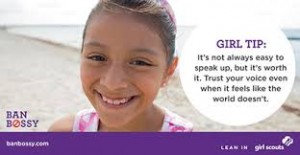 What I love about the Ban Bossy campaign is that the focus in on language. That the words we choose make a difference. They do.
Sheryl Sandberg and the Girls Scouts launched their Ban Bossy campaign to encourage girls to be leaders. They charge that boys are permitted to be assertive and early on will be deemed a "leader" while a girl exhibiting the same behaviors is much more likely to be scolded for being bossy and told to quiet down, basically play nice with others.
The website gives a number of stats, clips of celebrity endorsements and articles/videos of girls who are making their mark. But what I truly love are the activities they share.
I've been a troop leader and the Girl Scouts are masters of age/role specific activities and literature. They don't disappoint here! The free downloadable booklets target girls, parents, troop leaders, managers and teachers. For instance, the booklet for girls gives ten tips, including "stop apologizing before you speak" (a personal pet peeve) and activities like "do something that makes you nervous every day" but, helpfully, follows up with examples like "tell your carpool you want to ride shotgun."
The activities for teachers include tracking how often you call on male vs. female students and assigning books with female protagonists and by female authors. Check it out! There are some good language activities in there for anybody (and easily adapted to the therapy room)!
As expected, there's been a certain amount of backlash. There are those who say all children—male or female—need to be told when they're bossy. I don't think anyone is suggesting we suddenly condone bad behavior. But I do think "bossy" is a term overwhelmingly reserved for little girls (the example sentence when I googled "definition of bossy" was "She was headstrong, bossy…") and has a much more unpleasant connotation than "assertive" or even "domineering."
But if the controversy brings more attention to the topic at hand—that girls should flex their voices and lead—then I say bring it on!
I was a late bossy bloomer. Who out there was the bossiest in preschool or elementary school? Did it stick?