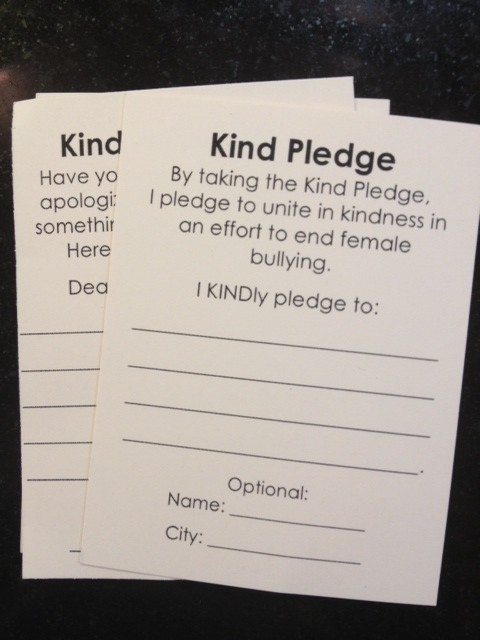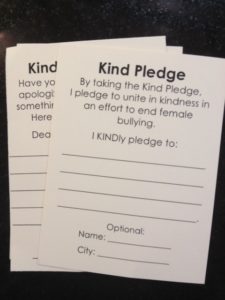 A couple of weeks ago my eight grade daughter and I went to a screening of Finding Kind. It was sponsored by our school and students 10 yrs.+ and their parents were encouraged to attend.
I didn't know that much about the film prior to attending other than it had an anti-bullying message. I didn't realize that the screening would be introduced by the two young women who filmed the documentary or that the message was less "us" vs. "them" (victims vs. bullies) and more a message that, we, as women, have a tremendous capacity to treat each other, even friends, with unkindness.
The producers had travelled across the country interviewing lots and lots of girls (middle/high school) and some women as well. They all had stories to tell about being the victim of mean words and actions, but also about guilt from having acted similarly themselves. The men who were included spoke about how their (male) relationships tended to last longer and seemed less filled with complications. That issues and arguments were vented and blew over relatively quickly.
The SLP in me couldn't help but wonder if it's our (I'm taking to the 90%+ SLP women), facility with language that leads us to use this medium for combat? And I'm talking all aspects of communication. These girls were very clear that content was only half the picture. Tone, body language (especially the eyes), layered meanings and even context had a huge impact. While I was appalled, though not surprised, at the meanness of girls, I was perversely impressed by their mastery of language.
But with great power, comes great responsibility (right, Spiderman?). Let's be nice to each other.
I'd love to hear your thoughts. Do you believe the old adage, "Sticks and stones may break my bones, but names will never hurt me?" I know I don't.