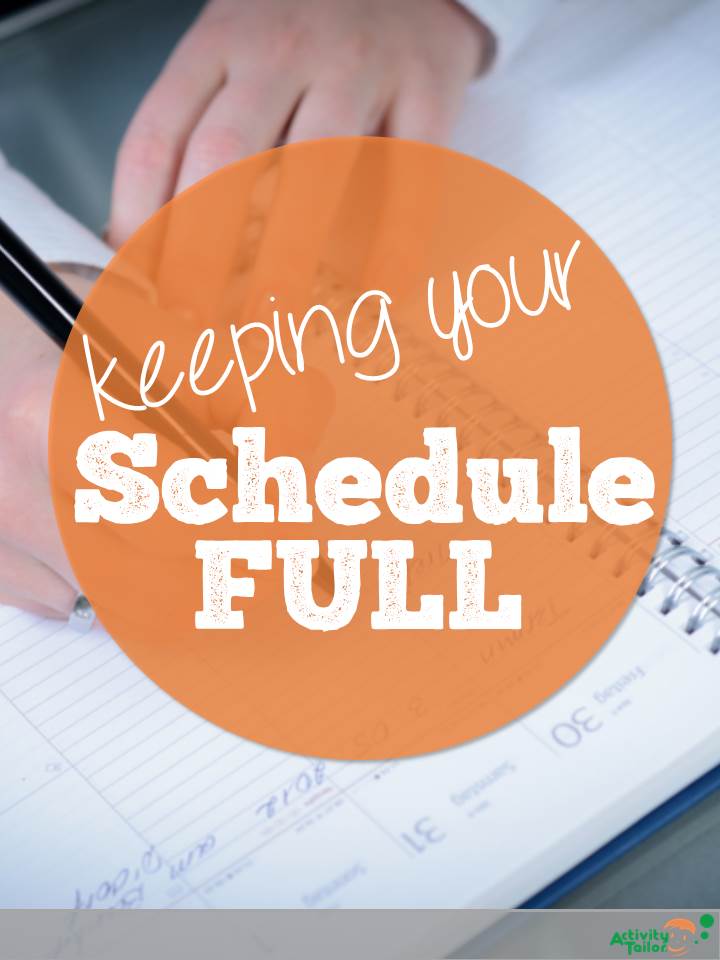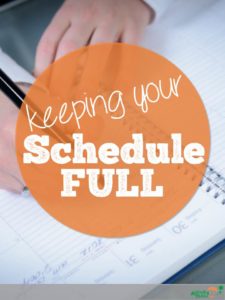 I love when a client cancels last minute and I can fire up Netflix, grab a share-size pouch of M&Ms and just kick back.
Yeah, right.
When I worked in an out-patient clinic, the productivity requirements were so impossibly high, I nearly cried when I'd get a cancellation call and I can't begin to acknowledge how many hours I worked that I didn't submit in order to keep my percentage combination (oh, how young I was).
Now that I work for myself, an open hour is an unpaid hour and while you can always use the time for paperwork or organization, I have a system that allows me to consolidate my schedule easily during weeks with more cancellations (because those little ones get sick all at once) with minimal calling or rescheduling.
I'm in a school setting, so I have a captive audience which does make life easier in some regards, but this can also help if you see clients in a clinic.
Here's what I do at the beginning of each school year.
First, I decide on my work week. I used to have a tough time with boundaries here, but now I hold firm to a Tuesday-Thursday schedule. Because accommodating "just two students on Friday morning" made my life too out of balance for me and my family at this stage at least. And let's be honest, there is no "just two students." (Who's with me here?)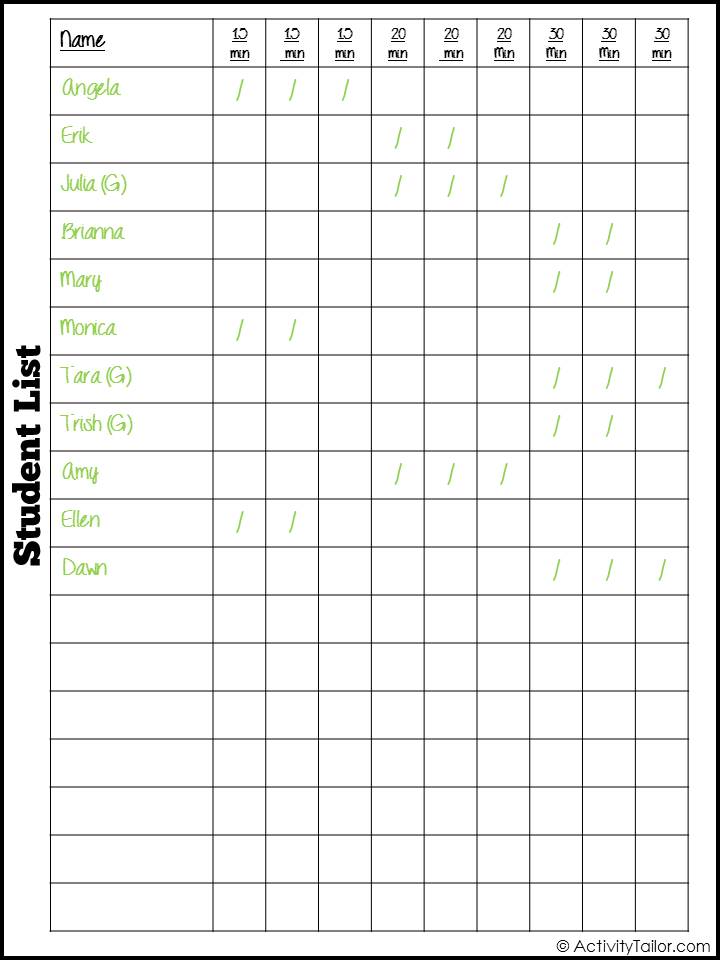 Next, I make a master list of all the students that I need to schedule and mark the frequency and length of sessions with a single hash mark.
Then, I get in touch with each of my student's teachers explaining that I am scheduling a particular student for speech, how often and requesting they give me four possible times during the week that work with their classroom schedule. (I have a form that allows me to fill in fields, but it's easy enough to print out and fill out by hand too.)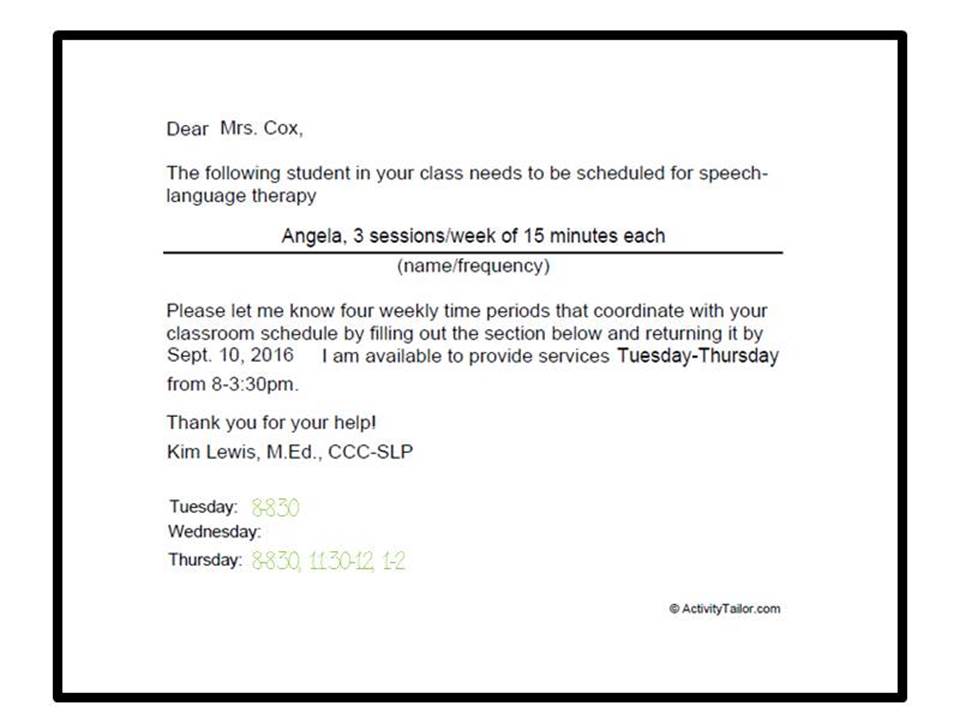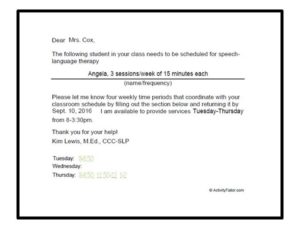 Once the forms are back, it's time for speech soduko. I pull out the master daily lists and fill out all the possibilities I've been given. If the stars align, I'll have a good percentage that fall easily into place. Like the teacher who's eager for my 11-11:30 or 1-1:30 time slot–I know she'll be doing a happy dance. As I find time(s) that work, I make a second hash mark in the time/frequency box, making an "X" so I have a quick visual as to who I still need to work in somewhere.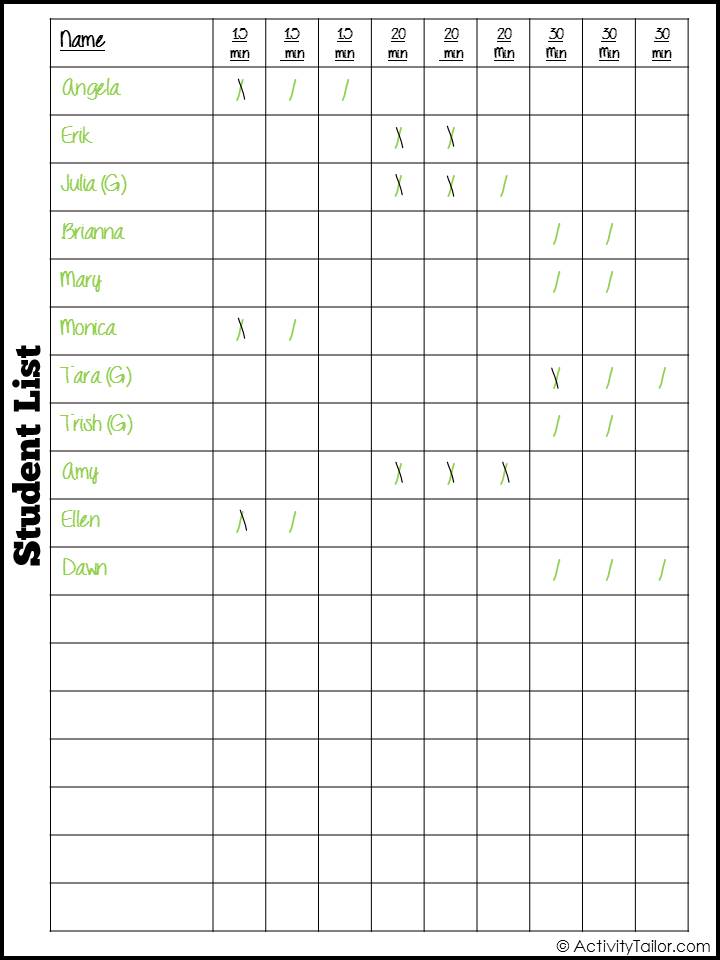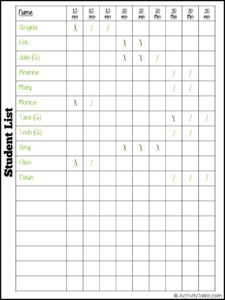 But then I need to sort out all the 8-8:30 kids and the ones who want right after school. It's tough, and there's no real way around this other than fiddling and, sometimes, going back and double checking that perhaps there is one other time that's actually fine?
My students mostly need to be seen 1:1, a blessing and a curse, but if I see that there is a good match for a group–same age, similar goals and an accommodating classroom schedule–I'll ask if it might be a sometime possibility. I put a little (G) next to kiddos that are ok for groups.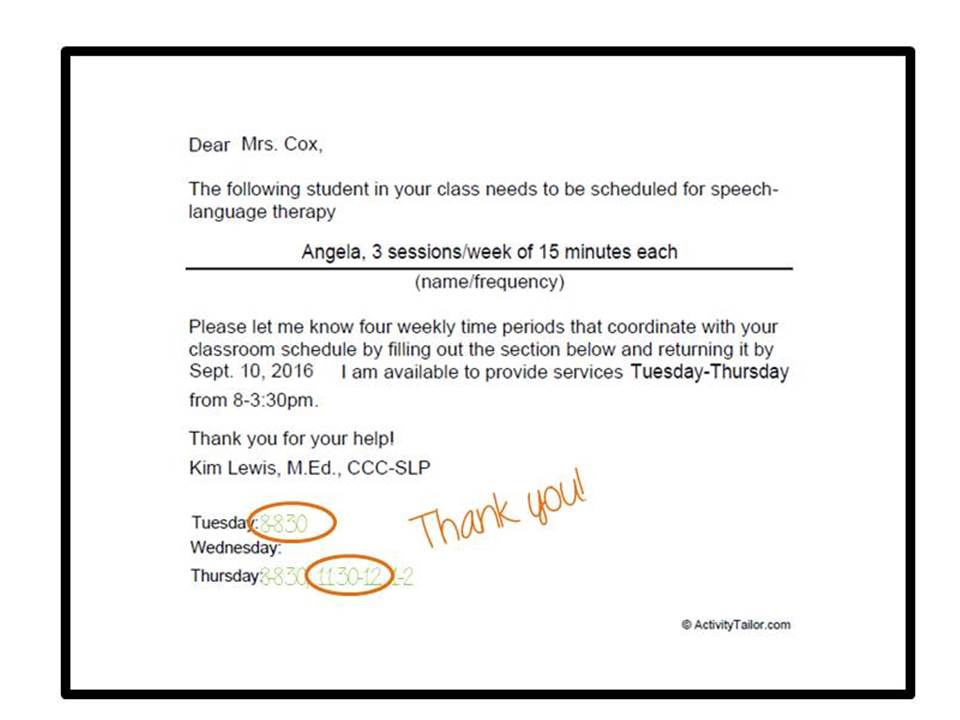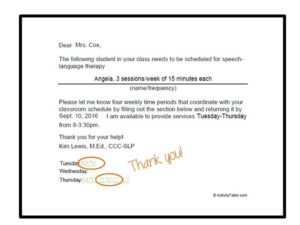 To save on printing and offer a reminder of times requested, I circle the time(s) I've selected on the note from the teacher. When I'm done scheduling, I can easily pass these back to the teachers to let them know therapy times.
As I'm sorting out session times, I'm transferring it to my regular schedule. Once complete, I make a nice, neat copy and that's that.
Just kidding.
The tiny "extra" that I do is to save those original, master sheets.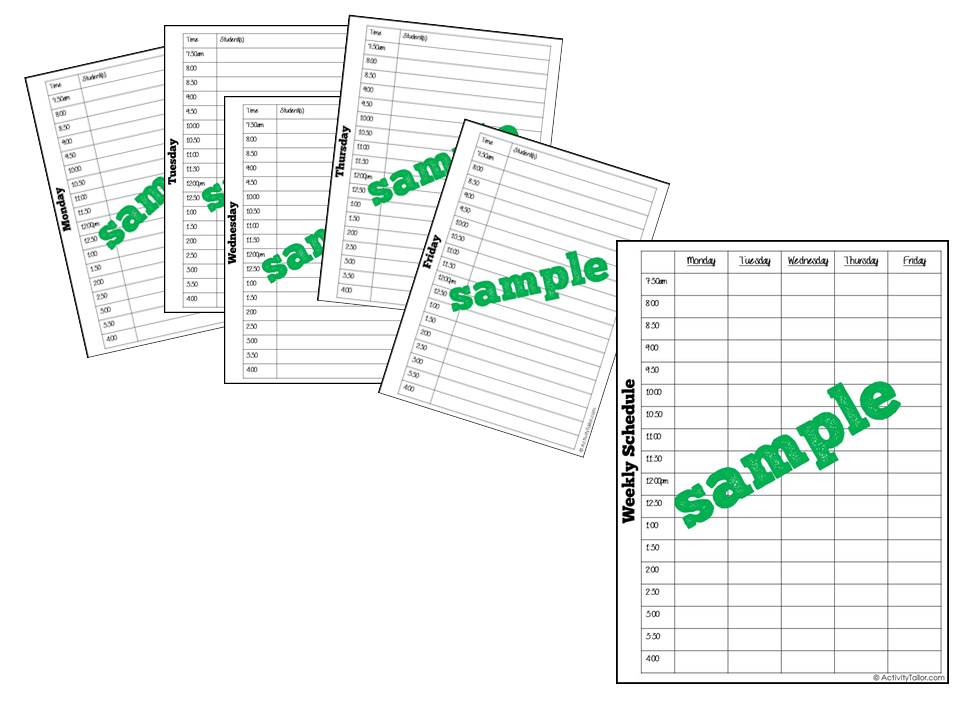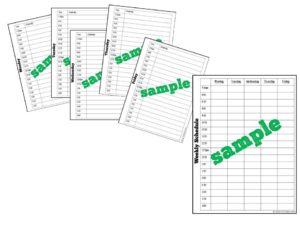 Now when I show up and my kiddo isn't there, I can glance at the masters and see if someone else is available instead. Many times this means I can consolidate my day so that I'm done earlier or have carved out a larger block of open time (much better than a paltry 30 minutes) Or, I have an easy way to fit them in when they get back because I already know their other "approved" times. (I've noticed both teachers and parents are much more likely to say "yes" to a time I offer based on what I know probably works, than they are to come up with a rescheduling time in the midst of a hectic week. And all weeks are hectic.) Even during those weeks when I'm taking time off, it usually allows me to shift a couple of kids I would have missed on, let's say Thursday, to other cancellations earlier in the week.
A full schedule is a happy schedule.
Think this might help you juggle your time more efficiently? I just added the forms you need in my therapy closet! Subscribers, you know how to click on the "free resources" tab and enter your password. If you haven't subscribed yet, what are you waiting for! I'm sharing soooo many items designed to make therapy more fun for you and your kiddos!