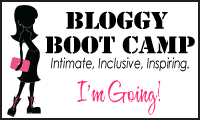 That was amazing! Seldom have I left a seminar feeling so full of pertinent information that it may take me weeks to sort through it all. Invigorated. That's what I feel. Invigorated.
Want to hear how it really stacked up? Here we go:
Vlogging

: Danielle Smith (@DanielleSmithTV) gave a dynamic presentation about an area that, honestly, up until now had me shaking in my boots. But now I'm ready to tackle my fear. Big takeaway—tape yourself 2 min/day for seven days talking about anything for two minutes. Then, watch the whole thing at once at the end of the week. You'll get to see how much your comfort level increases; see what your quirks are (for good or evil) and what works best for you. Expect to see my first vlog within the month.

Photography

: Truth be told I was in a different session then the one that dealt most with photography, so I'll be tracking down someone with good notes. I did get some general hints about correct light placement and tagging my photos that I thought was invaluable.

Inspiration

: This one is totally covered. I have a stack of new therapy ideas to try and share.

Meet new friends

: There are a lot of passionate women bloggers out there (not to slight the guys, but it was a conference for female bloggers) changing their part of the world every day. I was particularly taken with the following personalities, although I haven't had even a moment to look at the blogs themselves: Amy Bradley-Hole (www.freakyperfect.com) for a dose of kooky Southern charm; Sandy Arelavo (www.FireflyConfections.com) because the chocolate chip cookies on her business cards look soooo good; Nicolette Lennert (www.momnivores-dilemma.com) who strives to create, parent, nourish; Crystal Maleski a cooking OT (www.makedinnereasy.com) ; Terri Williams (www.terrispartytreasures.com) because I love cake pops; Tracy Jensen May (www.ItBuildsCharacter.com) upending parenting clichés; Ginny Marie (www.lemondroppie.blogspot.com) for sweet 'n sour life stories.

Tips and shortcuts

: Not a technology tip, but putting together an editorial calendar, and then sticking with it is something I will definitely begin to be more disciplined about, especially since school starts back (gulp) tomorrow. Also, following Amy's advice, I'll whittle my to-dos down to three items. If you focus on three items you'll accomplish a lot; more than that and everything suffers.

Other social media

: Every nagging feeling I had about missing out by staying solely on Twitter…it's because it's true. Happily, from the standpoint of narrowing my focus, I can forgo Google+ for now. Unless, someone else has strong feelings otherwise?

Shoes

: This really should have been

Shopping

. Yes, I did fit in some shopping, but it needs its own post to really do it justice. Coming soon!