Keep children engaged in therapy with ice cream themed activities
Yum! Let's bring some ice cream themed activities into our speech room!
Whether you are seeing summer students, tying it in with field day or school spirit days, or using it for birthday celebrations, ice cream is a fun, child-approved theme. It can target all your speech and language goals too! Win, win!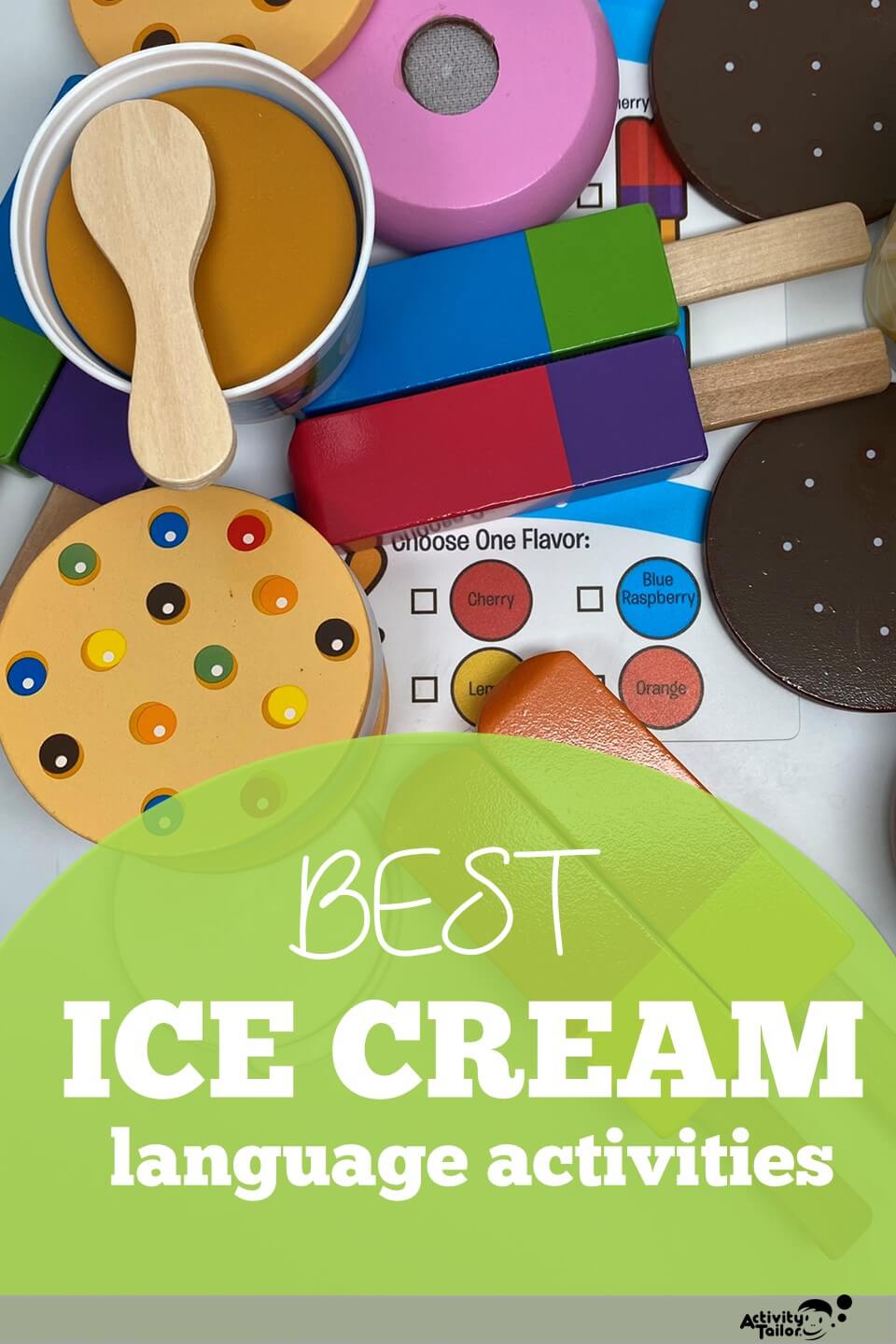 Use toys
Let's be honest. Kids love toys. When we pull them out for sessions we have instant excitement and engagement! Here are a few of my favorites to use with ice cream themed therapy sessions:
*As an Amazon Associate I earn from qualifying purchases.
Melissa & Doug Ice Cream Sets
There are several options for ice cream sets from Melissa and Doug.
This velcro set comes with a reusable menu so kids can take orders and then create the requested item.
This scoop & stack set allows kids to "scoop" the ice cream and release it on a cone or in a bowl. The love the "realness" of this one!
Use either ice cream building option to address social skills, sequencing, and executive function. For younger students, you can work on requesting, commenting, protesting, and action words too.
Note: If you have students who struggle with emotional regulation, take the opportunity to act out dropped cones or bowls (or a flavor you don't like) for a very practical pragmatics-based lesson.
Duplo Ice Cream Set
Some students like this set more than the realistic ones. It has pictures of possible creations students can follow. Use it to target the same skills as you would with the Melissa & Doug sets.
It is also a great tool to use with articulation students. Place a Duplo brick on pictures of targets and prompt students to say the sound or word again as they pick it up.
(Unfortunately, this set is no longer available, but Learning Resources has a great similar option!)
Pop ice cream
This toy continues to be a hit with the preschool and primary school aged crowds. Push the lever on the side of the cone and watch the foam ice cream soar!
Use pop ice cream toys as an open-ended reinforcer or to target requesting. It's great for getting lots of giggles too.
Use games & books
Summer Attributes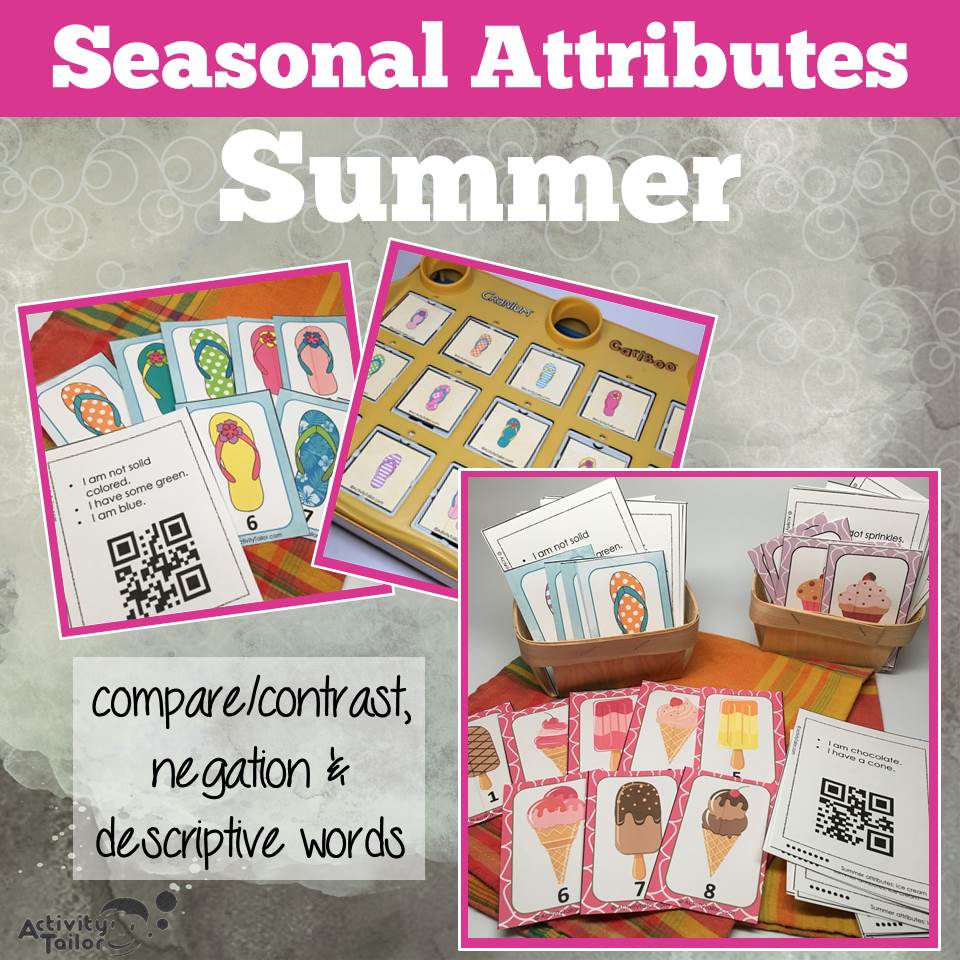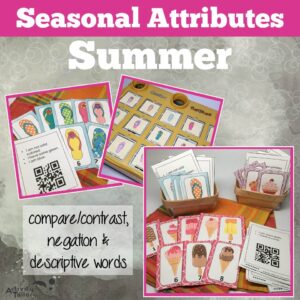 Summer Attributes is like the popular "Guess Who". This game gives clues and, by process of elimination, kids can figure out which ice-cream is the desired one. It addresses "not" and descriptive concepts too.
Students love checking their work with the QR code, but it's not required.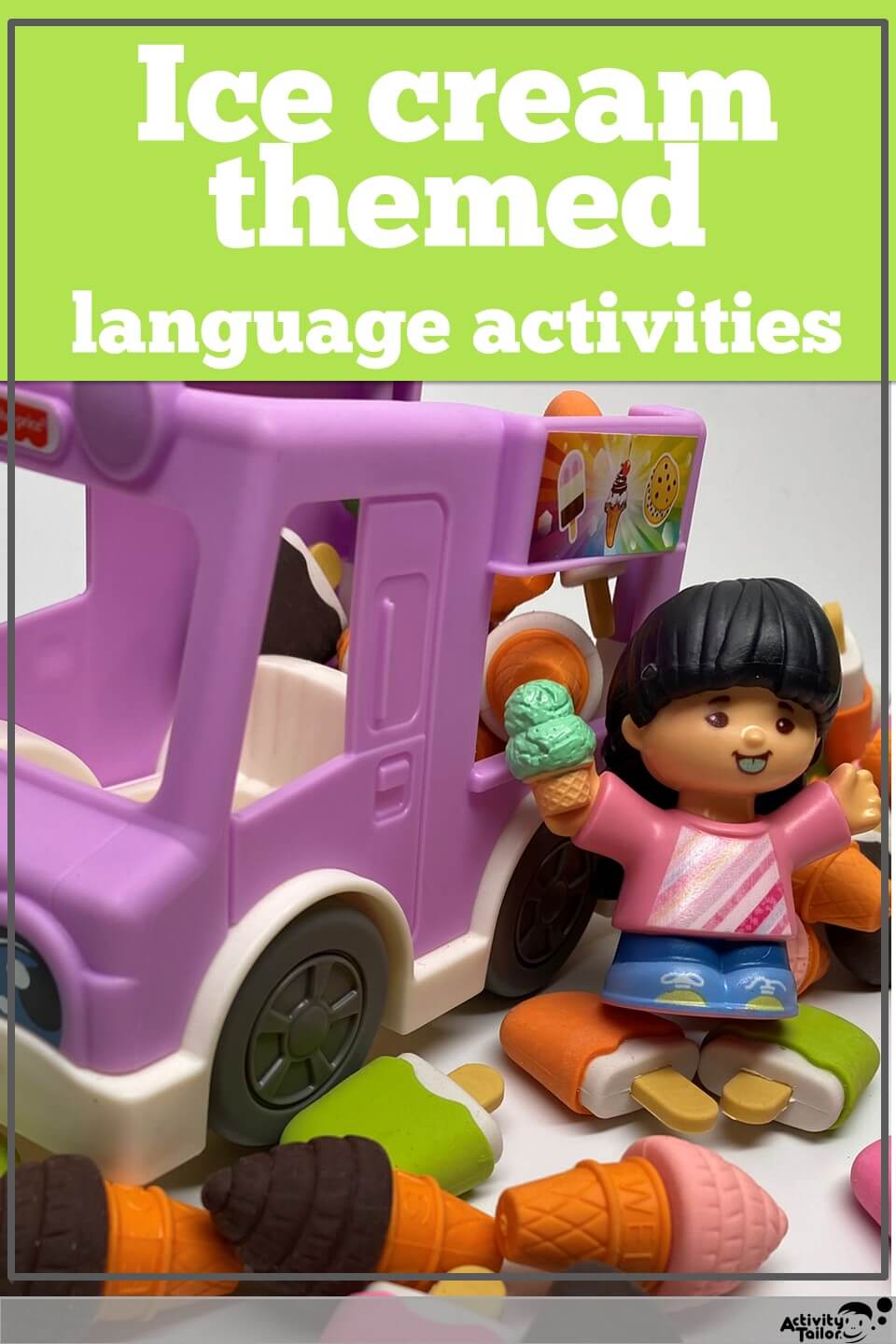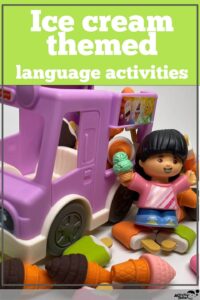 The Little Ice Cream Truck
book
The Little Ice Cream Truck by Margery Cuyler is a fun read-aloud. It pairs great with this Little People ice cream truck, ice cream erasers, and printed location scenes to match the book (park, neighborhood, baseball game, birthday party).
Work on quantity concepts, where and who questions, or early language vocabulary while driving the truck from site to site and delivering treats.
Have fun at home
Parents are usually keen to try ice cream exploration as at-home activities.
Ice cream in a bag
This is almost magic! Littles can help pour all the ingredients into a small zippered bag. Parents seal the small bag and then put it into a larger zippered bag with salt and ice. Children can help parents shake it and enjoy the soft serve ice cream right from the bag in no time!
Recipes are always great activities for sequencing skills, but this one lends itself well to using verbs as well—pour, shake, wipe, taste, eat.
Milkshakes
Another simple recipe that includes the thrill of a blender!
Use this to target sequencing skills, following directions, and simple "on" and "off" verbalizations.
Visit an ice cream shop
Activities that involve going out into the community are especially helpful for working on social skills, fluency, and voice goals.
Encourage children to decide which techniques or goals they'll focus on during the visit to the ice cream shop. Parents can help them write a reflection after the event.
With younger students, focus on making requests with words, visuals, or gestures. Also work on making choices by choosing between a cone or bowl or rainbow or chocolate sprinkles.
Practice sequencing with elementary aged students. Draw three pictures, with or without captions, to show the sequence of events.
Any of these at-home activities would also be fun in a small classroom, on a field trip or during a camp!
Looking for another food theme? Try a picnic!
Have you incorporated ice cream into language therapy sessions before? If so, I'd love to hear how! Comment below or send me a message on IG.
Connect with me!