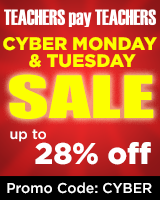 At some point this weekend you might find yourself stuffed to the hilt with not even the energy to remove yourself from the couch. Why not take advantage of the time and start browsing the TpT sale?
Many sellers are offering discounts of 20%. Combined with TpT promo code: CYBER, you could save 28% off all items—that's something to be thankful for!
The sale runs Monday and Tuesday (12/2-3). Click here to start building your wish list.
Wishing you and your family a very happy Thanksgiving.