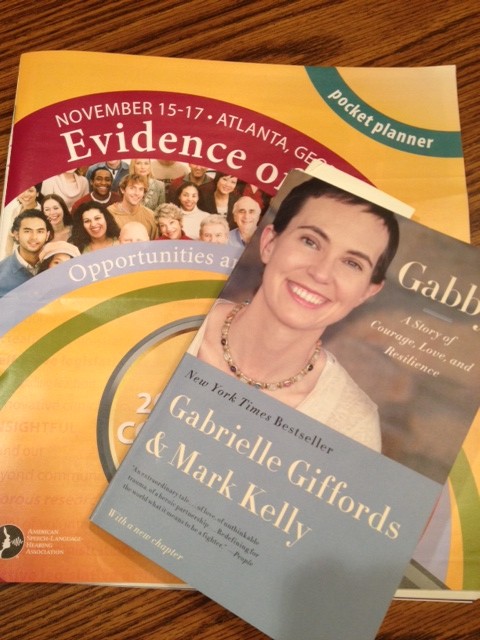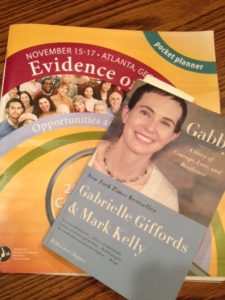 Each year, ASHA honors an individual who embodies the spirit of Annie Glenn, known for her advocacy of communication disorders. This year's "Annie" recipient is Gabrielle Giffords and her husband Mark Kelly. As you may remember, Congresswoman Giffords was shot in January 2011 in Tucson while meeting with constituents.
I picked up her book, Gabby: A Story of Courage, Love and Resilience, a couple weeks ago and while I enjoyed walking through both the love story and the political process, it was seeing our profession through the eyes of a client and their family that really captured my attention.
Page after page, they discuss the frustration of having a thought without a way to express it. That on more than one occasion, they would have given up mobility for language.
As an SLP, I look at their story and am amazed at the miraculous recovery, not to mention the speed with which it occurred. I was reminded how arduous and interminable the journey is when experienced from the other side.
Regardless of your political leanings, this is a remarkable story of a woman with superlative language skills who used those skills for influence and change. A woman who tragically lost that gift in the blink of an eye and, undeterred, fought to reclaim it.
Jared Lee Loughner, the shooter, was sentenced last week to life in prison and the victims and their families had the chance to confront him. Mark Kelly, speaking poignantly on behalf of himself and Gabby said:
"If she were not born with the name—"Gabby"—someone would have given it to her. Now she struggles to deliver each and every sentence. Her gift for language can now only be seen in Internet videos from a more innocent time."
Despite this, Gabby is continuing, in his words, "Her commitment to lifting us all up, and her ability to lead. Mr. Loughner, you may have put a bullet through her head, but you haven't put a dent in her spirit and her commitment to make the world a better place."
Evidence of excellence indeed.
Feeling sad that you aren't in Atlanta? Don't forget to enter my giveaway! (click here)