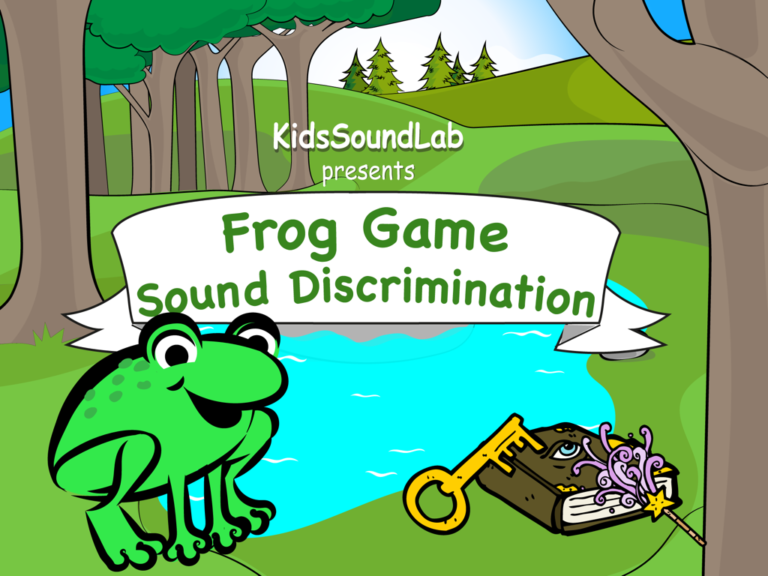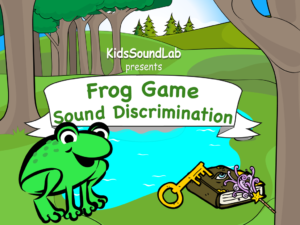 A little over a year ago, I shared a review of Kids Sound Lab (click here for the full post). I think this app does a great job of animating each consonant phoneme and attaching it to the written letter(s). It's something I use regularly in my own room when I'm just starting with a student or new sound. I've used it for articulation but also to support early reading skills.
Recently, the developers updated it and now it has a discrimination game and improved storage capabilities. I can wait to dive into it!
They have also released a series of apps called Frog Game 1, 2 or 3 which are primarily designed for a single user and target phonemic awareness. Frog Game School contains all three of the individual apps with the ability to register multiple students, collect data and print or share results.
I've been having fun checking this out!
The lessons it incorporates builds from Kids Sound Lab, so there are expectations that users will be familiar with the sounds and the idea of sound/letter representation.
I'm sharing the experience and screen shots from Frog Game School here, but realize that the others contain the same lessons in a smaller capacity. Generally speaking the app is designed for students 4 years and up.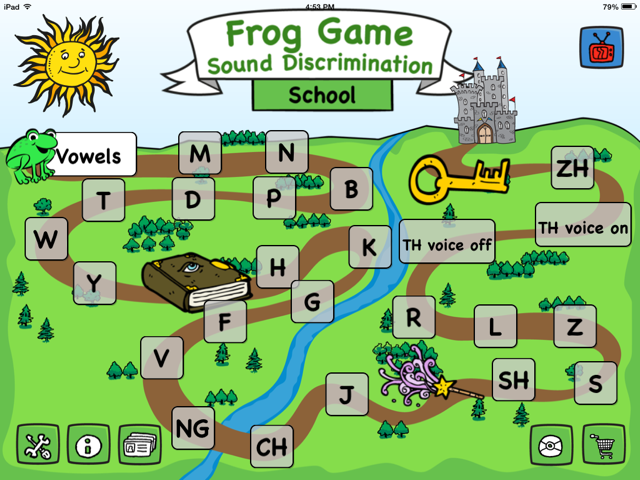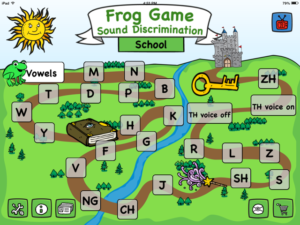 The home page shows "Frog Game Sound Discrimination" and a path with all of the sounds on it up to the castle. A blinking TV in the corner starts a story which sets the scene. Hoppi the frog has been enchanted by an evil wizard and lost his voice. A real shame because he's a gifted storyteller. It's your job to work your way through the sounds and help him regain his voice by earning a wand, spell book and key to the castle.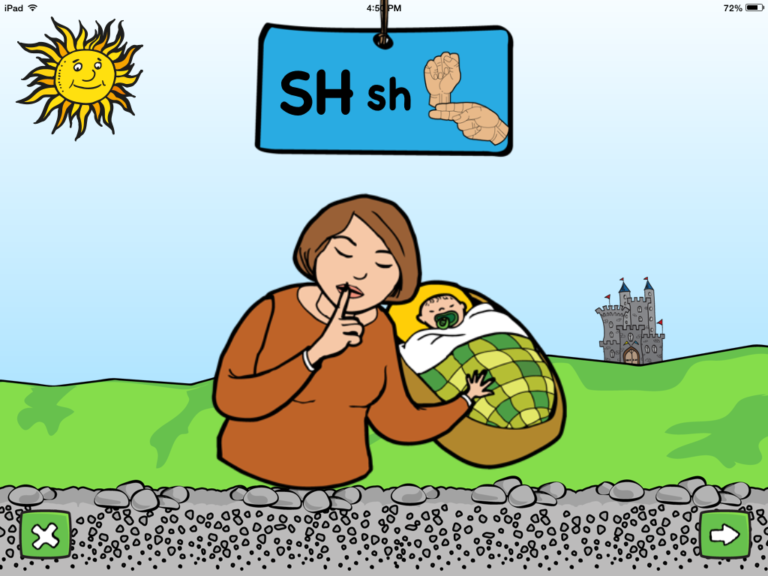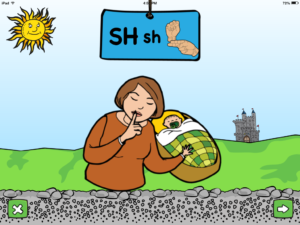 The games incorporate the sound/letter characters introduced in Kids Sound Lab and follow the same pattern of acquisition (as opposed to an A-B-C learning format). Choose the sound you are working on and the animation of the sound plays. The letters that represent the sound are shown in upper and lowercase as well as American Sign Language.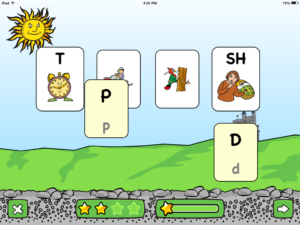 The first exercise has you match letter tiles to the phoneme characters.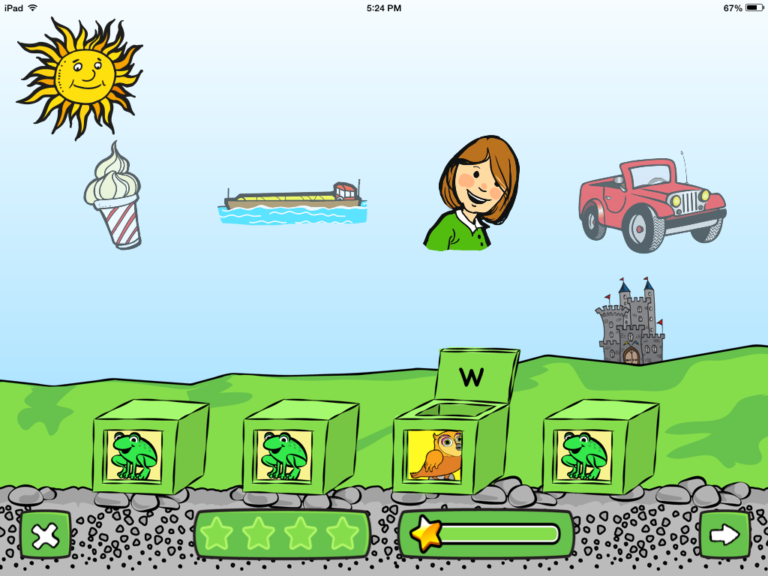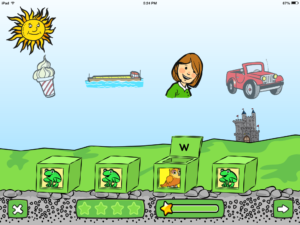 The second activity has boxes with the character/letter name and you drag the word above that matches the initial sound.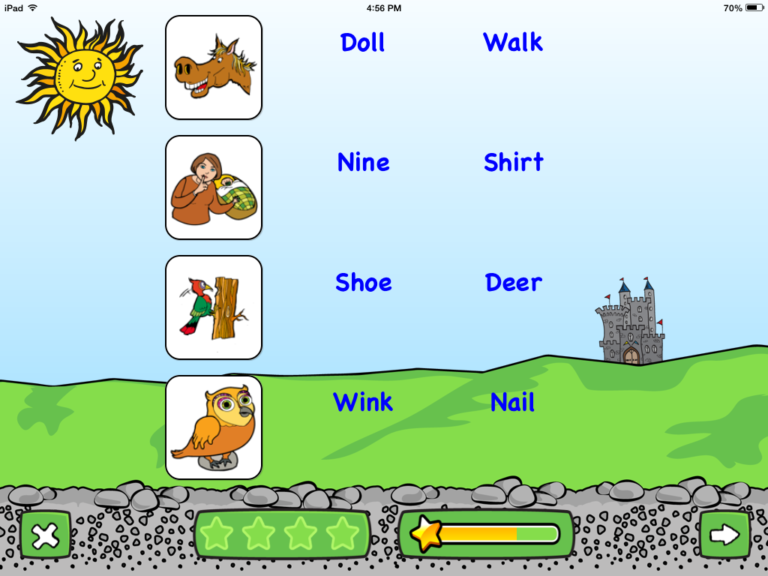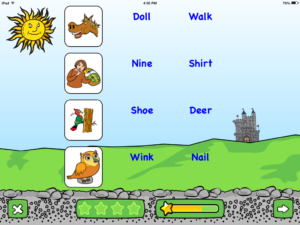 The final activity has you drag words to the corresponding characters. Note: you can turn off this activity for non-readers although touching the word will read it to you and allow an additional auditory discrimination task.
A star bar along the bottom of the screen tracks how far along you are in each activity.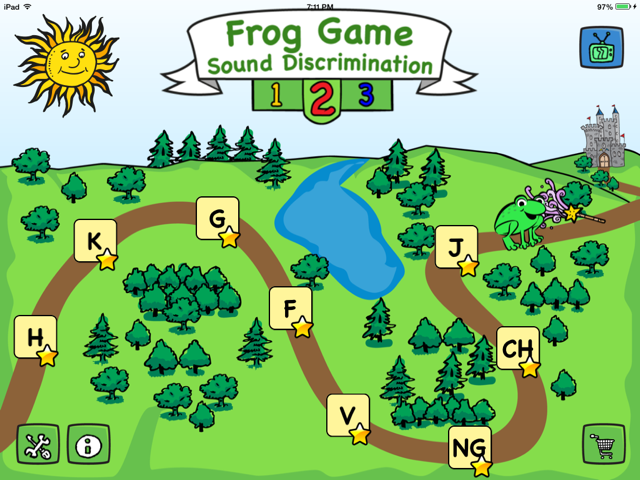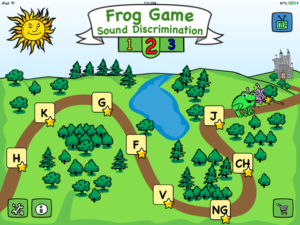 As you complete a level (whether it be in the sectioned games or at the set points in "school"), you receive one of the magical objects that help return Hoppi his voice. There are little animations and stories that accompany all of these achievements that will really make students feel like they've accomplished something.
This is an ambitious program and clearly designed to develop pre-reading skills whereas Kids Sound Lab has equal utility for articulation. It would be a great asset for parents looking to support (or begin) pre-reading skills or an SLP that addresses literacy skills.
I understand the reasoning behind the developmental order presented in the program, but it insists that you follow it from beginning to end. This might be an issue with a student that has already mastered the initial sounds but needs practice on specific, later developing ones, or a child that has articulation errors causing confusion with a few specific phonemes.
Also, the program begins, briefly, with vowels and I felt there was some difficulty mixing short/long vowels together. With many of my students, I might complete the vowel section quickly for them so we could start right in on consonants.
While the developer provided me with complimentary copies of the apps, all opinions expressed here are strictly my own.
And I have copies to giveaway! I have one copy each of Frog Game 1, 2, 3 and School PLUS a copy of the updated Kids Sound Lab. To enter to win, let's hear your opinion on frogs. Love 'em? Hate 'em? Kissed and married one? I loved catching frogs as a girl and every 4th of July my town had a frog hopping race. Alas, mine never one. (Perhpas, I kept catching the storytellers). You have until midnight EST on March 12, 2015 to enter and winners will be drawn at random. Good luck!
The European Speech-Language Hearing Day is March 6, so through March 9, 2015 all of the apps listed here are being offered at a HUGE discount (well over 50% off). For more info, click here.