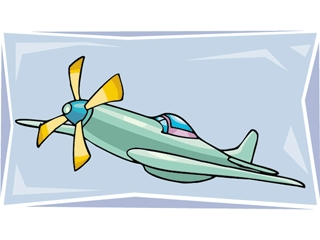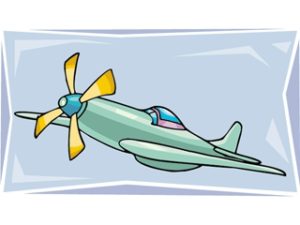 I know you're aware of our continuing education requirements, but are you familiar with ASHA's ACE award? To qualify, you must earn seven ASHA CEUs in a three year period (the equivalent of 70 hours). The credits must be from ASHA approved CEU providers and must be tracked in the ASHA registry to count. You can click here for the program specifics. (There is an additional $25 (member) fee for the registry.)
ACE stands for Award for Continuing Education. Eh. A pretty good acronym, I guess, and you get to say things like, "I aced it!"
My husband is a big World War ll buff and specifically fascinated by airplanes of that time period. As a result, I've picked up some trivia over the years. A (flying) ace is a pilot that has shot down five or more enemy aircraft (I think the criteria has varied over time, but five is the usual number sited).
This is so much more satisfying–to imagine that I've received additional training to conquer speech and language enemies. Let me at 'em!
A quick glance at my transcript shows that I've picked up most of my current approved training on sensory disorders, apraxia and a variety of topics offered at the national convention, schools convention and my state conferences. Why do I specify 'approved'? Because I've also taken three multi-day seminars that, despite being developed by and focused on speech-language pathology, they aren't ASHA certified and, thus, don't count.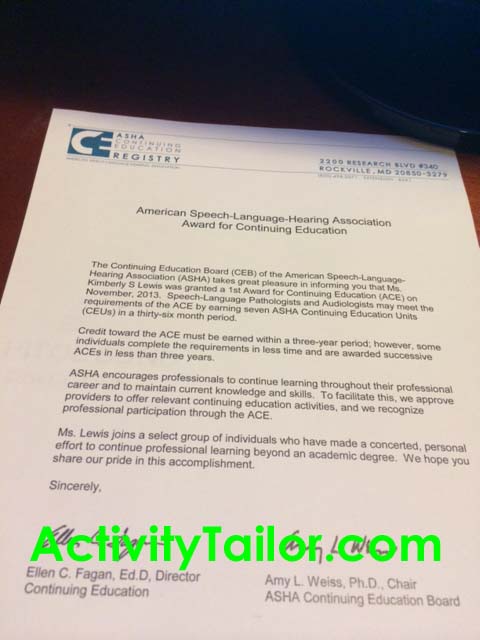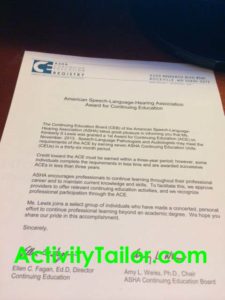 Wondering why I bother? Initially out of school and immersed in speech departments with lots of well trained and experienced clinicians, I felt that each day was a chance to further my knowledge. Now I'm generally working on my own and feel I have a firm grasp of what and why we've done what we've done. But I think it's imperative to keep up with the newest techniques and research. As a private clinician, I feel that part of the responsibility parents entrust me with is to constantly search for additional treatment methods and hone my assessment skills.
So I work hard to find courses that fit the children I see, even when I think there isn't that much new to discuss (I've actually received some fabulous info at sessions geared toward typical articulation issues). Sensory issues come up more and more across lots of populations. I'd love to find something on childhood anxiety as well (recommendations greatly appreciated).
I enjoy the classroom experience and when I'm in a participatory seminar I have a slight sense of what it must be like for my kiddos. What did she say? What does that mean? When is lunch? A quiz, really? I like the chance to collaborate with other SLPs and related therapists. I also find that the more I learn, the more I collect research and ponder, the more synergy I find between the new and the old. But I need to be selective since a day out of treatment means a day without pay. Plus, there's no employer to help cover any of the costs.
It took me about two and a half years to qualify as an ACE and all the while I've been in combat and emerged (nearly) unscathed!
Curious what my non-compliant courses are? Lindamood-Bell. The content was totally worth it and the courses would count if I were tracking my own hours and simply required fulfillment of the 30 contact hours for certification maintenance. However, to not have it count on the registry is very annoying. Anyone else run into this?