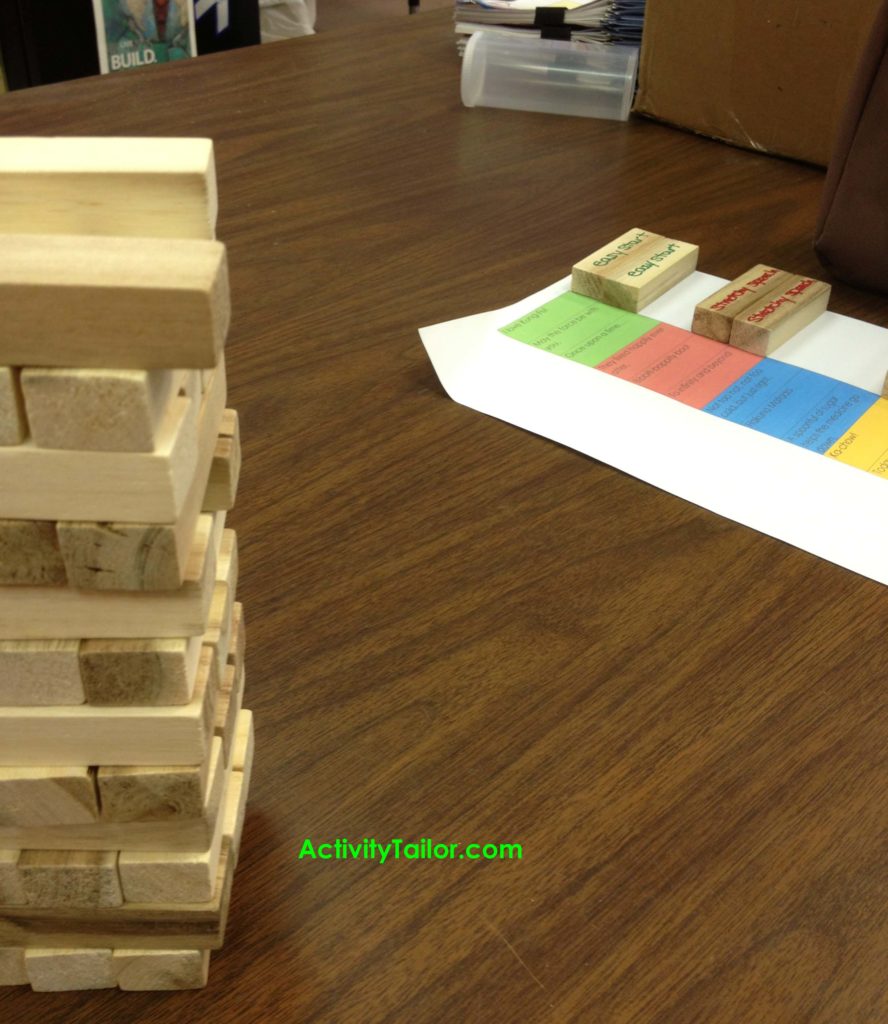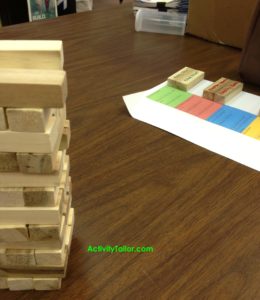 A few months ago I came across a pin, just a photo really, for "Fluency Jenga." I thought this was a great idea. I've used Jenga with some regularity in articulation therapy and the kids always love it. (If anyone knows who is the original pin source or whether there was a blog post attached at one time please let me know!)
I've tweaked the activity a bit. The fluency kiddos I currently have are particular about the speech tools they are willing to try–much more fluency shaping than modification. My thought is that I'll add other speech tools to the reverse of the blocks if I have a student with those needs.
To assemble: You will need a Jenga
game or similar block style game. I grabbed four Sharpies in each of the following colors: red, orange, green and blue. Each color represents a different "tool" (red=stretchy speech, orange=slow rate, green=easy start, blue=pausing). Then I wrote the technique on one side of twelve blocks. Next, I mixed them up and reassembled the tower.
In the classic method of play, players take turns teasing a block out from the tower and placing it back on top so the tower becomes progressively more wobbly. Just to switch it up a bit, I had my kiddos pull a block and then place it on a game mat according to its color (in the pic above the student prefered to set them to the side). The winner was the one who filled their mat first. If you pulled a "tool" you'd already filled, then you would add it to the top. The benefit to this was quiet, a collapsing tower is very noisy and I worked with these two children in a back area of a library, and a bit more calm. Traditional Jenga can really amp up some kids, which is great fun, but sometimes it needs to be dialed back a bit since the game isn't the point!
The game mats I use have a variety of topics–Disney/Pixar quotes, sports riddles, etc. This gave us a chance to use the technique with a short reading passage and then again with some spontaneous language while they solved the riddle or identified the source of the quote.
I hate to mention that the first day of school will quickly be upon us since we're all enjoying the middle of summer. That said, I've got a back-to-school freebie for you. This game mat is a "Get to Know Me" with open ended questions and can be used for fluency or with a blank Jenga game as an icebreaker for any students. Hopefully it will allow you a few more minutes in the sun!
Click for "Get to Know Me" game mat FREEBIE! And please leave me feedback or follow my store while you're there.
If this works for you, check out my "Fluency Tower Game Mats" which includes over a dozen fun topics or try "Fluency Tower Game Mats: Holiday and Seasons edition."