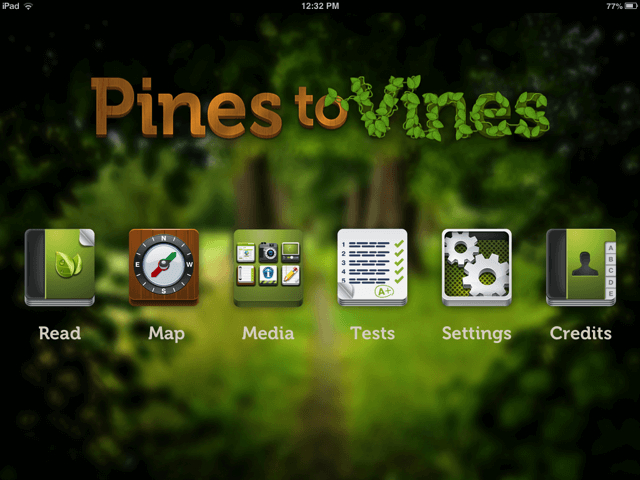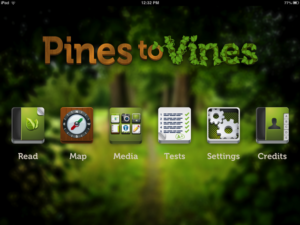 I use the Mobile Education Store apps all the time. Today, I was using Story Builder and Tense Builder. But in addition to their language apps, they've delved into curriculum and text books. These things are awesome!
Crack the Books series currently has titles for science with social studies on the way. I had a chance to review a copy of "Pines to Vines." Let me show you how it works and why you'll be pressing your teachers to adopt the line.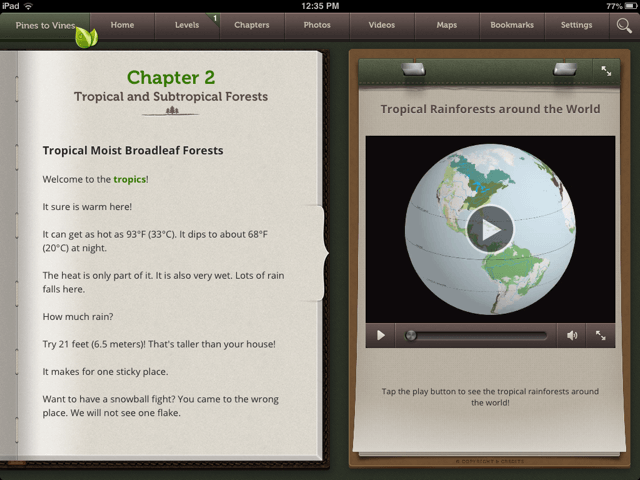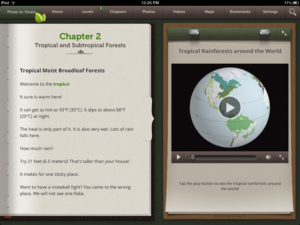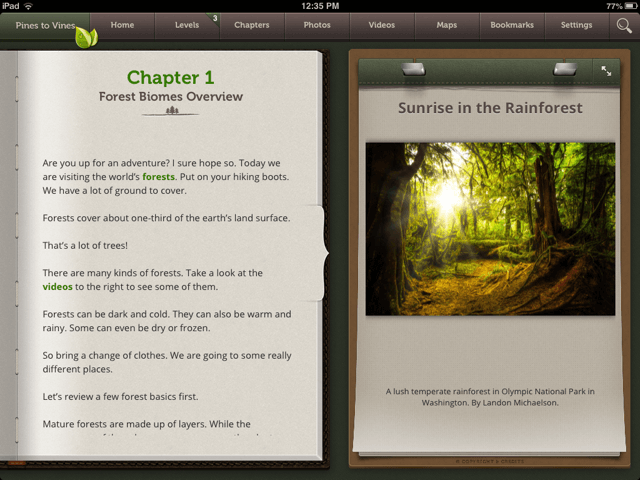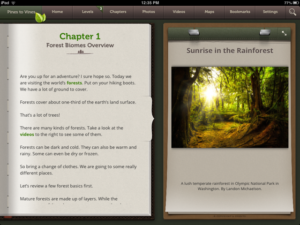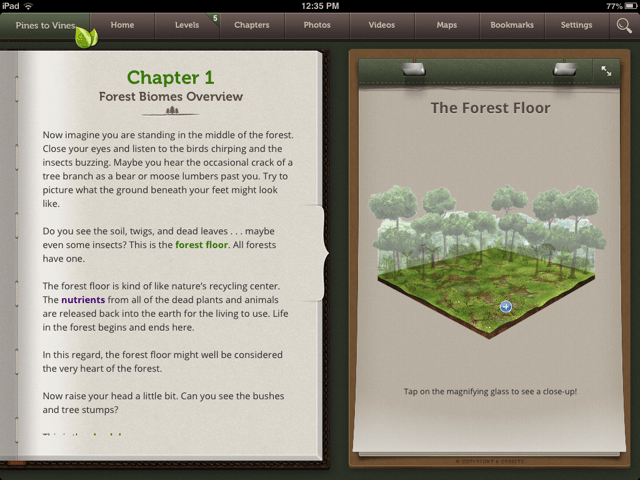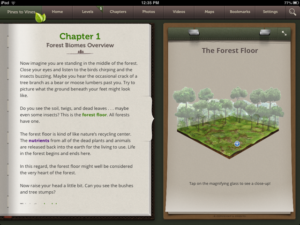 Each title in the series has five levels. When I say "levels" I don't mean five different books, I mean the same book written at five different reading levels (see samples of Levels 1, 3, and 5 above). Which means your struggling reader can have the same text book/chapters as everyone else in the class at a level they can manage. (And it means that advanced students can be pushed the way the need to instead of sitting around bored and bugging their neighbor.)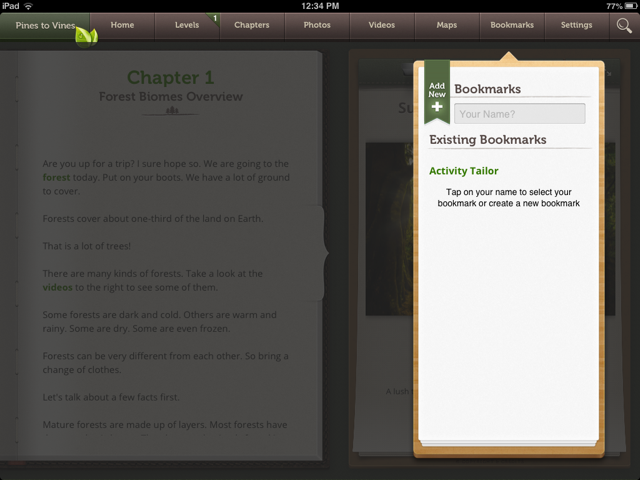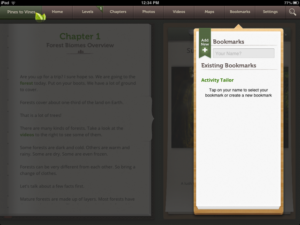 To start, open the app and create a bookmark with your name. Select the reading level 1-5. (There is a chart in the manual to give you specific breakdowns, but each level corresponds to a lexile score and grade level of 1st-8th.)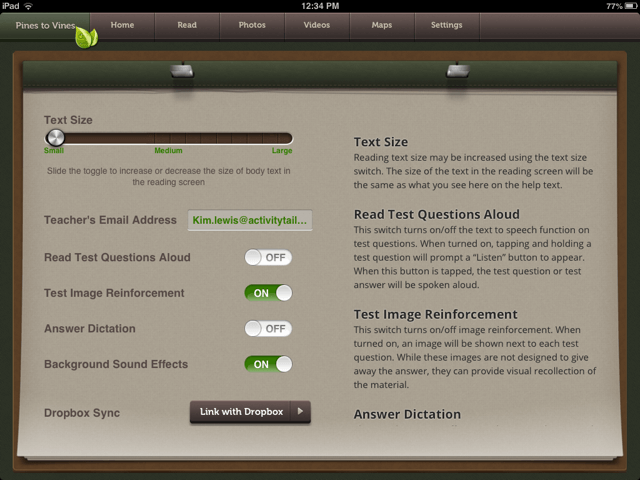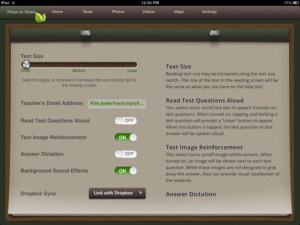 While you read (by the way, there are options to adjust text size) the "book" on the left side of the page you will scroll the page up. As a word in bold passes through the center of the screen (within the bracket) a corresponding picture will show on the left page. Often these are touched for a close-up view or to view a short video. A photo gallery and video gallery for the entire book can also be viewed through the tabs at the top of the screen. There's even an interactive map section.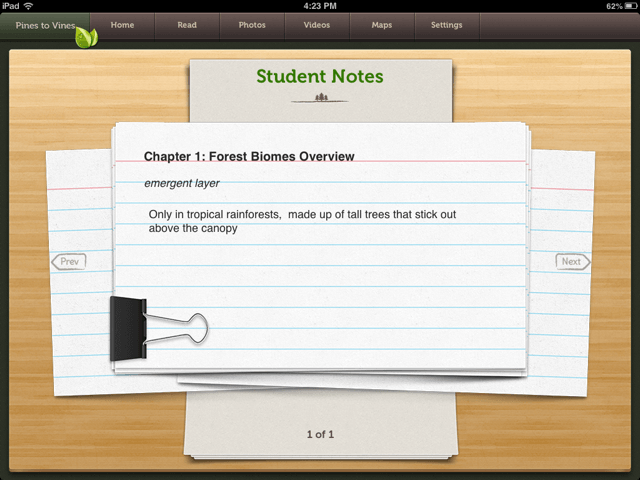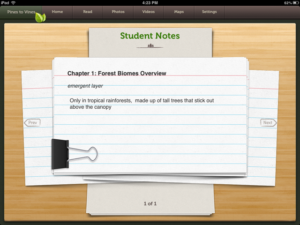 Looking to take notes? Simply highlight text by touching or save the highlight as a note and add your own comment as well.
Need more support? Any word in the text can be highlighted and immediately defined for you. Bold faced vocabulary can be touched for definition and pronunciation (this is great for unusual scientific terms).
The Crack the Books website has an overwhelming amount of free downloadable items to support classroom learning: lesson plans, classroom activities, worksheets, and study guides. This is also where you can go to get the breakdown on academic standards for each book/chapter (ommon Core as well as Next Generation Science Standards). It also gives you an option to create your own tests.
Once lessons are completed, there is a test for each chapter (also presented at your chosen level) and an additional final test.
Need more support? There's an option for test questions to be read aloud or for students to dictate their essay questions rather than type them. There's an option for test image reinforcement to be available, not to give away the answer, but to prompt visual learners.
What I like about the line for my students is that they don't look different from peers. Yes, if you were to hover over their heads or sit and do a careful side by side comparison, you'd see text differences, but as a whole the entire class is looking at the same information and graphics with just a change in language difficulty. This means the option to change levels can support my students who struggle with reading or with language/vocabulary (or both).
I might even have some of my kiddos with reading comprehension issues read the entire text at a grade or two below their reading level (commensurate with where their comprehension is) and then, once they got it, have them read it at their actual reading level.
You can get more information and check out addition titles here.