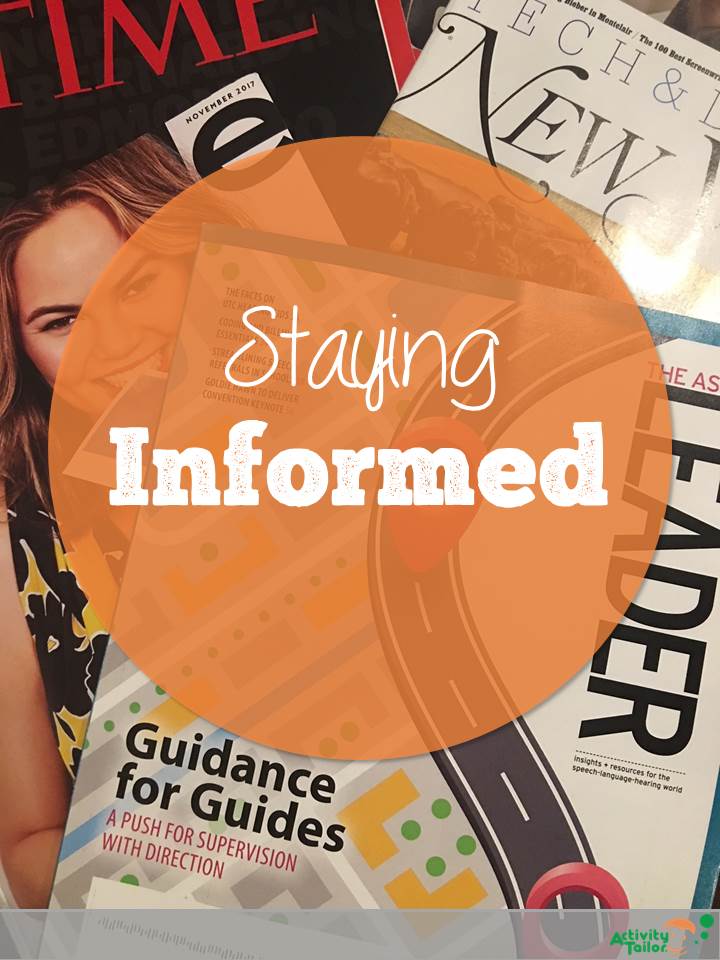 My coffee table always has a slippery stack of glossy magazines. I love opening the mailbox and seeing any one of them there—cooking, travel, news,…or the ASHA Leader. But years ago, you used to check two journals that would be delivered to your house each month and those I had a very different relationship with.
Those austere covers stacked up so quickly and stood in a reproachful pile until I hid them in a box, unable to actually throw them away. At one point, I started perusing the article titles (you didn't even have to actually open the journal for that), and tossed the ones I had no use for and ripped out articles I thought might be pertinent. And then those single articles piled up unread.
I'm a reader, so I know if I struggle with journal aversion, I'm not the only one out there. It's just too much to keep up with. The articles never seem to reflect what I'm practicing and only a handful over the years have seemed to have any practical application. And I do a lot of continuing ed, so I felt like that was my best method for keeping current , but I still had some guilt. Probably because I'd been to several course where a fabulous article was discussed that had handouts in the appendix that I actually went home to download and use. All the time. So I knew there was stuff I was missing. Stuff that could make my life easier and really benefit my kiddos.
I just don't have the time to search it out.
So I outsourced.
The Informed SLP Newsletter caught my attention back in the spring, but I didn't start my subscription until the summer. These fairy god-SLPs have research and clinical backgrounds and go through over 30 publications each month, pulling those articles that answer the questions "Is this potentially relevant to the target SLPs daily practice?" and does it have a strong evidence basis with a resounding "YES!"
Then they summarize the info (and link back to the original article) and it's delivered as a newsletter each month with options to read online, print or listen to the audio.
Brilliant.
The past newsletter included a summary from an article by Owen Van Horne et al. that looked at teaching past tense verbs. Blah, blah, blah and the final result was that children who started with "hard" verbs showed greater gains on treated and untreated verbs. The full list of verbs plus an example treatment script is included in the article.
Yeah, well I missed this article on my own (insert eye roll), buuuuut, this is exactly the kind of thing I can now use with a few of my students that will make our treatment so much more efficient. I feel like a champion.
Currently, The Informed SLP only has a newsletter for Pediatrics and School Based SLPs, but they are adding Early Intervention; Adults, Hospitals and Healthcare; and Skilled Nursing Facilities.
Subscriptions are $7/month, but there are options for a single day or week long pass.
Are you an Activity Tailor subscriber? Shhhh…..I'm teaming up with The Informed SLP for a special, subscriber only offer. Be sure to check your email on October 14th!