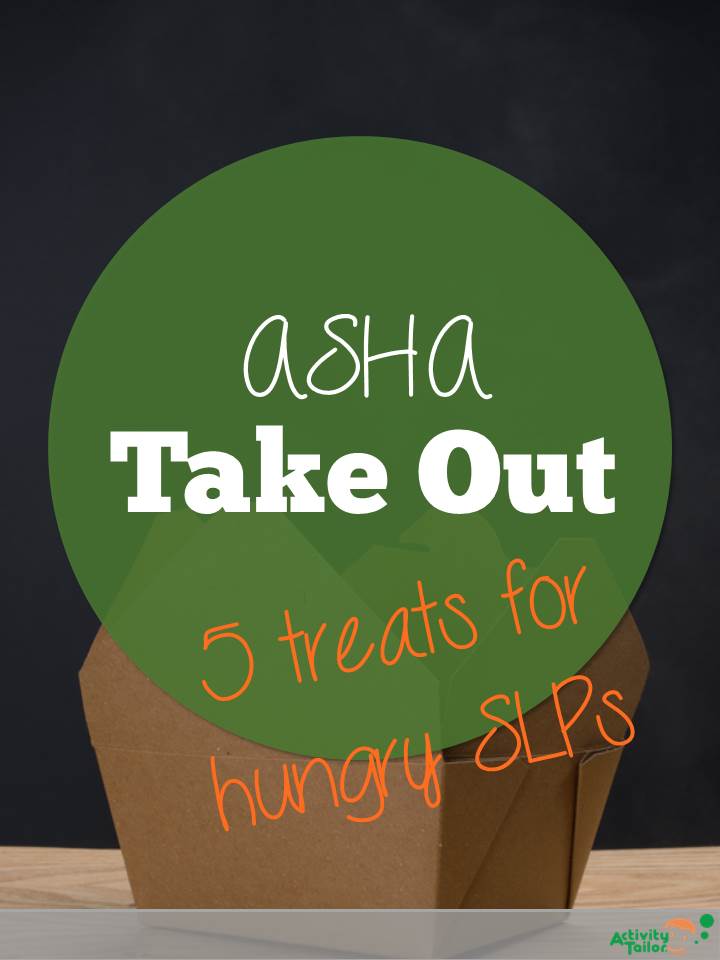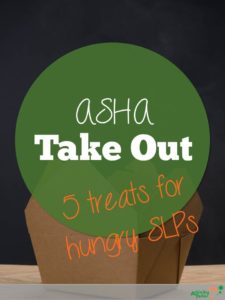 Thanksgiving day isn't even here and I am stuffed. Stuffed to the brim with new ideas, knowledge and friendship. I gorged at ASHA16.
If I could have packed you up with me, I would have, but at least I've brought back take-out. Handouts for sessions will be available on the ASHA website for another couple of weeks.
Opening Session

: "Story is the basic unit of human understanding." (Drew Dudley). I wasn't a CSD undergrad. I majored in economics and worked in children's book publishing before deicing to return to school. It was a little daunting to make the switch, but my program director assured me there was room, particularly for those coming from other fields. He told me the most critical aspect of our profession was connecting to people and the more varied and quantity of content I could bring, the better I'd be. I still strive to feed my curiosity every day as a result.

Social Communication Disorders: Assessment of the Elementary School Child

(1031, Hamaguchi, Swain, Frauwirth): Whoa. This was an in-depth look at a standardized testing instrument for much more than pragmatic skills. This is an expressive/receptive language test that thoughtfully considered the functional aspects of language. No peculiar "do this after that" directions, just regular, every day language that allows you to assess real life skills. Because what we really want to know is if a child has the ability to "describe the jacket" they lost. I'm still waiting to hear I won the copy the were drawing for in the exhibit hall…but you can check out the details of the test here.

Let's Get Digital: Exploring Apps to Motivate Children Who Stutter as They Grow as Communicators

(1080, Raj, Yaruss): Such practical tips of initiating a conversation about the thoughts and feelings surrounding stuttering without charging in like a bull in a china shop. None of us want to be confronted into discussing our discomfort, and Erik shares ways to tread more gracefully by separating ourselves a bit and adding a heavy dose of fun.

Social Emotional Learning Meets Superflex: Implementation with Fidelity and Adaption

(1329, Crooke, Winner): Winner's sessions are nearly always overflowing and full of useful advice and this one was no exception. From the reminders that there are more than 120 free articles searchable by topic on the Social Thinking website, to the face that "we are so fussy about behavior," (ie. how easy it is to fall outside expected behavior, especially for our kiddos), this course had me jotting specific notes with a listing of caseload initials next to them throughout the two hours were were there.
Sounds in Motion: Phonemic Awareness, Auditory Perception, Articulation Stimulation and Early Literacy Through Movement (1678, Brewer, Santore, Light-Kunhel): I'm a big fan of movement in therapy so I was really interested in learning more about this program. At it's core, it's a program to promote listening skills, but they've paired movement with each phoneme to aid teaching articulation, phonemic awareness and sound/symbol association. I'm intrigued! This brings a more concrete element to an abstract skill that I think could be a game changer for some of my little guys.
Dr. Jaynee Handelsman (ASHA president) offered the following during the opening session,"Find your purpose in life and don't deny yourself of it." Does that terrify or inspire you? Maybe a little of both? The theme of this year's convention was leadership, but with a focus on the everyday leadership we can provide to others in our lives. Now there's some food for thought.