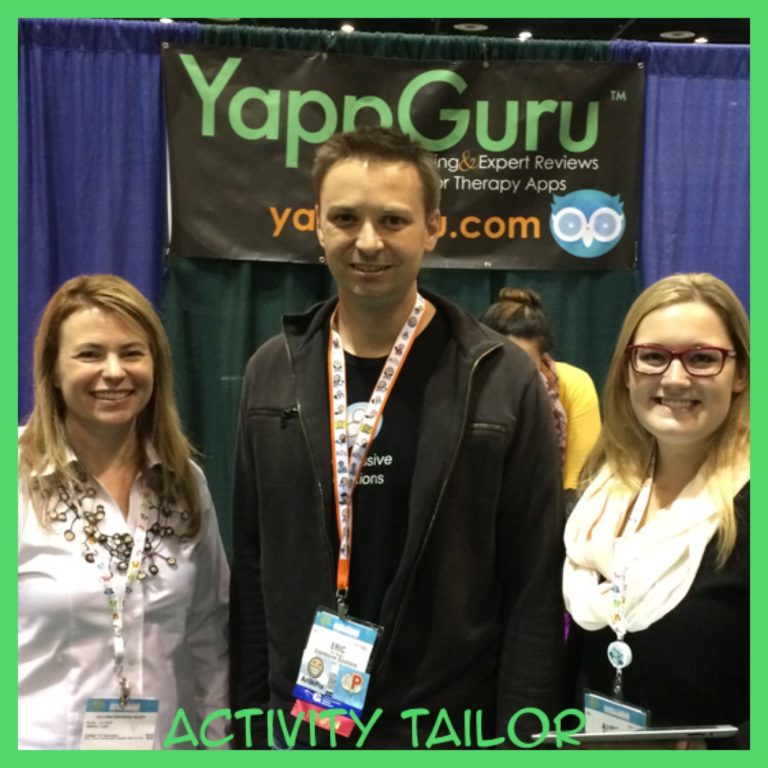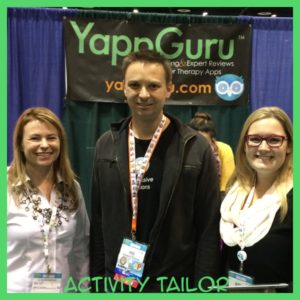 ***Tiffany Moore was the winner of the app giveaway!***
Look who I met at ASHA this year—Eric Sailers! (pictured: me, Eric, Aubrey from Yapp Guru)
Eric and his wife, Kelly, are the owner-operators of Expressive Solutions. Check out what they have for us now! ArtikPix Levels Plus is a comprehensive articulation app that takes you from the word level all the way to paragraphs. As a therapist that works with elementary aged students, I appreciate not just the depth of practice that will get us to carry-over and discharge, but the decidedly non-babyish design that would be appropriate even with middle/high school students or even adults.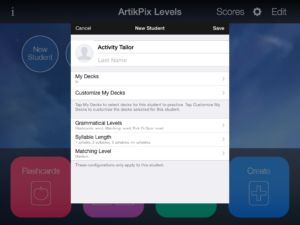 It's easy to use. The home page allows you to click on an established student, or choose "new student." Type in the student's name and then click on "My Decks" to customize targets (you can choose one or more phonemes). Clicking on "Customize My Decks" will allow you to choose the phoneme position or, in the case of /r/, the prevocalic or vocalic /r/ targets.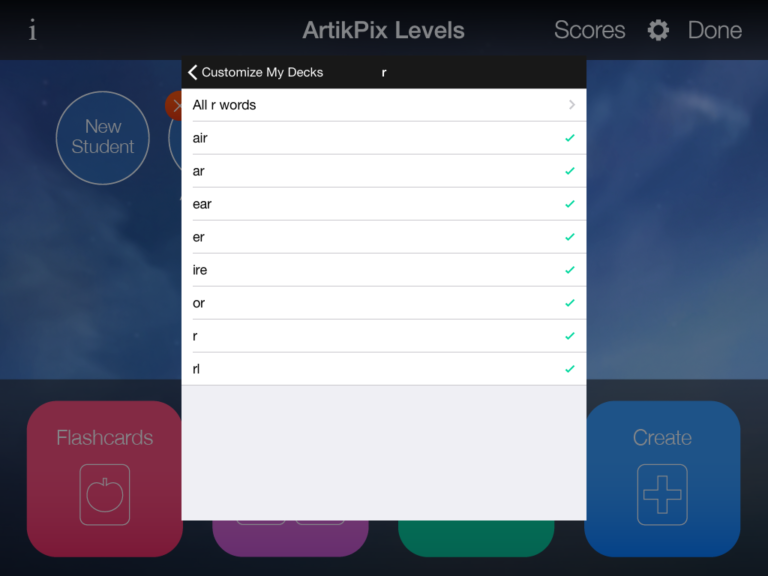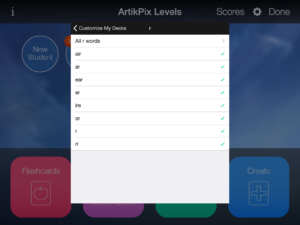 You can also customize grammatical levels for the flashcards and "Pick or Spin" activities at word, phrase, sentence or paragraph. Plus, you have the option to customize the syllable length (1-4+) which is helpful if you're working with little ones that really need 1-2 syllables OR those unintelligible students that are fine with most single words until you notice that they fall apart with any added complexity (or is that just my group?)
There are even easy/medium/hard levels for the matching game.
Once you've made all your selections, you're ready to go.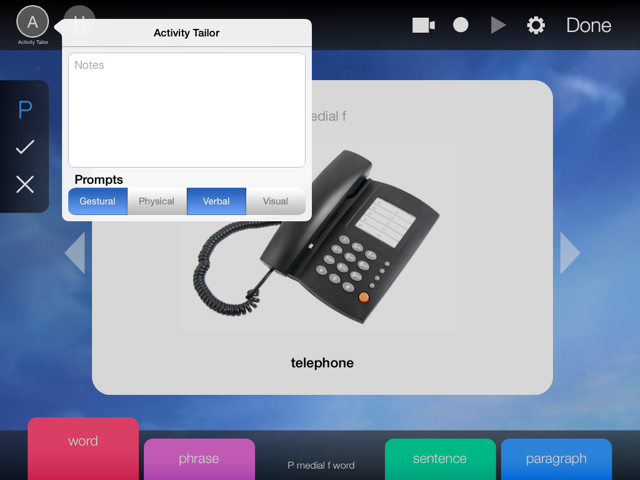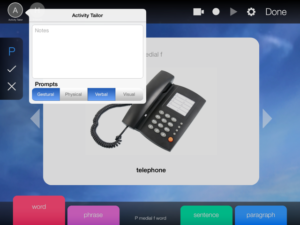 Flashcards: Self-explanatory, this is simply a deck of flashcards with the target phoneme. Better than typical features include the option to increase or decrease the level at which you are working (word to paragraph) right on the screen. Best practices suggest that pushing for carry-over right from the beginning is the quickest way to gain mastery of a sound, so if you have a student that gets a target right at the word level, periodically consider "upping" the bar and trying the phrase or sentence level. They might surprise you! Record accuracy with the check mark or X (and I love that it allows you to do multiple trials/recordings of a single flashcard). I also really like the opportunity to record the prompt used. Click on the user name and you can select the prompts you use: gestural, physical, verbal, visual (or a combo). Now when you are recording accuracy, you can also press "P" to record whether or not you used the prompt. The record feature uses video which was, perhaps, the only aspect I was less certain about. While it could be helpful to see what's going on, it was more cumbersome to use than a simple "record" and it prevented you from seeing the word/visual prompt which was often more important than seeing performance.
Matching: Again, a standard articulation game with the added benefit of difficulty level. Easy shows only six cards, medium has twelve and hard has twenty. You can have more than one player as well. By toggling between the players (shown with an icon at the top of the page), you will have individual games going on that are specific to the goals/difficulty of each player. For instance, I might be working on initial /f/ and can handle a "medium" array. On Eric's turn, he might have a "difficult" array of "ear" words.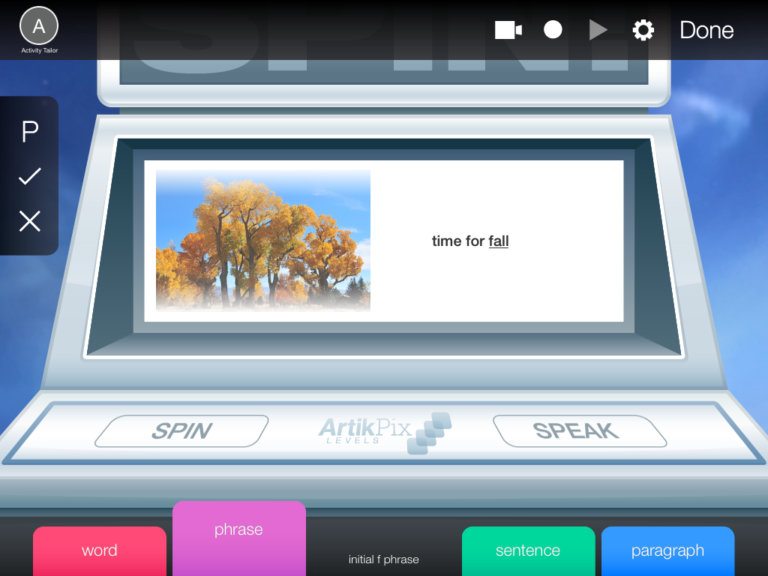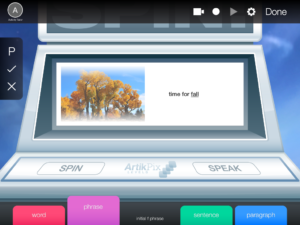 Pick or Spin: Very similar to flashcards, this has a different screen with a "Spin" button that adds a bit of a twist. Again, levels can be changed right there on the page as needed.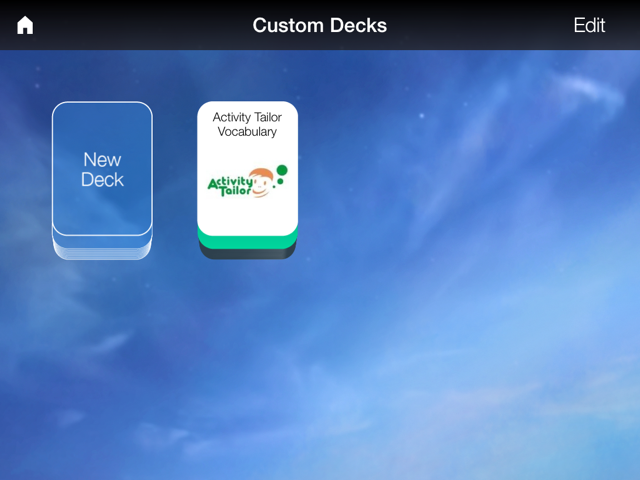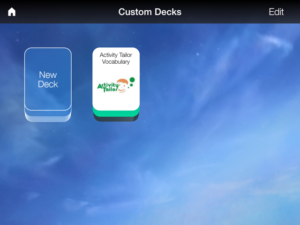 The final, awesome, feature is "Custom Decks." Click on this to create a deck specific to a student or to vocabulary. For instance, you could make a deck with pictures from your school. Create a name for the new deck and then click on it to start adding cards. You can go as in depth as the other flashcards, adding the image (from your library, with your camera or through a Bing search), choosing target sound, adding syllable length and word through paragraph levels (including recordings!). I think my students will love when Piper comes up on the screen!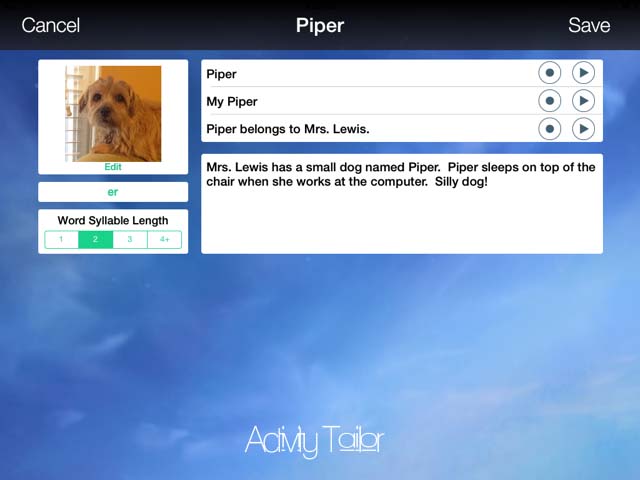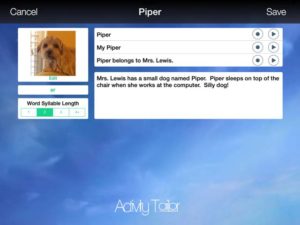 If you'd like to try ArtikPix Levels, you can download the free version with the "th" deck and opportunity for in app purchases of other decks. Generally, each phoneme deck is $1.99, the /r/ deck is $4.99. ArtikPix Levels Plus comes with all phoneme decks and is $29.99. Note: You must have all decks to have access to the "Custom Decks" feature. Click here for more info and to download the free version.
This review pertains to version 1.01. I was given a copy for review and anothr for a giveaway by the developer, but all opinions expressed within the review are my own.
I have a copy of the ArtikPix Levels Plus ($29.99 value) to giveaway! To enter please comment below letting us know which feature of ArtikPics Levels Plus you like best. Entries must be received by midnight EST on December 14, 2014. Note: The app requires an iPad running iOS 7 (or later). Good luck!