***Congratulations to Yvonne who won a free copy!***
We are in the last full week of March and I'll be winding down my March Madness app reviews and giveaways. I've been writing reviews like mad, both here and on Yapp Guru, and scored a berth in the final "game" this week. Wish me luck!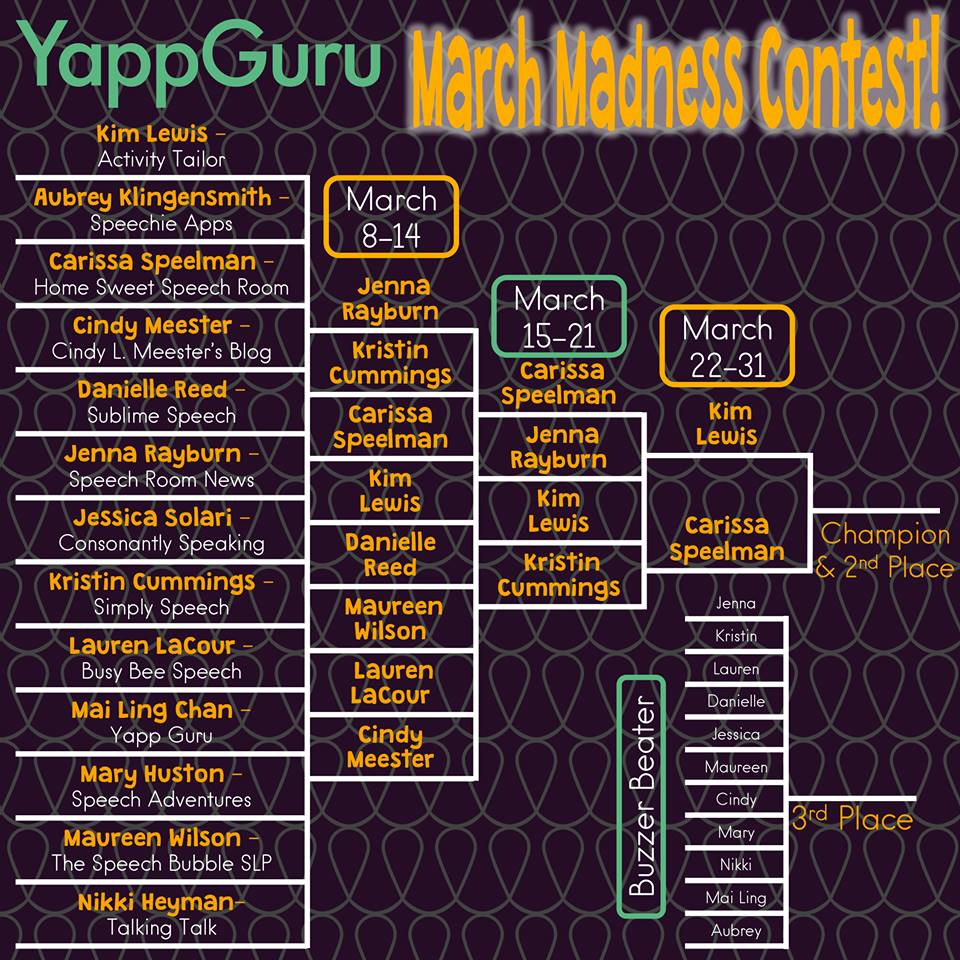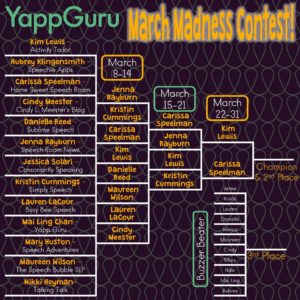 I have two Smarty Ears apps to share this week so you can look forward to an extra post on Friday.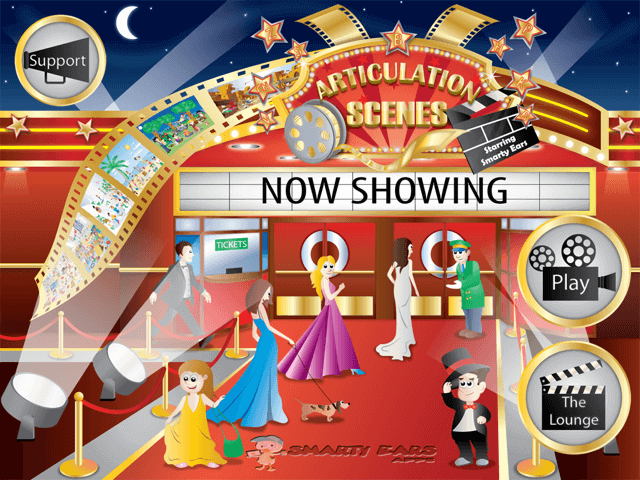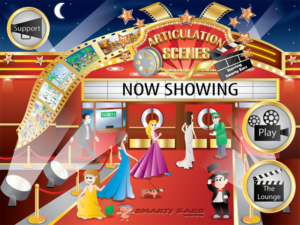 Today I'm talking about Articulation Scenes.
I am seeing a lot of straight artic this year and was really looking forward to trying this out. It didn't disappoint either me or my little ones. It has a cute movie theme and four different activities to choose from all of which can be customized for phoneme and position. R even has vocalic options. Cue the happy dance!
Consistent with all of the Smarty Ears apps you can easily add multiple users and data is collected, stored and easily shared. Smarty Ears also incorporates the Therapy Report Center. This app allows you to save info on all of your students and their info in one location and import the data between Smarty Ears apps. It's a huge timesaver!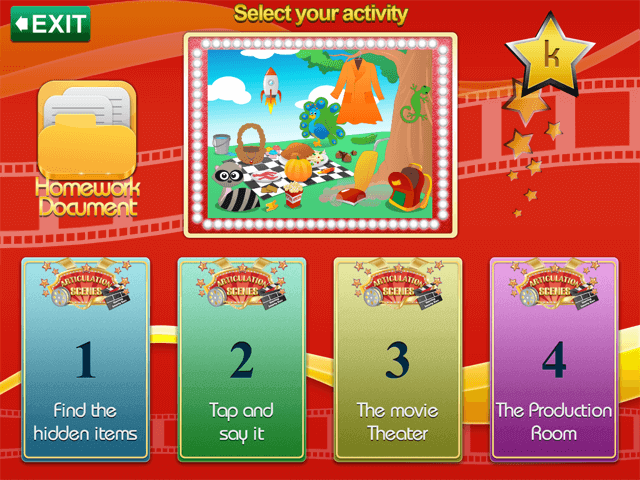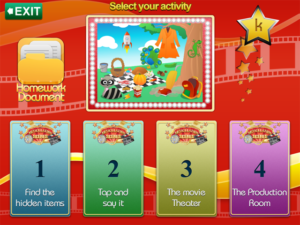 Once you have your student(s) selected, you'll be prompted to choose a target. Now you select a scene based on the phoneme position.
Activity 1 has you looking for pictures with the target words with the scene (sort of an easy hidden picture task). There are written prompts at the bottom of the page which are spoken if touched. The scenes are very target rich and there are lots of pictures to locate. This was probably the biggest hit among my students.
Completing a scene earns you a trophy for the trophy room. My little one got a kick out of one of their words appearing on the trophy. (Ex. Skunk on the /sk/ trophy, peacock on the medial /k/ trophy, etc.)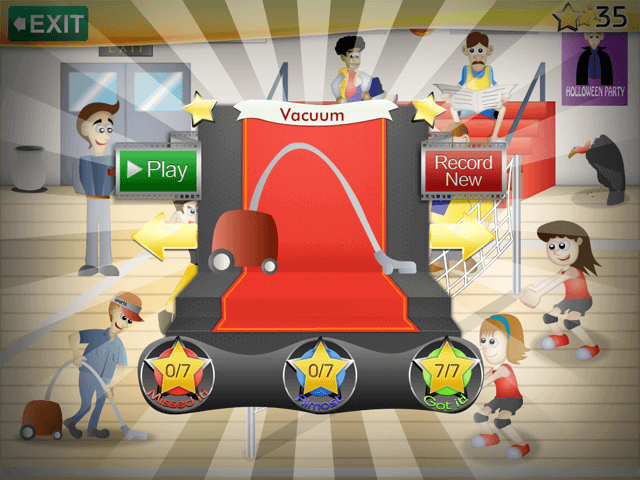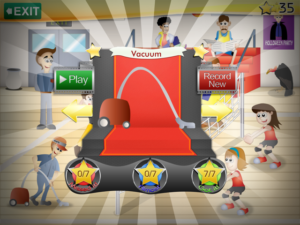 Activity 2 has the same scene but you touch the pictures and the word is said for you to repeat, record and listen to.
What I like about both of these activities is they force students to think about their sound in a specific position and identify words that meet the criteria unlike a flash card deck which allows for more zoning out.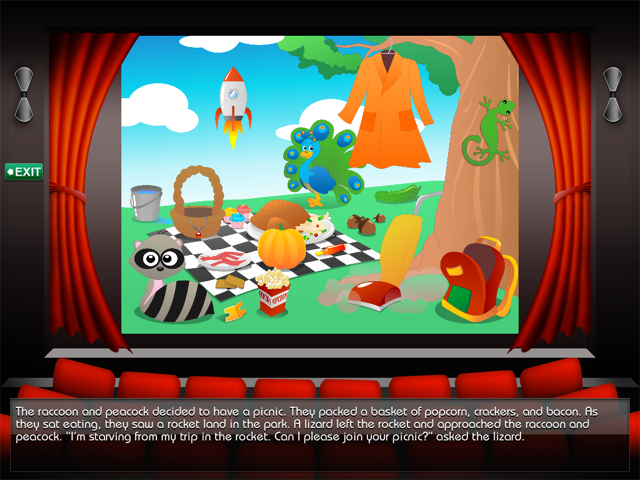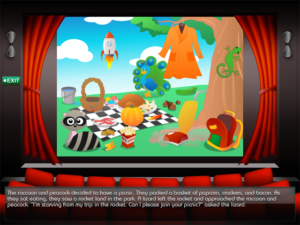 Activity 3 has you listening to a story about the scene you were just manipulating. Again, the scene is very target rich so you are getting lots of auditory bombardment here and hearing the words in context which helps with additional vocabulary and other language skills.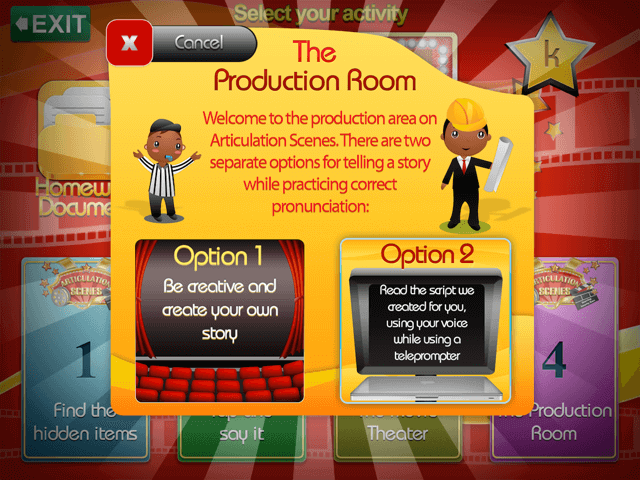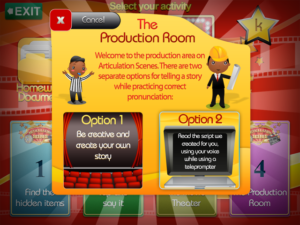 Activity 4 has you choose to read the story yourself (from the "TelePrompTer" so you need readers for this) or make up one of your own. Your story is recorded and stored.
I think activities like this (sentence/paragraph level) are crucial for carryover and try to incorporate them as soon as possible.
I was given a copy for review by the developer but all of the opionions expressed here are my own. Plus, I have a copy to giveaway! To enter, please comment below letting us know which role you would want in a movie–director, actor, costume designer, etc.–and I'll select a lucky entry at random. You have until Sunday March 30, 2015 at midnight EST to enter. Good luck!
After you finish entering here, jump over to the Smarty Ears giveaway here. You could win a copy of EVERY one of their apps–over $600 value!