Update: September 2, 2013 Congratulations to Annie D., Whitney and Jeni R. who won a free copy of this app. Enjoy!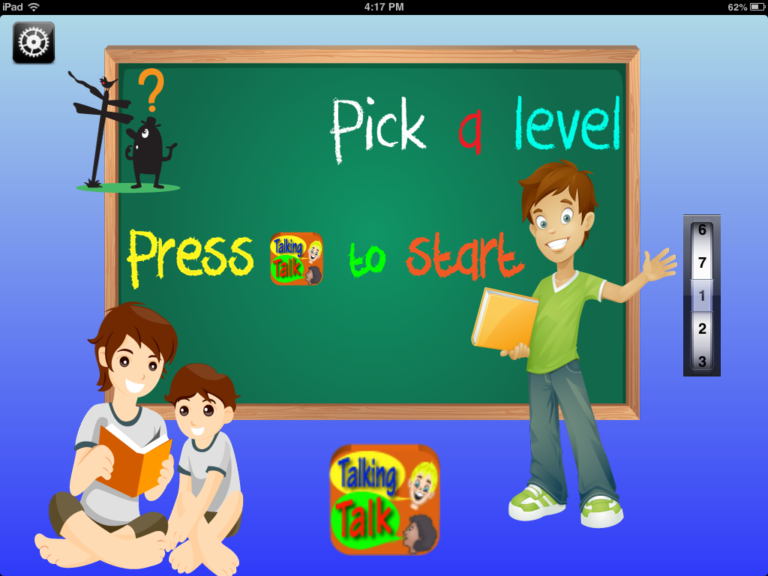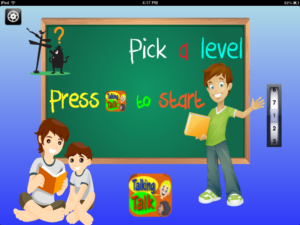 I recently received a copy of "Hear2Read" and was so excited to go through it. Not only does it incorporate some really fun reinforcers–the kind that will keep kids going with a drill that they might otherwise abandon–but it addresses a need I've had in the therapy room that I haven't seen covered already.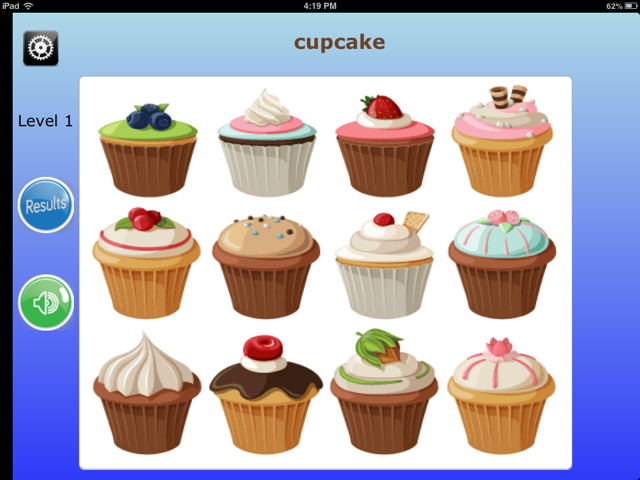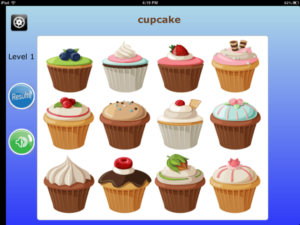 Hear2Read focuses on phonemic awareness tasks, beginning with the simple (appropriate for 4yrs+) such as breaking down a compound word, to the much more complex change of changing the vowel within a word or changing a blend within the word. This is how it works. The screen will show the word with a picture, for example "cupcake." Touch the screen and the melodious voice says the prompt, "Say (word), but don't say (portion of the word)." There are seven levels, each with a progressively more difficult task along these lines.
Level 1: Compound word, "Say 'cupcake,' but don't say 'cake.'"
Level 2: Two syllable word, "Say 'robber,' but don't say 'ra.'"
Level 3: Usually one syllable words, "Say 'made,' but don't say 'm'."
Level 4: One syllable words, deleting a sound makes a different word, "Say 'toad.' Say it again without the 'd'."
Level 5: One syllable words, changing a sound for a different word, "Say 'bead,' but instead of the 'd' say 't'."
Level 6: Word contains a blend in any position and the change deletes a sound within the blend to create another real word, "Say 'stop,' but don't say the 's'."
Level 7: Words contains blends and task might include changing a sound within the cluster or the vowel in the word, "Say 'brick,' but instead of 'i,' say 'a'."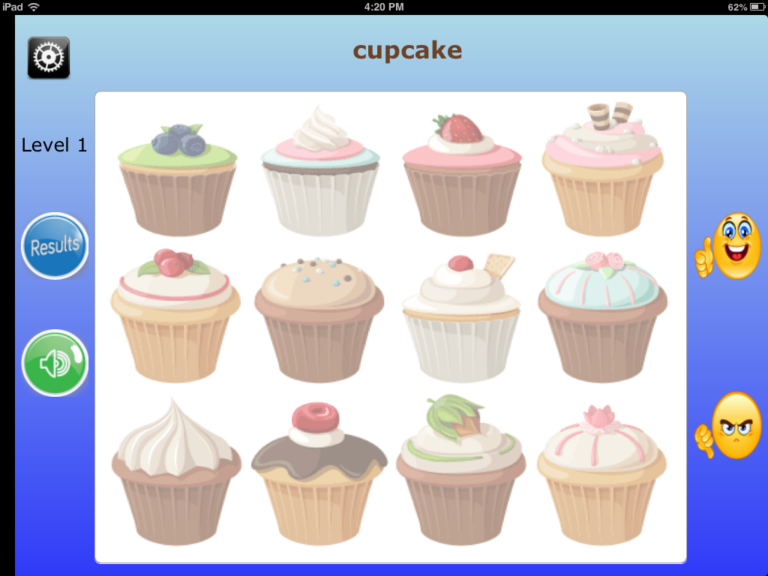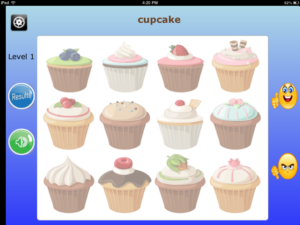 Once the prompt is given, a green arrow appears on the right of the screen. Touch it and it will ask, "Did you say (correct answer)?" The clinician or student will then record their answer with either a smile or frown face. If you had the correct answer a gold star will appear on the top of the screen. Stars are consolidated as you acheive more than 5 with the number appearing on the first star.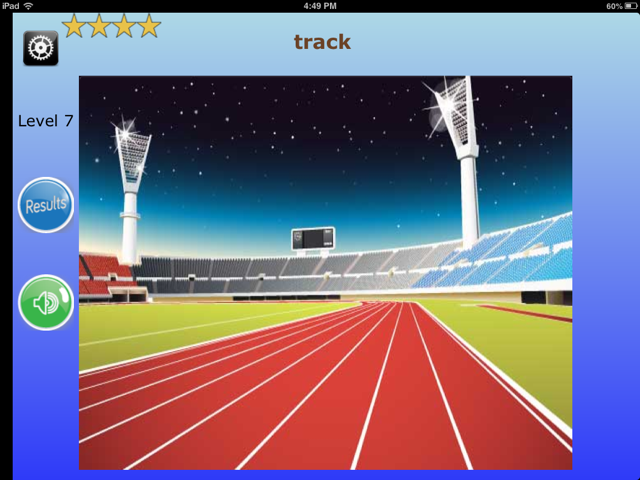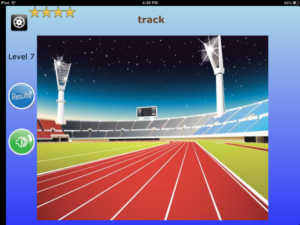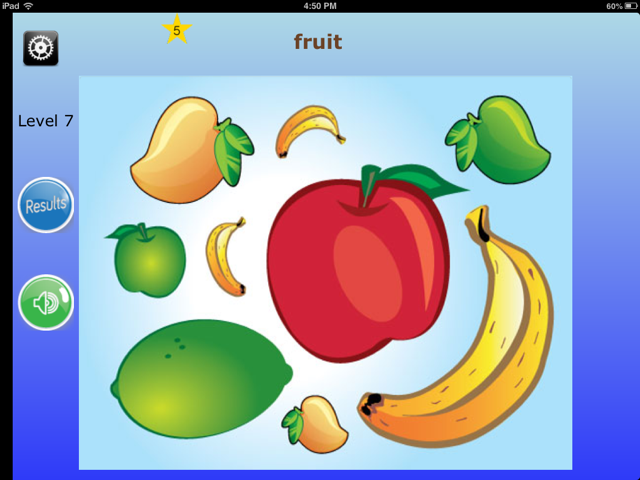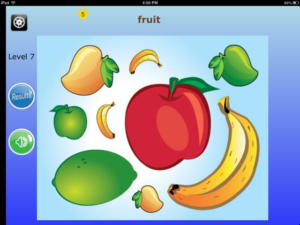 Why does this matter? Because the stars earn you tokens for games! Within settings you can check how many correct answers (gold stars) will earn you a game token, any where from 1-20. With the tokens you can choose to play either "Balloon Pop" in which you try to pop as many balloons as you can out of 50 or "Spider Squash" in which you smush a spider 5 times and receive a score based on attempts and time. It's harder than you would think!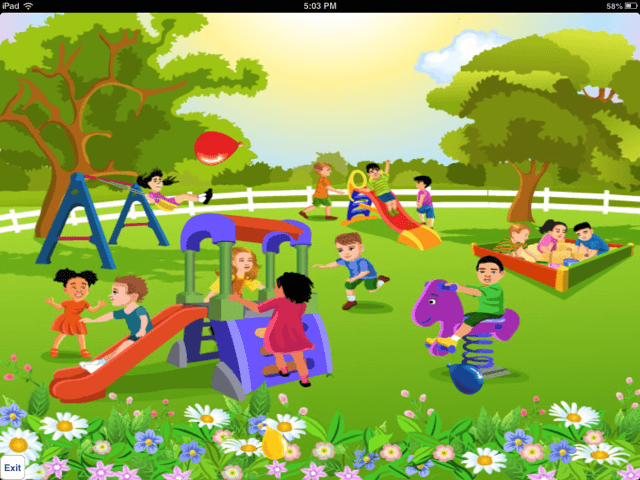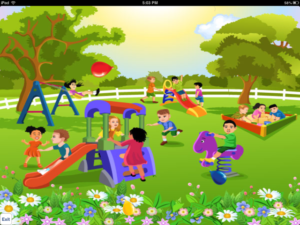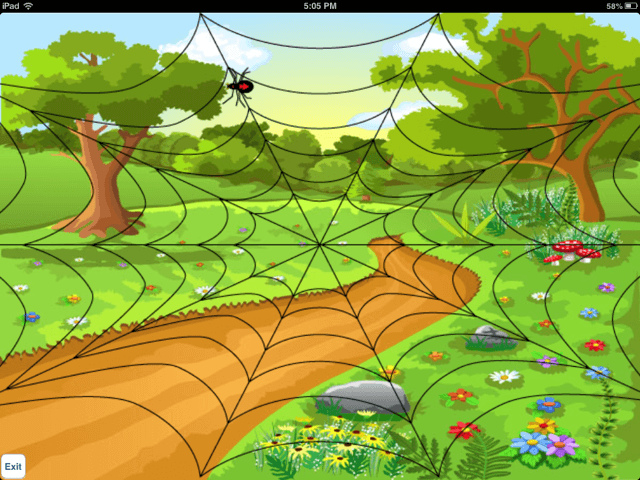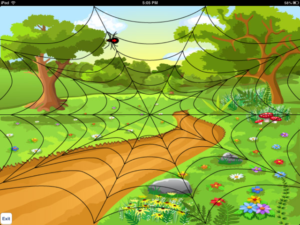 Other options:
Results can be sent as an email to the clinician or parent.
Settings allow for autorecord so students can listen to their own response and written word stimuli on/off.
Additional pros: In addition to the "game" feature that I think would be highly motivating, I appreciated that the pictures were cheerful without being overly young. Too often, we have students that are a few years behind on these tasks and it's inappropriate to bring out "baby-looking" activities. Because the task is driven by an auditory stimulus, it's really hard to rush through it. I like the fact that kids are forced to take time to consider their answer and listen to the correct one before you can move on.
Cons: I wish there were additional pictures to show the impact that the phoneme change had. It wouldn't work for all levels, but for things like, "Say 'handout,' but don't say 'out'," it would be great to show a hand. The same goes for the higher level tasks. The email feature is helpful, but there is no way to input and save a student so a clinician using this with more than one student would need to keep their own progress record.
The appis a great value, currently selling for $5.99 and available in the iTunes store, but I have THREE to give away for free! To enter, leave a comment below letting us know who handles phonemic awareness tasks such as these in your setting–SLP? Resource teacher or reading specialist? Parents? You have until midnight EST on September 1, 2013. Winners will be selected at random and notified by email. Good luck!
I received a copy of the app for review purposes, but all opinions expressed are strictly my own.