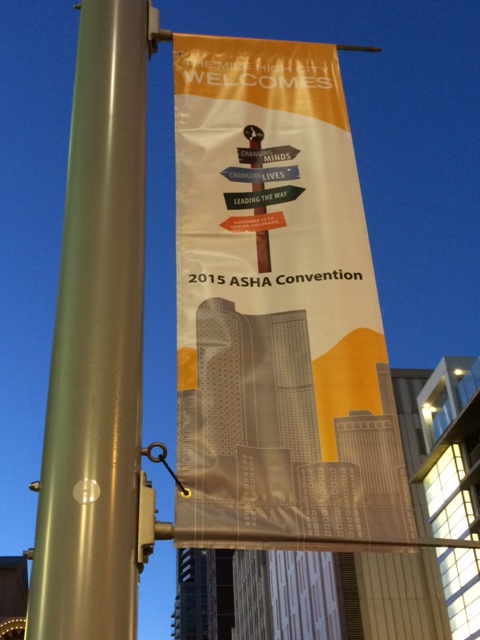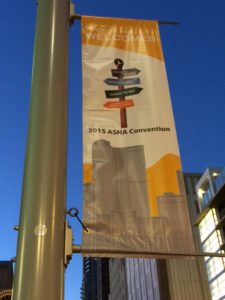 ASHA timed it just right this year. Denver had snow just before our arrival and struggled with more wintery weather just after our departure. I'm still enjoying mid-60s most days and debates with weather or not to bring a jacket in the morning. I wouldn't have been quite ready for boots and gloves!
I wanted to share a few, quick gems I gleaned from my sessions. If there are any you'd like to hear more about, please let me know in the comments below and a full post might show up! Or, head over to the ASHA website and download the presenter's handout. (I've listed the session number for easier searching.)
Navigating Professional Transitions (1152): Melissa had us do an exercise I really liked (although I was abbreviated due to time). Write for 20 minutes on "If everything went as well as it possibly could, what would your life look like in 12 months?" It's a way to determine your goals and your values. Check out her recent article in the Leader on the same topic.
Becoming Storytelling Animals (SC18): "Storytelling is innate and the best storytellers are often the most powerful and popular." Something to think about especially in regards to my kiddos who are lacking in this skill. Although I don't work with AAC myself, there was a lot of really good information related to this population.
Incorporating Art into Language Therapy (1729): This was a fun one to see (even in the overflow area) with several easy to prep art activities that I'm likely to use. I particularly liked a tree that provided a visual of values and strengths and a quick brain picture with acrylic paint folded in half to make a mirror image (similar to the classic butterfly art project).
Engaging Sensory Children (1823): These women were just the right personalities to pull off the very last time slot of the convention! What fun discussions and explanations of kiddos that you immediately recognized on your own caseload along with a shopping list of ideas to help them manage their day!
Thirty-Five Years of Clinical Experience & Therapy Ideas for CAS (1640): This session was chockful of speech therapy activities and video clips (love those). From simple knock down the card games, to basketball to flashcard "roads," everyone left with something to add to their sessions on Monday.
In general, I thought the conference did a much better job of offering practical sessions that gave me ideas I could implement almost immediately. However, I continue to be disappointed in the number of popular sessions/speakers requiring overflow rooms. Surely, we can either make better estimate on room size or offer certain sessions more than once? (Doesn't the pocket planner provide any analytics as to which sessions are marked on schedules most often?)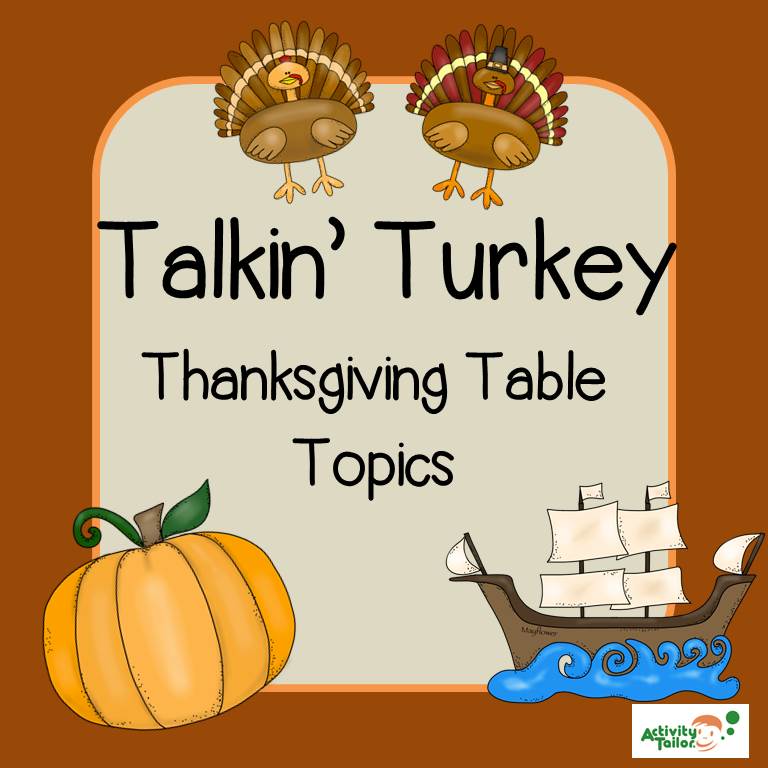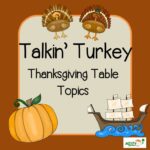 Please take a moment to share some of your take-aways below. And if you're looking for some conversation starters for your therapy room or your own Thanksgiving table, please click here.